Pioneer Road Show 2009
San Diego, CA

The successful Pioneer Sound Build Off competition brings out the very best in Pioneer products, dealers and custom installs. This year's annual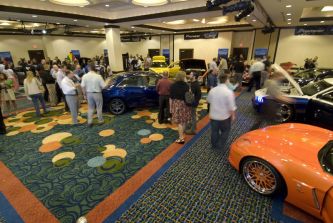 Sound Build Off took place during the company's annual Mobile Entertainment Road Show on Pioneer's home turf of Long Beach, CA.
Ten distinguished Pioneer dealers from across the country were chosen to compete and each of them brought their A-game, setting their sights firmly on the prestigious Pioneer Sound Build-Off championship trophy and over $10,000 in prize money up for grabs! The top 3 competing vehicles are awarded cash prizes, plus the first place winner is crowned the 2009 Pioneer Sound Build-Off Champion.
The participants were chosen based on their installation capabilities and commitment to promoting the car audio industry and Pioneer brand. Each dealer had approximately 6-8 weeks to install a set package of Pioneer Premier branded products in the vehicle of their choice. The Pioneer products installed aim to showcase the features consumers demand most frequently during their everyday commute, including Bluetooth and iPod/iPhone control.
Naturally, as an SQ-based contest, Pioneer enlisted the expertise of IASCA (International Auto Sound Challenge Association) judge Jason Gay  to determine the best sounding vehicles at the event evaluated and scored using current IASCA rules. New for his year's event, Pioneer allowed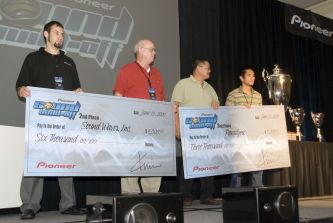 attendees (us included) to vote for a favorite ride. The "Viewers Choice" votes were added to the IASCA scores to calculate each participant's overall score.
After a day of evaluation, the impeccable 2007 Honda Civic by The Specialist was declared the winner and awarded $10,000, plus the Pioneer Sound Build-Off championship trophy for building exceptional Pioneer demo vehicle. The classic 1971 Karman Ghia built by Sound Waves Inc. came in second place, and for the first time, there was a tie for third place between the very stealthy 2007 Scion TC by Car Tunes and the immaculate 2008 Honda Accord by Paradyme.
"The 2009 Pioneer Sound Build-Off generated a lot of excitement but at its core, this event focuses on showcasing the importance of sound quality while also celebrating the installation capabilities of our dealers," said Ted Cardenas, Director of Marketing for the mobile business group of Pioneer Electronics (USA) Inc. "Every year we're amazed at the level of creativity that is displayed with each vehicle and because of the participants' inventiveness our event continues to be successful."
Event organizers of Pioneer's Sound Off competition continue to capture the excitement of mobile electronics in its purest form. The action packed two day event featured many top notch installs, remarkable listening demonstrations, entertaining product previews and of course a chance to really crank it up with the terrific team at Pioneer Electronics! Major thanks go out to all of the dedicated and passionate people who make this event such a great experience every year.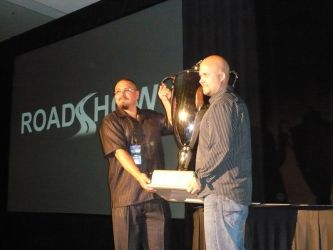 Each participating retailer installed the following Pioneer Premier products (on page 2)













2009 Pioneer Sound Build-Off Participants
Al & Ed's Autosound

16732 Beach Blvd.

Huntington Beach, CA 92647

714.848.8489

 

All Star Sound

6641 Paramount Blvd.

Long Beach, CA 90805

562.630.6707

 

Car Tunes Stereo Center

15106 Southfield Road

Allen Park, MI 48101

313.388.7515

 

Competition Sounds

4330 S. Staples Street

Corpus Christi, TX 78411

361.991.2055

Jack's Mobile Electronics

202 University Drive

College Station, TX 78740

254.776.3293

Kartunes

767 Broadway Avenue

Seaside, CA 93955

831.394.1700

 

Newport Autosound

1743 Newport Blvd

Costa Mesa, CA 92627

949.548.1160

 

Paradyme

1744 Fulton Avenue

Sacramento, CA 95825

916.971.3600

The Specialist

5602 E. Broadway Avenue

Tucson, AZ 85712

520.571.8500

 

Sound Waves, Inc.

7585 Stage Road

Memphis, TN 98133

901.377.1001