Hot Import Nights
Pleasanton, CA
Alameda Fair Grounds
July 25, 2009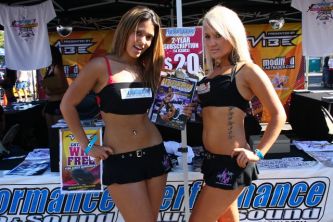 The Hot Import Nights tour hit Pleasanton, CA earlier than usual this year, as the schedule shift meant West Coast tuners didn't have to wait as long for their HIN fix this summer. Thousands of enthusiasts flooded the fairground gates, celebrating the tuner lifestyle to the fullest with many of the hottest import models and companies in the house.
Entertainment included an assortment of fuel-driven eye candy such as a stunt bike show, drifting exhibition, break dancing, musical performances and the LolliMe bikini fashion show hosted by cover model / fashion designer Nicolette Lacson.
HIN rolled out the red carpet as virtually every CA-based car clubs and team gathered to participate including Alpha Squad, Bare speed, DVStyle, Elegant Movement, Emperor Motorsports, Final Phaze, Garage Inc, Hokori, iAUTO, JDMconcept, Jinsoku, Limitless Motorsports, N1 Concepts, Nokturnal, Nor-Cal240sx.com, Mach III, Red*Star, RL2, R-Technique, RX7club.com, Scikotics, Scion Driven Girls, SonicMS, SpeedAddicts, Swift, Team District 10, Tech 2 Motorsports, Tronics, VIPStyleCars and Best Team Representation and Best Team Overall winners TWC.
Other big winners included Carlos Monterubbio who took home top honors for his impressive Mazda RX-7 and Nissan 350Z. Female tuner Stacey Lowery and her VW Jetta earned three trips to the stage for Best Mobile Entertainment, Bodywork and Female Ride. Plus, enthusiast John Rhee's CLS AMG continues to quickly fill up with trophies including Hottest Mercedes and Best Interior. For a full list of winners and more visit www.hotimportnights.com