Redline Time Attack: Round 7
Spring Mountain Raceway
Pahrump, NV
Sept 29, 2009
It's hard to believe that we are already bringing the 2009 Redline Time Attack season to a close. Round #7 was held at Spring Mountain Motorsports Park in Pahrump, NV, about 45 minutes outside of Las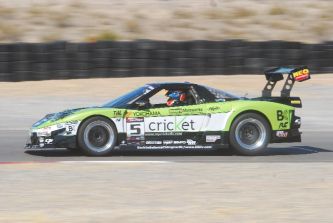 Vegas. This track is technically the birthplace of Time Attack in the US as Redline Time Attack held their first event even here at this track back in September 2005. The track is a grueling 3.1 miles long packed with 18 turns of all shapes and sizes. With only a few very short straight-aways this is definitely a track for cars that can carry tremendous mid corner speed.
This event was a virtual who's who of Time Attack with nearly every big name Unlimited team from the 2009 season showing up to trade blows. FX Motorsports Development had the home track advantage with their Acura NSX, but AMS Performance, GST Motorsports, World Racing, Fontana Nissan, and others came out to challenge them on their own turf. In the Modified ranks, the long awaited Ryan Gates/JC Maynet battle looked like it was finally going to come to a head as both were in attendance and looking good in practice. We also saw a few new Modified class entrants that looked to be serious contenders in the Modified RWD division with AFI Turbo and Harman Motive both bringing out force-fed S2000s to try and dethrone Matt Andrews and his turbo Miata. In the Street class, we saw many familiar faces back at the track to continue the Street Class West championship fight. Manly Kao was prepared for battle in his Lotus Elise and returning champs Jeremy Toye and the Reese Tuning/Robispec Evo were out as well. Stock class had a huge showing with a lot of new and exciting entries as well as a few familiar faces from the first two west coast rounds!
The weather was HOT but the Unlimited Class action was even hotter. Determined to show everyone who owns the Nevada desert, Billy Johnson and the FX Motorsports Development Acura NSX got hard at work to make the car as fast as possible. The old track record from 2005, set by Tarzan Yamada in the XS Engineering Skyline GT-R was standing somewhere in the two minute, thirty two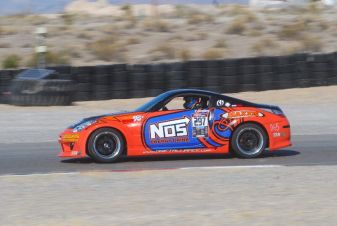 second range. The overall track record for any car at any event on this track was reported to be somewhere in the two minute, twelve second range set by the track's owner in a V8-powered Radicals. Well the FX Motorsports Development put on quite a show and blew everyone's expectations out of the water turning in a fast lap of 2:13.057 despite 100+ degree weather! This gross display of performance earned them the Overall Event, Overall Unlimited Class, and Unlimited RWD Class titles running five seconds faster than anyone else. Mike Cronin Jr. in the Fontana Nissan 350Z would take 2nd place in Unlimited RWD with a 2:22.982 which was still 10 seconds faster than the previous record!
Taking second place overall and the Unlimited AWD victory was Paul Gerard in the AMS Performance/NOS Energy Drink Evo X with a 2:18.055, the only other team besides FXMD to break the 2:20.000 barrier. Taking second place in Unlimited AWD was Gary Sheehan and the GST Motorsports Subaru Impreza with a 2:21.657 followed by Dez Ballard and the Hankook Tire/Gruppe-S Subaru STI in 3rd with a 2:35.995. World Racing's Scion tC piloted by the madman known as Chris Rado once again dominated the Unlimited FWD class with a 2:27.056 despite having to swap in a whole new motor in between time attack sessions. Andrew Gillis would claim 2nd in Unlimited FWD with his Gillis Motorsports Ford Focus with a 2:32.541. Nearly every Unlimited Class competitor broke the standing track record from 2005 which shows you how far the sport and its competitors have come in the last four years.
The Modified Class was the scene of one of the most anticipated rematches of the season between Ryan Gates and the Gates311.com/AMS Performance Evo X and JC Maynet with his Harman Motive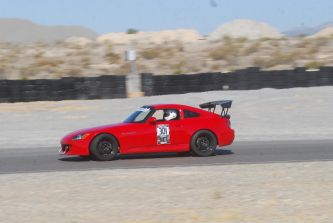 STI. Gates has been on quite the winning streak this season and he showed no sign of stopping as he piloted his beautiful blue Evo X to the top of the Overall Modified and Modified AWD podium with a time of 2:24.883. In Modified RWD, Jeremy Renshaw and the AFI Turbo/Competition Clutch Honda S2000 shook things up with the win and a 2:31.657 lap time for their first Redline Time Attack effort. The Modified FWD class was once again dominated by Tim Kuo and SportCar Motion, but this time they had an Acura Integra instead of the Honda Civic they have run in the past. Kuo piloted the new car to a 2:34.114 lap time showing a lot of potential for the new chassis!
The 18 turn technical Spring Mountain course was the perfect compliment to Manly Kao's featherweight TrackHQ/APR/Toyo Lotus Elise in the Street Class but he would get edged out by the monster Reese Tuning/Robispec Evo IX driven by Jeremy Toye. Toye took home the Overall Street and Street AWD class wins with a 2:33.485 lap time. Although Manly and his TrackHQ/APR/Toyo Lotus Elise didn't claim the overall Street Class victory, he did dominate the Street RWD class walking away with an impressive win with a lap time of 2:34.886.
Matt Andrews and the KBR/Robispec Mitsubishi Eclipse was the favorite to win Street FWD in practice, but engine issues forced them onto the trailer before the competition. It was Clint Boisdeau in the FSWerks Ford Focus who would claim the Street FWD class victory with a 2:43.284.
Rhys Millen and the RedBull/Hyundai/RMR Genesis Coupe would take top honors in this class running a 2:30.819. Chris Forseberg did not run his convertible V8-powered 350Z that you usually see sliding around Formula D tracks across the nation. Instead, Forseberg piloted his NOS Energy/Maxxis Tire turbocharged Nissan 350Z Coupe around to a 2:41.849 lap time and 2nd place in the Drift Class. For more visit www.redlinetimeattack.com