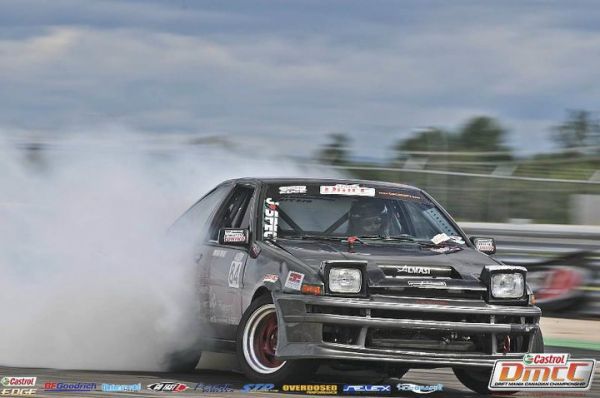 Jonathan Thiffault driver of the JODRIFT TEAM report from DMCC: Round 3
Summary of July 17th (Practice Day)
Practices went even better than expected with the help of the new Clutch given by our new sponsor COMPETITION CLUTCH , a freshly rebuilt motor by Steve Letourneau from The Ateliers SR and tuned by Robin from Almasi Tuning finally gave us a 300whp car
Summary of July 18th (Competition Day)
Jonathan succeeds to get 74,5 Points to place him in 8 position into top 16.Our first run was against Dave Briggs; our pilot gets off the line side by side with his opponent nissan 240sx but sent him in a spin out to take a small lead. On the second lap, leaving in second place Jonathan missed the first race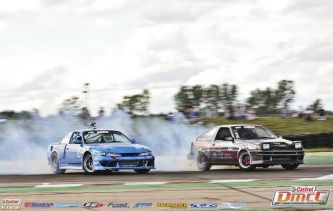 line and went into the tire wall with the back of his car, the judges then called a One More Time.
Leaving the starting line again, Briggs didn't let any mistakes happens and followed Jonathan a few meters from behind side by side. Now starting from the back, Jonathan had all the stress on his shoulders. He passed the first 2 corners without any problems and never let briggs take the lead, but at the 3rd corner Jonathan's car didn't had enough traction and made him loose control of the car and gave victory to Dave Briggs and access to Top 8.
However, this weekend was very satisfying for the team who never had to do majors reparations on the car with an incredible engine. A pilot who gave his 100% runs after runs with a 300 wheel horsepowers car. The ICAR racetrack is an awesome track to race on and with the DMCC administration that succeed to invite over 2500 people at the event , a track that never been used for this kind of event until now. The team is currently searching for a tire sponsor for the next round to help us to never have that traction problem and lead us on one of the three step of the podium next time.
We will come back stronger than ever for the 4th round of the DMCC the 14th and 15th of August 2010 in Montmagny, Quebec.
Thanks to all sponsors who made all this possible :
Red Rain, Jspec Autoperformance, Almasi tuning, Etshirt, Artisticdecal, Selex Suspensions, Ateliers SR, Switchback, Hob Grafik and Imprimerie Pub Cité.
To contact COMPETITION CLUTCH
Toll Free: 800.809.6598 www.competitionclutch.com
To contact PROLAB TECHNOLOGIES
www.prolab-technologies.com