Written by Garry Springgay // Photos by Manufacturer | 23 April 2010
I'm a serious believer in radar detectors. Radar guns and operators make mistakes. Conditions cause errors. I learned this a long time ago when I successfully defended a speeding ticket when a radar gun had determined I was going some 50 miles per hour faster than I actually was. I'll never forget the judge asking the officer, "From your personal observations of the accused's vehicle, would you say it was traveling at a rate 50 mph faster than the legal limit?" The officer answered very honestly, "No, but the gun said it was, so I went with that."
As technology progresses, we tend to simply assume high tech devices like a radar gun would be accurate, but they are simply not 100% correct. Over the years, I have heard all sorts of reports of supposedly infallible radar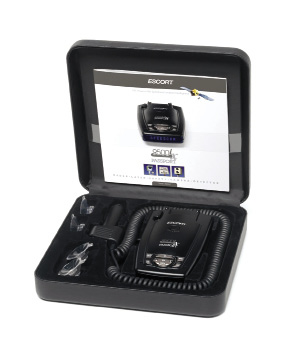 guns clocking trees, hills and bridges at breakneck speeds. Some experts claim that as many as 20% of all radar based speeding citations are issued in error, especially if the radar was being operated from a moving vehicle.
How do you protect yourself from unwarranted citations? If you live where they are legal to use, you buy, install and use a good radar detector. And that's where the folks at Escort come in. Escort produces the highly acclaimed Passport series of radar detectors, which are often the choice of many professional drivers. I personally own several Passport units of one type or another, and I have for the last 12+ years, and they have saved me their cost many times over.
One of the latest products from Escort is the Passport "DS" series of detectors, the DS stands for "Drive Smarter™". This $499 (US) unit is not just a radar detector, although it does detect X, K, Ka, Ku, Laser, and Safety Warning Signals (SWS), but it also incorporates a GPS system, so it can actually learn locations as you drive. Or, you can also manually enter locations you'd like it to ignore with the press of a button. It will also alert you to the known locations of speed cameras and red light cameras and it can be connected to your computer to upload the latest location data. It also provides a speed readout within the first few seconds of an alert, if you are traveling faster than 15 mph.
The 9500ix's main claim to fame is a great reduction in false alarms, critical for a good radar detector, since we start to apply the "boy who cried wolf" principle when a detector constantly goes off. The 9500ix has the ability to learn where false alarms are located, and after it has detected a false alarm a few times, it will simply store that location in the GPS memory and ignore it. To put it to the test, I mounted the 9500ix to my vehicle's windshield using the convenient quick detach bracket that comes with the unit. The bracket allows the suction cups to remain in place, but the unit itself can quickly be removed and secured when you leave the car. It even came with a spare set of suction cups, and a very nice case to transport it in. I liked the fact that the GPS antenna is built in, and did not have to be mounted somewhere else, and the display technology Escort uses is among the easiest to read quickly that I've seen. The 9500ix I tested had a blue LED display, which looked great, but I find a red display to be easier to read, partic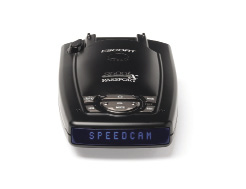 ularly at night. The controls are mounted on the top of the unit, and are fairly easy to use once you remember which button does what, because the text identifying the buttons aren't visible once it's mounted in place.
My commute includes a route with no less than 7 radar based "speed signs" that displays approaching speed, 2 red light cameras, and usually I can spot a photo radar speed trap or a laser equipped motor officer along the way somewhere. The first day I used the Passport 9500ix I was amazed by its incredible sensitivity, but I was not impressed with how often it went off. It would alert for one of those speed signs almost a mile away, and continue alerting, (although it does automatically mute, thank goodness) until I passed the sign. As I repeated the daily route, the false alarms from the speed signs gradually decreased, and finally after 3 or 4 passes, they did not trigger the unit at all. It also "found" the red light cameras on the first pass across those intersections, so they were obviously already programmed locations in the GPS data.
CONCLUSION
After a week or so, I became really impressed with the 9500ix, it never failed to detect a new radar signal, and it certainly went off much less than my own Passport detector that does not have the GPS technology. In fact, I liked it so much I will be replacing my current Passport detector with this one as soon as possible. It's incredibly intelligent, and combined with the ingenious GPS technology, provides a new level of sophistication and usefulness. The Passport 9500ix is a very smart solution for anyone who relies on a detector to keep them safe from citations.