Written by Text by Garry Springgay // Photos by Manufacturer | 23 February 2010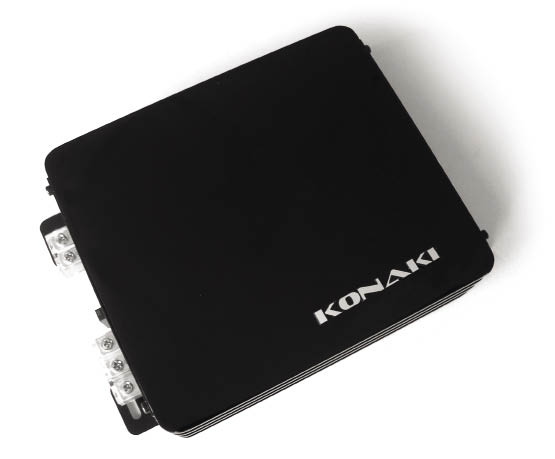 Okay, let's face it, unless you are independently wealthy or raking in big dough through some high paying job, we all have to spend our audio budgets wisely. And this situation is exactly what the folks at Konaki completely understand. For several years they've been turning out great quality products at relative bargain prices, with the motto, "Quality does not have to be expensive." To prove the point, they recently sent us an early sample of their budget oriented, but high performance Class D subwoofer amplifier, the KO-NA3601. Priced at only $199.99 (USD), the amplifier is purported to provide a lot of bang for the buck. Let's take a look and see if it delivers.
FEATURES
When I opened the box, I found the Konaki amp shipped inside of a velvet-like drawstring bag, which protects it from dust and scratches during shipping. Pulling the amp out of the bag, I discovered a small heatsink with four thick horizontal fins down each side, and a flat top. The heatsink is finished in gloss black powdercoat, with a diamond cut Konaki badge on the top. Following a currently popular styling
cue, the corners of the small heatsink are rounded, and to see just how small it was, I measured it at a diminutive 8.5 x 6 x 2 inches, so the KO-NA3601 is certainly small enough to allow it to be mounted
in virtually any available area. The amp is designed to be mounted via 4 traditional slotted mounting tabs that will accept up to a #10 screw. Mounting screws and a wired remote control are included. The amp is a traditional Class D design, and is capable of driving load impedances down to 1 ohm.
All of the wiring connections are made on the opposing ends of the amp. One side is occupied with the power, ground, turn-on and speaker connections, as well as a pair of 40A ATC fuses. The opposite end of the amp has a pair of RCA input connectors, a 1/8-inch jack for the wired remote level control, and a pair of LEDs to indicate power-on and protection status. I know what you're thinking, if that's it, where are the adjustments?
Well, considering that improperly set amplifier controls create the vast majority of sound quality complaints as well as amplifier failures, the creative minds at Konaki decided to mount them on the bottom side of the amplifier, where they can't be easily messed with by every would-be expert who happens to stick his nose in the trunk.
Once the controls are adjusted and the amp is bolted down, there are no adjustments possible without un-mounting the amp. Sure, this is a bit unconventional, and I know some will complain about the inconvenience, but in the long run it just may result in a better sounding, more reliable installation. The bottom mounted controls consist of adjustments for input sensitivity (gain), a -12dB/Oct Low Pass filter adjustable from 40-180Hz, and a variable frequency Subsonic filter, which adjusts from below audible frequencies to a high point of 50Hz.
Since I had the amp upside down in front of me, it was a perfect opportunity to remove the bottom cover and examine the guts of the amplifier. What I found inside was a well built double sided PCB, using predominately 0% tolerance surface mount parts. The terminals are plenty beefy for an amplifier of this power level, and all the parts were well placed and soldered.
The power supply uses a pair of TO-220 case MOSFETs, as does the output section. Power supply capacitance is handled by three 25V 2200µF high temperature caps, and the output section has a total of 6600µF of capacitance. In the interest of reliability, these are also of the high temperature variety and have a working voltage of 50V. Output filtering on a Class D amplifier is crucial to good performance, and the KO-NA3601 is equipped with a quality inductor and high speed poly caps to remove the switching noise generated by the high efficiency Class D design.
Read on for Results
LISTENING
After replacing the bottom sheetmetal, I connected the amp in my listening room, driving a pair of 4 ohm woofers wired in parallel. I turned the subsonic filter off since I was using a sealed woofer system, and then set the low-pass filter to about 80Hz. After a couple of tweaks to the crossover frequency and increasing the gain settings, I sat down to hear how well this teeny little amp would perform, and I have to say I came away relatively impressed. The KO-NA3601 had plenty of authority to drive the 12-inch woofers to loud volumes, and sounded fine in the process. The bass was well controlled and deep, quick transients sounded natural without a lot of ringing, and generally speaking the amp sounded just fine indeed. While it's not going to be mistaken for my 2,000 watt reference amplifier in terms of power, I was very pleased with how well it drove the woofers, even at "enthusiastic" levels, and playing difficult tracks with a ton of dynamics. If I could make one small improvement, it would be to give the amp a bit more gain, as I needed it adjusted nearly wide open to keep up with my main amp. But once set-up, it's amplifiers like this that can make us re-think the "just how much do I really need" question. I'll wager this amplifier has more than adequate performance for all but the most demanding listeners.
PERFORMANCE/BENCH MEASUREMENTS
After my listening session ended, the amp was transferred to the electronics test bench, and put through our usual series of tests. Here again, when you consider the low price and the very small package size, the amp performed quite well. Power levels were what I expected after examining the internals, although my precise measurements fell a bit short of the power specs quoted in the owner's manual. In fairness, however, the amp and manual I received were very early production and may not be a final version. I mention this because more accurate power specifications were provided in the technical data I received with the amp. Due to this discrepancy, I have left the manufacturers rated power as "TBD" in the specifications below. In any case, the differences only amounted to a bit over one decibel anyway.
Other specs like signal-to-noise measured good as well, a testament to the design and layout of the amp. Where amps like this really excel though, is in terms of efficiency, and not just at full power. A really well designed Class D amplifier will be efficient at fractional power levels as well, and the little Konaki did very well in this regard, measuring better than 46% efficient at only 10 watts of power. This is very good, considering most Class AB amplifiers will struggle to hit 15% efficiency at 10 watts. To test the reliability, I deliberately dead shorted the outputs, ran it at very low voltages, ran it to thermal shut off and was generally abusive, and the amp simply protected itself when I got too stupid, and worked perfectly again when the problem was corrected.
CONCLUSION
Small amps are increasingly popular, and as small as it is, I believe this one will be no different. The performance is terrific for the low price, especially if you are driving it with strong input voltage. The design and construction, as well as my abusive testing lead me to believe this amp will be reliable as well. Overall, the Konaki amplifier represents a very good value, which was precisely the target Konaki was aiming at when they designed this product. If you're in the market for a budget priced amp with mid-level performance, check this one out at a dealer near you.