Written by Garry Springgay | 02 November 2016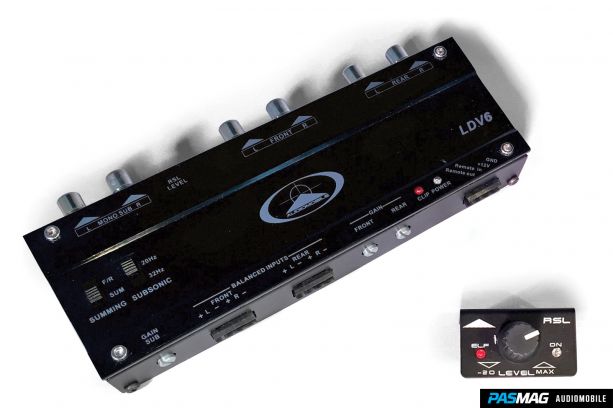 Let's face it, the auto manufacturers are making it more difficult to make an argument for swapping out the OEM radio. In addition to the integration of other features and no longer being relegated to a common-sized dash opening, the audio performance of the OEM source units are getting better as well.
That doesn't mean you can't still upgrade the overall performance of the system! You can still replace the crappy OEM speakers and add multiple channels of high powered amplification. All you need is the proper bit of kit to interface the OEM source to those amps, and the folks at Audiomobile have been working hard to bring you several different products designed to do just that. In this issue we'll take a look at the very well thought out Audiomobile "Line Drive" LDV6 multi-channel processor.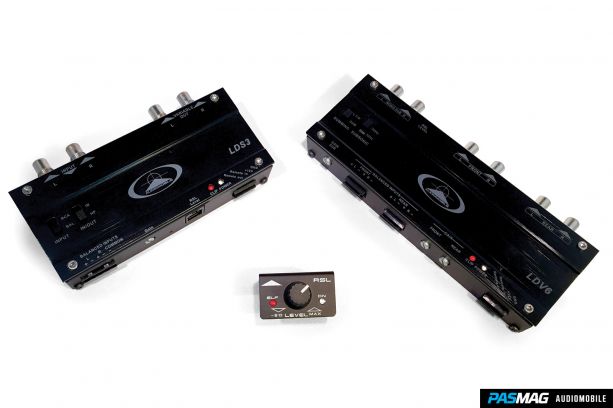 FEATURES
The compact LDV6 is designed with a bunch of useful features that aren't usually found on a single processor. Designed to allow signal summing of typical three-way OEM front speaker systems, it has four channels of high-level inputs that will accept high powered amp signals up to 500 watts and convert those channels into true high performance audio signals used to drive the RCA inputs of your favorite amplifiers. Output signal comes from six very solid and high-end-looking panel-mount-style RCA connectors. No cheap plastic stuff here folks, even the all-metal housing has a solid look and feel.
The LDV6 can be used with full fading capability and a non-fading subwoofer output, or it can sum two channels of input to four channels of full range output and retain the non-fading sub output. This makes it compatible with the vast majority of OEM systems, while allowing the user to upgrade all at once or in several stages, as budget allows. In other words, once you have an LDV6, the potential for system upgrades is almost infinite. Also included with the LDV6 is a selectable 18-dB/Oct subsonic filter, with a 20 Hz setting for sealed applications and a 32 Hz setting for vented enclosures. The subsonic filter is very handy for situations where you need to limit the very low frequency power applied to a subwoofer, such as when using a vented enclosure or an infinite baffle design.
Audiomobile's "ELF-Q" bass restoration provides 20 dB of driver's seat control of the subwoofer level. The ELF-Q remote-mounted control also can provide 7 dB of boost at 48 Hz, allowing the bottom end to be tuned to better suit the vehicle or compensate for compressed audio files. It's also useful when dealing with an OEM head unit that reduces bass output as the volume increases. Plus, the narrow Q used for this filter prevents boost in the regions where you don't want it, and can be turned on or off while driving, something that can't be done on an amplifier's bass boost control. The subwoofer outputs are summed to mono internally, so there is no need for Y-cables or external summing switches. Signal sensing turn-on provides easy and silent system turn-on, and a dedicated 12-volt output is available to power the amplifier's turn-on leads for installations that don't have a typical amp turn-on lead.
With all of these features in one product, it's pretty obvious that the folks at Audiomobile have done their homework, so it should come as no surprise that the LDV6 is completely compatible with "smart" radios that can sense if a load is connected or not. With an LDV6 you'll never have to go to the dealer to get radio channels turned back on because they were shut off when an aftermarket device was connected.
ON THE BENCH
On the test bench, the Audiomobile piece shows why the brand is fast becoming the go-to when it comes to OEM interfacing.
The audio signal produced by the LDV6 is truly high performance and high fidelity. Maximum unclipped output voltage measured over 10.5 volts RMS, thereby easily earning the "Line Drive" moniker. Couple that level of output capability with the very low source impedance of 36 ohms, and the result is a product that should drive nails.
Frequency response was ruler flat from below 10 Hz to well above 50 kHz, and when switched in, the subsonic filter worked exactly as intended, as did the ELF-Q controller. The amp turn-on output has plenty of current to turn on multiple amps or trigger a relay.
TECHNICAL SPECS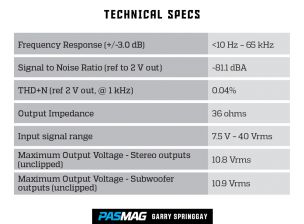 CONCLUSION
The Audiomobile LDV6 incorporates a host of features not normally all found on a single processor. With the intelligent design, features, and performance the unit provides, it should prove to be a very popular choice for any system using an OEM source unit that aspires to true high fidelity and exemplary audio performance. If you have a car that needs an audio upgrade and you want to retain the factory radio, the Audiomobile LDV6 should be at the top of your shopping list. #pasmag
Contributor: Garry Springgay