Written by Garry Springgay | 14 September 2016
If you happen to drive a Jeep or truck and have a few aftermarket accessories installed, or if you always wanted a double-DIN sized touchscreen, but your dash doesn't have the typical required depth, this review is for you. The Alpine INE-W967HD Audio/Video Navigation receiver is loaded with a bunch of cool capabilities that you may not have even dreamed about. Not your typical AV/Nav piece, this unit is built on a space saving single-DIN chassis, but fixed with a full-size seven-inch TFT touchscreen. Couple that with standard HD Radio, built-in Pandora control, plus an amazing array of expansion capabilities, and you have the cornerstone of a brilliantly conceived head unit.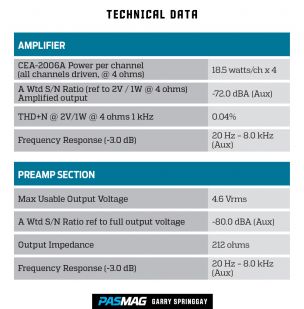 FEATURES
The INE-W967HD is a mechless navigation receiver with unparalleled installation flexibility. Because there is no built-in disc drive, the chassis is small and will fit in any opening that will take a double-DIN faceplate. It allows you to use your portable media player or thumbdrive, but if you still want to play CDs and DVDs there is an optional disc player available (DVE-5300). The navigation system will get you where you're going via full 3D maps and voice guidance with text to speech functionality. This allows the INE-W967HD to speak street names, freeway numbers and exit names as you drive. The unit comes pre-loaded with HERE map data of the U.S. and Canada, as well as Alaska, Hawaii, Puerto Rico and the Virgin Islands. With seven million POIs included, you'll have no problem finding your favorite gas station or coffee house. Of course full Bluetooth communication and audio streaming are also part of the package, bringing all of the convenience and safety that being hands-free provides. Other convenient features can be accessed via the Alpine Connect app, which allows Yelp and iHeart Radio content to be controlled from the INE-W967HD when used with the free app on an iPhone or Android smartphone. For example, you find a restaurant on Yelp, then have the address sent directly to the INEW967HD so the navigation system can route you there.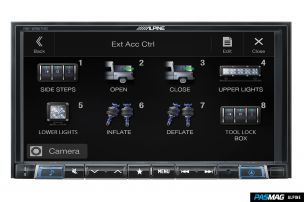 Thanks to Alpine's optional KAC-001 External Accessory Controller, you can actually use the faceplate of the Alpine receiver to control aftermarket accessories like a winch, auxiliary lighting, air suspension, or pretty much any other relay-controlled accessory. A graphical icon and name can be assigned to each accessory for quick identification on the screen. A simple press of the touchscreen allows each accessory to be controlled as a pulsed, latched or momentary output, depending on how the accessory is configured. Say goodbye to that two-foot long row of toggle switches mounted under your dash; now you can control it all right from the touchscreen. How's that for a little James Bond action?
If you need to keep tabs on what's going on around your vehicle or trailer, the INE-W967HD will allow up to three video camera systems to be controlled, using Alpine's optional KCX-C250MC Multi-Camera Selector. This is also handy for off-roaders who use front and rear cameras to help during rock crawling adventures.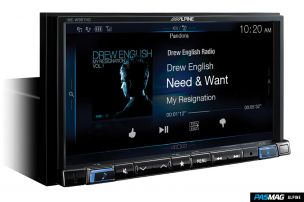 CONTROLS AND FUNCTIONALITY
From a user's perspective, the Alpine is very simple and intuitive. The touchscreen is responsive without being too delicate, and the combination of "hard-button" controls just below the display take care of all the frequently used functions nicely. A dual screen function lets you display the A/V information, as well as the sat-nav map at the same time, and you can even select which one goes on which side. A new four-way swipe-based interface keeps you only a quick gesture away from most commonly accessed functions. Simply swipe left for navigation, right for audio and video features, swipe down to adjust the audio system and swipe up for Bluetooth and source selection. When you are on the audio and video page, you can just swipe across to access the various entertainment sources connected to the system.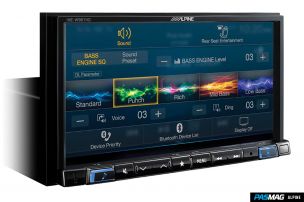 The "My Favorites" feature lets you personalize quick-access screens with up to 80 shortcuts to your most-used features. You can design as many as 10 "Favorites" page profiles, with up to eight shortcuts per page. The shortcuts can be audio sources, navigation commands (favorite places/direct search/nearest POI search), or even phone settings. The shortcuts are easily added by pressing the shortcut soft key that appears within all audio and hands-free sources. Once added, the settings are kept as a personal profile linked to your smartphone via Bluetooth.
And there's more! Input and output HDMI ports are standard, as is a rear-mounted USB port. The display can have eight different background colors and the hard key illumination can also be customized for color and brightness. Steering wheel controls can be retained via a control adapter (sold separately) and a wireless remote control is included.
Audio-oriented features are adjusted via the Alpine "TuneIt" app, and includes signal delay adjustability for all four channels, a nine-band parametric EQ, and 11 selectable crossover points for high- and low-pass filters. The crossovers also have four available slopes, from -6 dB to -24 dB in 6-dB increments.
ON THE BENCH AUDIO PERFORMANCE
With the INE-W967HD connected to my trusty Audio Precision analyzer, I ran the usual battery of tests and the Alpine performed to all of its specifications. I noted that the frequency response wasn't quite as flat as other Alpine pieces have been, but not out of line enough to cause anyone grief. The internal amplifier was good for more than the rated 18 watts per channel, and the three pairs of pre-outs had better than four volts of drive capability.
CONCLUSION
The Alpine INE-W967HD is a brilliant choice for anyone looking for a very full featured audio source and sat-nav combo. Thanks to the amazing array of expansion capabilities, there's almost nothing this piece can't do, including fitting in a lot of dashboards where a full chassis double- DIN unit won't go. The INE-W967HD has a suggested retail price of $2,199 in Canada, and about $1,700 in the U.S. #pasmag
For more information on the Alpine INE-W967HD audio/video/navigation receiver, visit www.alpine.com, Twitter, Instagram, Facebook, YouTube.