Written by Garry Springgay | 31 August 2016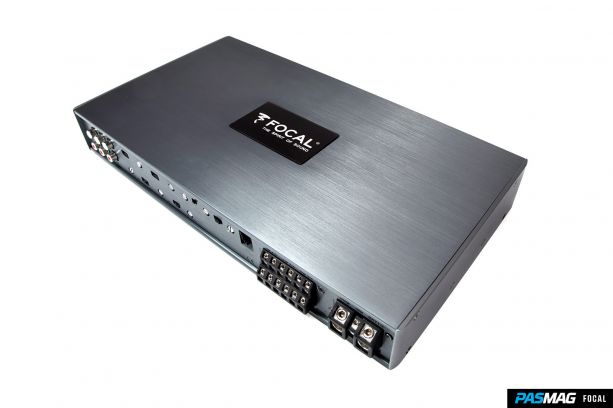 When Focal introduced the brilliantly conceived FPD series of amplifiers a couple of years ago, they knew they had developed a solid performer with exceptional sonics. For a lot of companies, that would have been enough, but it wasn't for Focal. In a never-ending quest for better performance and improved functionality, the FPD series has been improved and upgraded to even higher performance. As usual with a Focal product, the product has a look and feel that portends high quality. For this review, we'll be taking a look at the powerful and accommodating - in terms of system design – six-channel FDP6.900.

FEATURES
The FDP6.900 has been designed to offer maximum installation and system design flexibility while delivering prodigious power. With six channels of output, the amp can be used alone as a single amp solution for front, rear and subwoofer channels, or thanks to the very flexible crossover functionality, it can even be used to drive a fully active three-way speaker system. The crossover design found in the FDP6.900 provides flexibility of adjustment that very few amplifiers can match. Channels one and two can be configured for a flat response, or high-pass from 50 Hz to 4 kHz, or to match the setting of channels three and four. Channels three and four can be configured as low-pass, bandpass, high-pass or flat, with two separate frequency pots each having the same 50 Hz to 4 kHz range. On the fifth and sixth channels, the amp provides flat, high-pass or low-pass settings, and then allows bandpass to also be accomplished thanks to two more separate frequency controls. Suffice it to say, if you can't send the right signals to your system's speakers with this amp, you need some help.
Crossover flexibility aside, there are other nice touches to be had with the Focal amp. The power supply is regulated to provide the same power to your speakers, regardless of battery voltage. There are three pairs of RCA inputs for maximum signal control, but there is also a 2/4/6-channel signal steering switch, so you can drive the entire amp with whatever signal input you have handy. If you don't have RCA outputs, the FDP6.900 will accept speaker wire level inputs directly to the RCA connectors thanks to the very wide range of gain adjustment available. When using speaker level inputs from a BTL amplifier (typical OEM amp) there is no need for a separate turn-on wire, as turn-on will be sensed through the RCA connectors. A wired remote subwoofer volume control is also available.
All of the connections and controls are found along one edge of the amp, making installation convenient and tidy. Speaking of tidy, the FDP6.900 uses either conventional style mounting brackets, or a clever hidden steel mounting bracket that conceals the mounts and provides a very secure method of installation. An illuminated, white top logo tells you the amp is on, and flashes to serve as a built-in diagnostic indicator.
LISTENING
When it came time to listen to the FDP6.900, I had fairly high expectations. I particularly wanted to try out the amp's ability to deliver high power into six channels simultaneously with a four-ohm woofer bridged across the fifth and sixth channels. To that end, I bridged a four-ohm woofer to the proper channels and set the crossover to low-pass at about 80 Hz. The remaining four channels were connected to my reference component speakers, with the crossovers left in full range mode. The results were really impressive.
From a sonic perspective, the amp is very transparent and musical. The bass is well controlled with excellent authority. I didn't notice any degradation of the full range signal from the components when the bass hit either, which is something I'm listening for when auditioning a multi-channel amp with a single power supply.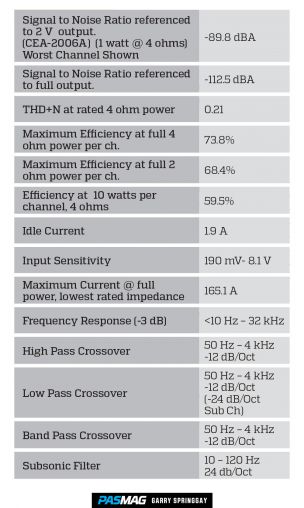 My listening session lasted several hours, while I simply enjoyed the music from this clever bit of engineering until I realized it was dark outside and I should have gone home a long time ago. I'd rank the sound quality performance of this amplifier in the top 10 car audio amplifiers I've heard this year. It's certainly good enough to benefit from very good source material, and show the limitations of material that isn't top notch.
I suppose I'm in the minority on this, but when gear is this good, it's almost a shame to play MP3 or other digitally-formatted music through it. This amp deserves high resolution music, or at the very least, CD quality. Sure, it will play whatever you like, but listening to low-res compressed music through an amp this good is like putting re-treads on a Ferrari.
PERFORMANCE / BENCH MEASUREMENTS
Back on the test bench the next morning, the Focal amplifier shows why its sonic performance is so impressive. The amp easily out-performs its advertised specifications, delivering exemplary performance in every significant test. Frequency response is flat beyond audibility, and it made gobs of good, clean power. Low level THD+N has been improved as well, and signal-to-noise performance is excellent. Overall power efficiency is slightly lower than some other Class-D amplifiers, but with this level of power and performance, it's well worth the trade off.
CONCLUSION
As good as the original FPD amps were, Focal could have simply rested on their laurels, but as this amplifier attests to, they did anything but. Focal improved the amp in areas that really matter, and did it well. With a U.S. price of $999 ($1,199 in Canada), this level of performance isn't exactly cheap, but in my opinion, it's worth every penny. If you love your music and you need a great amplifier that can be configured to run just about any system configuration you want, look no further than the Focal FDP6.900. #pasmag
For more information on the Focal FDP6.900 amplifier, visit www.focal.com, Twitter, Instagram, Facebook, YouTube.