Written by Garry Springgay | 17 August 2016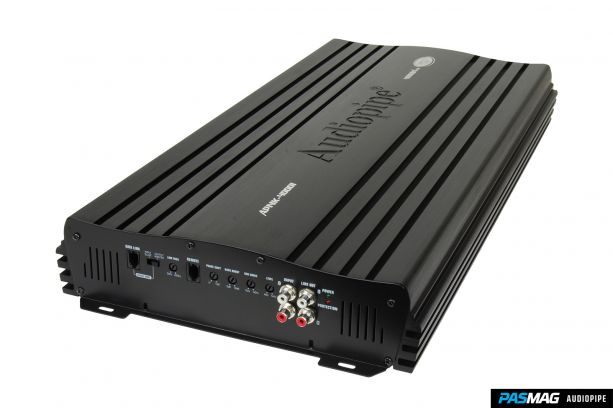 If you are looking for big bass power at an unexpected pricepoint, you may want to check out the Audiopipe APNK-40001 monoblock amplifier. The APNK-40001 is designed for reliable audio power, regardless of load impedance, right down to one ohm. With a suggested retail price of $566.99, it's one of the most affordable ultra-high-power amplifiers available.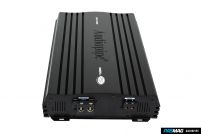 FEATURES
The big monoblock looks pretty good, and feels it too, with a weight of right around 30 pounds! A black anodized extruded aluminum heatsink is finished in a brushed "hairline" look, just like expensive home audio components. On one end of the amp you will find the nickelplated 1/0-AWG power terminals and a set of four-AWG speaker outputs. The opposite end of the amp locates the signal inputs and outputs, which are rugged, highend-looking, panel-mount-style RCAs, as well as the adjustment pots for gain, a 50- to 250-Hz lowpass filter, 15- to 40-Hz subsonic filter, and bass EQ boost level with up to 18 dB of boost.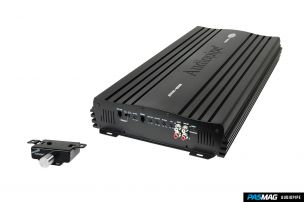 Self-protection comes in the form of built-in protection modes for thermal, short circuit, and low battery voltages. With an amplifier this massive, sturdy mounting feet are important, so the APNK-40001 comes with strong heavy-gauge steel tabs integrated into the amplifier's end panels. Also included is a wired remote level control, so you can fine tune the amount of bass you get right from the driver's seat. Inside the amplifier you find a double-sided PCB, along with specially treated transformers to improve reliability and eliminate transformer noise. Signal transfer from the output stage of the amp to the speaker terminals is accomplished via heavy-gauge pure copper stranded cables. The small signal parts are all traditional through-hole parts, and the amp sports 15 3,300-μF high temperature capacitors in the primary and another 10 1,200-μF caps in the high voltage stage. The amplifier did not come with any fusing, so this is something the installer would need to add during installation.
LISTENING
When I get a powerhouse like this in my listening system, it's always a treat because it's one of those situations where I can simply play things as loud as I like without ever worrying about reaching the amplifier's limits. I connected the APNK-40001 to four 15-inch woofers in sealed enclosures, with a final impedance of two ohms. After setting the gain and crossover, I picked a few favorite tracks from Telarc and Sheffield Labs with excellent deep bass and fast, articulated notes in the lowermost registers.
The big Audiopipe amp certainly proves itself in terms of effortless power. Considering the price, I wasn't expecting audiophile performance, but its ability to accurately reproduce deep bass notes from Don Dorsey's synthesizer or the rapid attack and resonance of a large kick drum or kettle drum was still pretty decent. With this amp in my system, I found I reached a point where my ears would give up before the amp ran out of steam. Just beware; you're going to need several (or more) very stout woofers to handle this beast, and if you use it at two- or one-ohm loads, you'll need a serious charging system to handle the current demands. I have a 200-amp supply in my listening room, and it hit its limit a few times.
My only real complaint during listening was the loud noise of the internal cooling fans used to cool the power supply toroids and output chokes. If the amp was in a trunk, I suppose it wouldn't be objectionable, but if you mount this amp inside your listening space, you are going to hear those fans.
PERFORMANCE / BENCH MEASUREMENTS
Moving from the sound room to my test bench, I put the APNK-40001 through its paces and confirmed it does make serious power, if not quite as much as advertised. The amp has relatively high levels of THD, especially at lower power levels, but this is mostly due to high frequency noise and will never be audible when driving a woofer. This also tends to spoil the signal-to-noise ratio somewhat, but again, this isn't a critical spec for a subwoofer amp.
Efficiency is good, and the amp is clearly built to handle huge amounts of current reliably. The adjustments and controls work as expected, and there were no unwanted surprises. My earlier comments about current demand were confirmed when I measured a current draw of 277 amps at full power into one ohm. If you buy one of these brutes, make sure you have the charging system and battery reserve to drive it.
CONCLUSION
From a pure value perspective, the Audiopipe APNK-40001 has a lot going for it, and offers more watts-per-dollar than almost anything else available. With plenty of power on tap for even the most enthusiastic users, heavy duty construction, and a price tag that's affordable to almost anyone, this amp could be exactly what you need to get some accessibly big bass in your system. #pasmag
For more information on the Audiopipe APNK-40001 amplifier, visit www.audiopipe.com, Twitter, Instagram, Facebook.