Written by Garry Springgay | 03 August 2016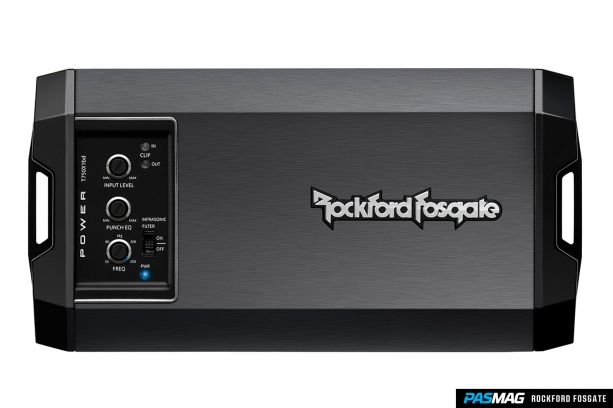 Although our vehicles evolve and change, our passion for music remains constant. Whether you want your music in a muscle car, hot import, hybrid or even a motorcycle, Rockford Fosgate remains dedicated to providing the gear you need to bring your music to life. To that end, recognizing the fact that cars are getting smaller, and available current is always at a premium, Rockford offers the compact, high efficiency Power Series of amplifiers. This series is built on small footprint, fan-cooled ultra-compact amplifiers with no compromise in audio performance. This review will take a look at the largest monoblock in the compact amp line, the T750X1bd. Loaded with innovations and several patented features, this amplifier is rated at 750 watts into two or one ohm loads, and has a U.S. suggested retail price of $799.99.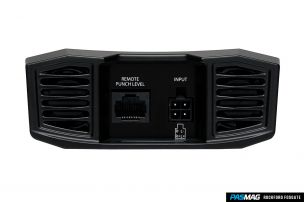 FEATURES
As you'd expect from a company that's been doing high-end car audio for decades, the T750X1bd is loaded with Rockford Fosgate technology, including a bunch of stuff that you simply can't find on any other brand. As any experienced person will attest, setup and tuning of a system can make or break the entire install. To make sure the amp's gain settings are dialed in correctly, one of the most useful features of the T750X1bd is their patented C.L.E.A.N. setup system. The acronym stands for "Calibrated Level Eliminates Audible Noise". Included in the box with each amp is a special setup CD. You simply play the appropriate track from your head unit and increase the volume setting until the "Input Clip" indicator lights up on the top of the T750X1bd, then reduce the output one step. The next step is adjusting the gain control on the amplifier until the multicolor output clip indicators turn blue. Once you're there, that's it, you're done. If you wanted to tweak it a bit more to dial in some gain overlap and really get it perfect there are additional tracks on the disc, and you can double check your setup by monitoring the amp's output clip indicators while you are playing your favorite music.
To keep the heat under control, the T750X1bd also incorporates a special three-stage airflow cooling system with dual fans to keep the power supply and output devices cool.
Of course all the typical expected features are included as well, with adjustable frequency 50- to 250-Hz low-pass crossover, and Punch equalization, which unlike a typical bass EQ found in other products, the patented Punch EQ provides a calculated amount of boost at 45 Hz to help overcome road noise. To ensure every amplifier sold is performing to Rockford Fosgate's high expectations, each amplifier is individually tested and is shipped with its own "birth certificate" indicating the actual measured specifications.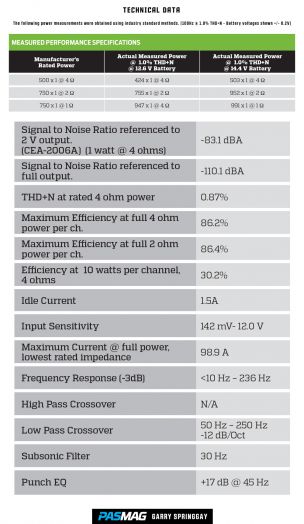 LISTENING
For the listening part of my testing, I connected the T750X1bd to a pair of four-ohm woofers, wired in parallel for a nominal two-ohm load. As this particular woofer system used a sealed enclosure, I simply left the amp's infrasonic filter turned off. The second order low-pass crossover was adjusted to an indicated 80 Hz, and then after a bit of gain adjustment, I was ready to give the Rockford monoblock a good listen.
I have to say, it performed far better than I would have expected, if its diminutive chassis was any indication. This amp may be small, but it develops prodigious power! Judging by the way it handled the reproduction of difficult instruments like Barenaked Ladies' stand-up bass, and Don Dorsey's synthesizer, I couldn't help but be impressed. Another favorite track for bass definition is Rickie Lee Jones' Danny's All-Star Joint. This track has the amazing Willie Weeks on a Fender Jazz bass, and his plucking and thumb slapping are fantastic. During all these tracks, the T750X1bd provided good power and control, with tight, crisp bass notes delivered with good definition and clarity.
The amp did not get overly warm during listening until I ran a few really bass-heavy tracks through it at really loud volumes, at which point it was very warm to the touch, but played on without complaint. The amp kept playing throughout my two hour session, and the dual cooling fans were virtually inaudible.
While I really liked the Rockford T750X1bd generally, I have to admit I was a little less enamored with a couple of details. The amplifier is small, so I understand there isn't much real estate for power and speaker connections. However, the power connections will accept a maximum of only eight-gauge wire. When you realize that this amplifier can pull almost 100 amps of current, I think it needs and deserves a four-gauge connection to minimize voltage drops.
PERFORMANCE / BENCH MEASUREMENTS
On the test bench, the Rockford Fosgate amplifier easily surpassed all of its published specifications, and most by a considerable amount. Power at two ohms and one ohm was significantly greater than advertised, and other typical specifications were equally impressive. I did notice some heat buildup while doing the bench testing as well, so I think making sure the amp has plenty of space and airflow in its installed location will be a good idea.
CONCLUSION
The ultra-compact Power Series amplifiers are some of the highest power density amplifiers I have tested to date. The awesome amount of power developed by the T750X1bd is fantastic, but if you are going to drive it hard on a regular basis, make sure you give it a fighting chance to rid itself of heat. The amplifier sounds great, has excellent build quality and like other Rockford Fosgate products, it should be an exceptionally reliable performer. #pasmag
For more info, visit www.rockfordfosgate.com, Twitter, Facebook, YouTube.