Written by Garry Springgay | 27 July 2016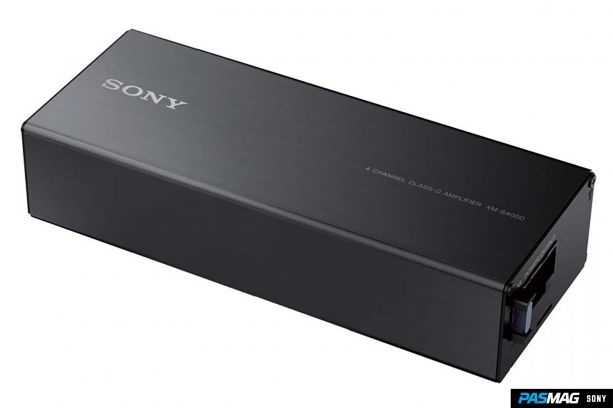 Maybe your stock audio system suits you pretty well, but it just lacks the clean power you need to really enjoy your music. And if you have a leased vehicle, or simply can't afford the space or cash that a full-size amplifier requires, pay attention here because the folks at Sony have a solution.
Sony has introduced a compact four-channel amplifier designed to add some much needed power to your OEM system. The amp is called the XM-S400D, and is a Class D unit with an advertised output power of 45 watts per channel into four ohms. Best of all, it can be used with virtually any aftermarket radio or OEM system. It's small enough to be mounted behind the dash near your radio!
FEATURES
With a compact chassis measuring about 6.5 x 2.5 x 1.5 inches, the Sony XM-S400D can be mounted nearly anywhere, and comes complete with a nice, long wiring harness and input harnesses for both high-level or RCA-type inputs. The amplifier is very simple to connect and set up. Current draw is low, thanks to the Class D topology, so this amplifier can be powered via the vehicle's fusebox rather than needing a dedicated power wire to the battery. There are only three possible adjustments to make, a switch for either two- or four-channel input, a switch that controls a 120 hertz high-pass filter for the front channels and a similar low-pass filter, also 120 hertz, for the rear channels.
The amplifier is designed specifically for four-ohm loads, which makes it compatible with the vast majority of OEM and aftermarket full-range speaker systems. For a real improvement, add the XMS400D and replace the factory speakers. Night and day!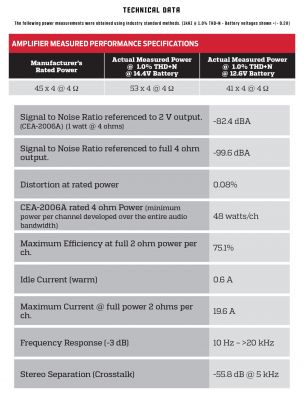 LISTENING
The Sony XM-S400D adds welcome clean power to your system and it sounds good doing it. The little amp adds virtually no character of its own and simply does what a good amp should - faithful reproduction of the recording with adequate power. The amp has no audible noise floor, and during my listening session drew very little current barely getting warm.
PERFORMANCE / BENCH MEASUREMENTS
On the test bench the Sony XMS400D performed well, easily exceeding the 45-watt-per-channel rating. As I suspected when I listened to it, the frequency response is exceptionally flat, and the signal-to-noise ratio was also very good. What more do you need?
CONCLUSION
While many of us have been indoctrinated with the old "amps are big, need lots of power and go in the trunk" tradition, the Sony XM-S400D may cause a re-think of that idea. With its high efficiency design, ultra-compact size, and startlingly good sound, not to mention a very affordable price tag, it might just be the perfect amplifier for you.#PASMAG
For more information, visit www.sony.com, Twitter, Instagram, Facebook, YouTube.
Contributor: Garry Springgay