Written by Garry Springgay | 20 July 2016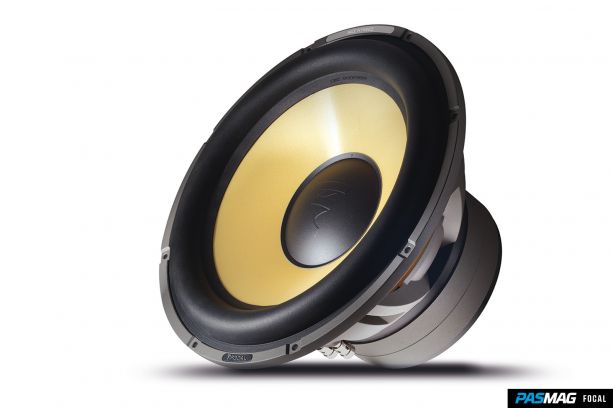 In this review we are going to take a look at one of the newest Focal subwoofers. The Focal E 30 KX is a 12-inch dual voice coil woofer designed to appeal to the customer looking for a higher-end high-output sub. And from the looks of it, the high-end appeal target scores a bullseye.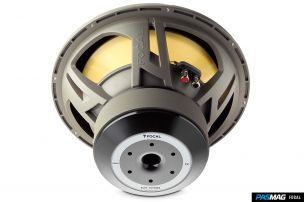 FEATURES
Built on a custom designed, rugged cast aluminum basket and nicely finished in gray powdercoat, the E 30 KX is an impressive woofer to un-box. The woofer is beefy, weighing in at just over 24 pounds, due in no small part to the massive 170-mm double-stacked magnet assembly.
Making full use of all that magnetic energy is a four-layer copper-clad aluminum voice coil, wound on a stiff fiberglass former. The dual coil layout measures 65 mm in diameter, or roughly 2.5 inches. Keeping the coil centered in the magnetic gap, and providing compliance to the suspension, is the duty of a progressive-type 190-mm poly-cotton spider.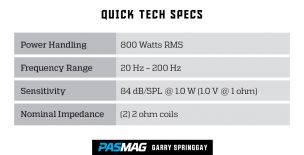 All of this technology connects to a hand-made conical cone, built onsite at the Focal factory. The cone is formed by hand-stretching the Focal K2 fiber cloth on the front side of a foam core, followed by a fiberglass layer on the back. The result is a very well damped and stiff cone that will not create distortion and unwanted resonances. A convex injection-molded poly-dustcap finishes the cone, and carries the famous Focal logo. To connect the outer edge of the yellow cone to the cast basket, a full hemispherical rubber surround, measuring 29 mm in width is employed.
To aid in reliability, the voice coil is kept cool via the spider pumping air through six 6-mm holes in the former, to directly cool the voice coil. In addition, there are vent holes in the top and back plates, as well as the center pole. When it's all said and done, there is enough cooling available to allow a power rating of 800 watts for the E 30 KX.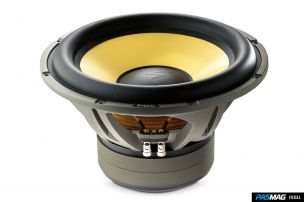 LISTENING
After a break-in period* to normalize the driver's suspension, I installed the E 30 KX in a 1.3-cubic foot sealed enclosure. After getting it connected to my reference system, I began dialing in the crossover and gain settings. I found that this woofer had significantly more high frequency output than many competitive woofers, and because of this, I preferred to use a steeper -24 dB crossover slope. I should note here that this is largely a matter of personal taste, and others may prefer the additional higher frequency output, and choose a -12 dB crossover. Bear in mind though that the higher the frequency you permit a woofer to reproduce, the easier it will be to locate where the woofer is placed in the vehicle. This makes it hard to get the "bass in the windshield" image that so many listeners prefer.
*(You don't need to break-in the woofer when you buy it, a few days of listening to it will do the same thing. I simply break-in all loudspeakers before doing critical listening or measurements, just for consistency and accuracy in the information) ~Garry
Once everything was set, it didn't take much more than the first track or two to thoroughly be impressed with the sound quality and overall excellent tonality the woofer provides. The very bottom of the musical spectrum is easily audible, and good enough in fact to easily hear the very subdued kick drum in Livingston Taylor's Grandma's Hands. This is a listening test I perform frequently, as a good many woofers do not reproduce these extremely low frequencies at audible levels.
Well-recorded rock and roll sounded good, with good control. Dire Straits' Heavy Fuel and Marc Cohen's Walking in Memphis had excellent natural timbre. Plucked bass sounded nice, fat and round, as it should. Bass-heavy tracks, like the Pussycat Dolls' Don't Cha and 50 Cent's In Da Club were reproduced with authority.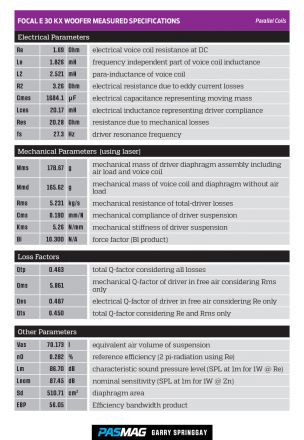 Switching musical gears to more audiophile-oriented material, tracks like Donald Fagens' classic Ruby, sounded very tight and articulate, with great definition in the bass and drums. On Rickie Lee Jones' Danny's All Star Joint, the bass was again smooth and very detailed, with a strong natural presence to the kick drum. All in all, regardless of the musical genre, this woofer sounds very good in the recommended sealed box, right up to the 800-watt power handling limit. Regardless of the music I selected, it reproduced the bottom-end cleanly, with great control and definition.
ON THE BENCH
When my extended listening session was over, I allowed the woofer to cool down overnight, and the next morning took it into the lab to be measured by my trusty Klippel analyzer. I'm happy to report the woofer measured as expected, and quite close to the factory published specifications.
CONCLUSION
Long before I'd completed the testing of the Focal E 30 KX woofer, I had decided that it was a very good piece of kit. With specifications that indicate it could also be pressed into use in a vented box if desired, but with exceptional performance in a sealed enclosure, there isn't much more one can expect from a subwoofer. Of course, this level of performance does not come cheap, and the Focal K2 Power series flagship comes with a suggested list price of $999. This is absolutely a case of getting what you paid for though, and those who can afford the E 30 KX will undoubtedly consider it money well spent. #PASMAG
For more information, go to www.focal.com, Twitter, Instagram, Facebook, YouTube.
Contributor: Garry Springgay