Written by Garry Springgay | 06 July 2016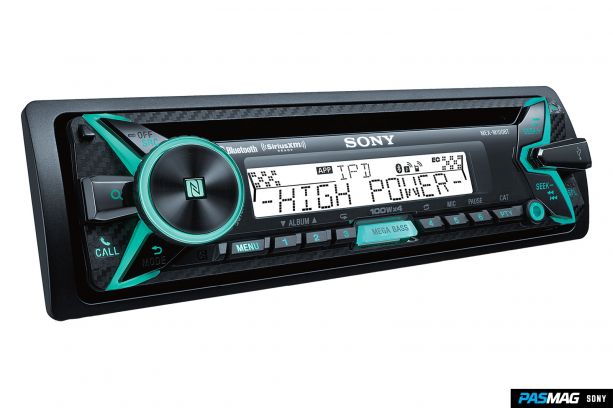 Full featured at a reasonable price point, Sony's marine head unit makes for a great first mate.
Here at PASMAG we understand that our readers want high performance audio everywhere they go, so to that end, we are going to take a look at a rugged, new source unit from Sony. Although you could certainly use it in your car or truck, the MEX-M100BT ($299.99 USD) was primarily conceived as a CD receiver for marine use, but it could also be pressed into duty in an off-roader, sand rail, motorcycle, or just about anywhere else you need a great music source.
FEATURES
Designed for outdoor usage, the MEX-M100BT uses a special UV-resistant finish so its good looks will last, even after hundreds of hours in the sun. The same sort of attention to detail has also been applied to the inner workings. The printed circuit boards inside use a special anti-corrosion coating to protect them and the integrated circuits from humidity and salt water.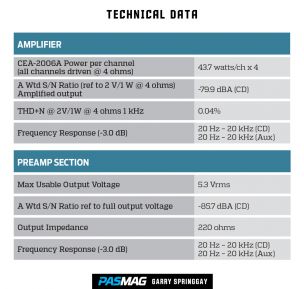 The basic features include an AM/FM tuner, CD, and playback of all the usual digital formats (MP3, WMA, WAV, AAC and FLAC). Bluetooth hands-free calling (mic included) and audio streaming are provided, as well as compatibility with Sony's SongPal app. SongPal is a dedicated application for controlling various compatible audio devices. With the SongPal app, you can browse and play your devices contents via Bluetooth. The app also provides streaming of services such as Pandora, Spotify, Deezer and TuneIn Radio. Another cool SongPal function is the ability to use voice control of basic functions (only available through Android). You can get navigation directions, search for music, hear and compose text messages, just to name a few. The Sony unit is also ready to connect to an optional SiriusXM tuner for those who prefer satellite radio. Should you want your radios faceplate to pulse with your music, the MEX-M100BT comes with sound-synchronized illumination. Utilizing beat-sensing technology, the LED lighting will flash with either SPL or the back-beat of the music. The LED lighting color can be customized to any color you desire, with the button color set independently of the LCD display color.
Siri Eyes Free is also available when paired with a supporting phone. Additional smartphone features include built-in control for iPhone, iPod and iPad devices, Pandora internet radio, plus Sony's handy Quick-BrowZer and Jump Mode features. An MTP (Media Transfer Protocol) MSC (Mass Storage Class) USB port is hidden on the front panel and has 1.5 amps of charge current. But what really sets the MEXM100BT apart from the competition is the built-in four-channel Class D amplifier, providing an honest 40 watts per channel of power, courtesy of some of the latest technology in Class D integrated circuit amplifiers.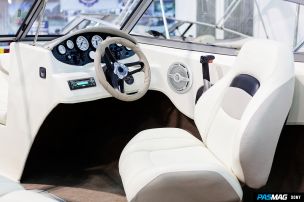 CONTROLS AND FUNCTIONALITY
The receiver is a single-DIN size chassis with a removable front faceplate, finished in a faux carbon fiber look. A large, round knob controls the volume, as well as acts as a selection tool for the various menus during setup. The knob has a rubberized edge and good tactile feel. The volume knob also serves as a connection point for instant NFC Bluetooth and SongPal pairing; simply touch your phone to the knob and the connection is made automatically!
For those who listen primarily to compressed digital files, the MEX-M100BT is equipped with Sony's Digital Sound Enhancement Engine or "DSEE" to improve the sound quality of those files. According to Sony engineers, any compressed digital file, regardless of type, is degraded as compared to the original. The degree of degradation depends on several factors including the quality of the compressing, bandwidth, and the quality of the source. The engineers believe that much of the high frequency information is lost to compression, and the DSEE circuit is designed to restore the lost high frequencies, and restore the quality of the music to near CD quality.
While DSEE is looking after the high frequency corrections, the MEXM100BT also has "Mega Bass" one-button equalization, which is designed to compensate for our ears' inability to hear a flat response at low volumes. The Mega Bass function provides about +6 dB of bass boost at 80 Hz, and about 2.5 dB of boost at 10 kHz. Boost at these specific frequencies coincide with something called the Fletcher-Munson curve, which is a loudness contour for the human ear. Coincidence? I think not.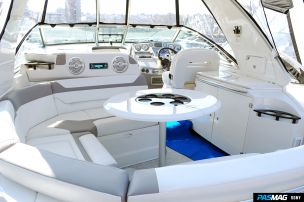 If you need more adjustability, the MEX-M100BT has it built in with a 10-band equalizer, adjustable crossovers that include three different slopes for the low pass, and easily adjusted delay for each channel that is often incorrectly referred to as time alignment. No one has yet figured out how to alter time. What it actually does is delay the sound from a specific channel or channels, thereby altering the arrival time of the sound from that channel at the ears of the intended listener. It's really sound alignment.
A front panel 3.5-mm auxiliary input allows connection of devices with a headphone output, and the level of this source is independently adjustable to match the levels of other sources. This ensures compatibility with a wide variety of auxiliary source devices, and prevents drastic volume differences when switching sources.
The MEX-100BT comes with an infrared remote control, and is also compatible with the RM-X11M marine remote via a wired connection on the rear of the chassis.
LISTENING
From a sonic perspective, the MEX-M100BT is a solid, high quality performer. It has ruler flat frequency response, all of the abovementioned tuning capability, and thanks to the new Class D power amp, real-world audio power. Make no mistake, this is not the typically advertised 50x4, but is actually 18x4 power that you generally find in a source unit. This is honest to goodness 40 watts per channel, all channels driven into four ohms, with less than one percent THD amp power! For those who need more than the built-in 40Wx4, the Sony also has three pairs of RCA outputs. Front, rear and subwoofer amplifier RCA connections provide a full five volts of audio output, with low source impedance for noisefree signal transmission. Signal-tonoise performance is also very good regardless of source used, and so are stereo separation and distortion at one watt.
CONCLUSION
If you have been searching for a reasonably-priced, full-featured CD receiver that offers a high degree of smartphone interface functionality, you owe it to yourself to check out the Sony MEX-M100BT. With all the bells and whistles most people could ever want, plus rugged outdoor use reliability, great audio performance and the full integration of your smartphone, it may be exactly what you've been looking for. #pasmag
For for more information, visit Sony at www.sony.com, Twitter, Instagram, Facebook, YouTube.
Contributor: Garry Springgay