Written by Garry Springgay | 05 April 2016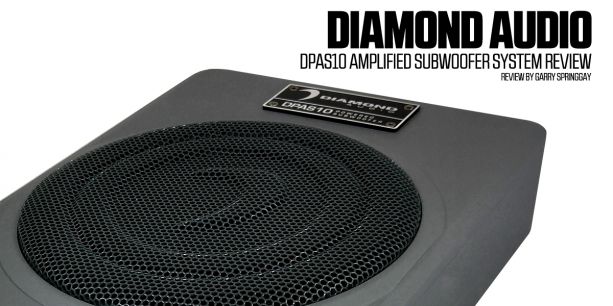 Not enough space for some bass? Nonsense! As long as they aren't bolted to the floor, the Diamond Audio DPAS10 amplified subwoofer system can fit under your seats!
Let's face it - listening to music without some decent bass just isn't much fun. As I heard one salesman say, "Unless all you listen to is talk radio, you absolutely need a sub!"
Not everyone has the room however, or wants to see a bulky woofer enclosure every time they open the trunk. What's needed here is something unobtrusive and easily concealed. If that sounds like what you need, I have good news: the folks at Diamond Audio have a solution.
By incorporating an amplifier, subwoofer and passive radiator all into one cast-aluminum chassis, Diamond has a brilliant small and shallow 10-inch subwoofer system, called the DPAS10.
FEATURES
The complete system is incredibly small, measuring just 14.375 x 9.875 x 3 inches! With such a small footprint and very low height, the unit should fit behind the seat of even the tightest pick-up cabs or under the seat of most cars. The cabinet is constructed almost entirely of solid extruded aluminum for strength and a low resonant frequency, and because of the extruded aluminum enclosure design, the enclosure does double duty as the amplifier's heatsink. Thanks to the high efficiency Class-D design, the amplifier draws less current and generates less heat than a conventional amplifier.
An ultra-slim-profile woofer that was specifically designed for this product is utilized, and it is driven by the 150-watt built-in amplifier. Like the woofer, the amplifier has also been designed specifically for optimum performance in this enclosure with this woofer.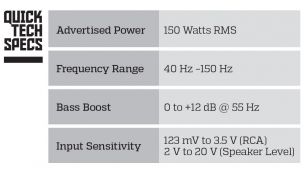 All of the controls and connections are located on one end of the amp, with the opposite end used for the output of a cleverly integrated passive radiator to augment the system's output via a port opening in the end of the housing. The Diamond Audio DPAS10 can be driven with either high-level signal directly from the car's radio or conventional RCA inputs. Power connections are made via set screw-type terminals that will accept up to eight-gauge cable. There is also the choice of a conventional remote turn-on wire, or for compatibility in virtually any system, the unit is also equipped with signal sensing turn-on functionality.
Installation is a simple matter of choosing a location, running power, ground and input signal wires and then tuning it for the vehicle. Tuning is accomplished via a full set of controls including gain, variable crossover with a range of 80 to 150 Hz, a bass boost function with up to 12 dB of available boost, and a 0-180-degree phase switch.
LISTENING
With the DPAS10 connected to my reference system, I sit down to see how it will perform. My expectations are that it will be decent, but not like a "real" subwoofer. I figure you simply can't expect big, rich bass from a complete woofer system that is smaller than some amplifiers. However, after getting it connected and tuned to suit my room and the rest of my system, I'm quite surprised at the overall quality of the sound.
I begin with Level 42's World Machine and a couple of my favorite tracks from Yello's Essential. On these intentionally bass-heavy tracks, the diminutive woofer system provides good output, lower frequency output than I expected, and handles the built-in power well. I move on to some classic rock tracks from Rush, Deep Purple and The Who. Listening to the late great John Entwistle and his mind-bending, giant bass lines is a real treat, and you can easily forget you are listening to a very discreet subwoofer system. The Diamond system sounds really good!
As you expect, the laws of physics still apply, so the system lacks a little overall output when compared to a big woofer in a big box with a big amp, but the performance it delivers is a hell of a lot better than having no woofer at all. Overall, I'm quite impressed with the sonic performance of the woofer and I think it will surprise more than a few people when heard in a car, where the vehicle's transfer function will increase the output of the lowest octaves.
CONCLUSION
The Diamond Audio DPAS10 powered woofer is a good choice where space is very limited, or you simply don't want to see the source of the bass. Because of its size, it can be easily hidden in a trunk, or even better, under a seat. Make no mistake, if you are trying to have your bass heard a block away, this system isn't going to satisfy you, but if you simply value sound quality without obtrusive equipment and need a product that has great flexibility in connections and tuning ability, this might be the perfect choice.
For more test reports, download the PASMAG+ tablet app for free from the App Store.
DiamondAudio.com | @DiamondAudio1 | @DiamondAudio | DiamondAudio