Written by Garry Springgay | 11 February 2016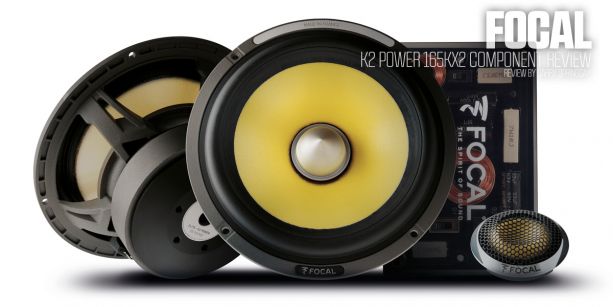 Music enthusiasts who insist on nothing but the finest are very familiar with the name Focal. The brand has a strong worldwide following, with the company's headquarters and manufacturing done in Saint-Etienne, France. This time we're going to take a look at the all new K2 Power 165KX2 6.5-inch component system. The Focal Elite K2 Power series speakers are designed for very high quality musical reproduction and use the finest available materials. The system comes complete with the midrange drivers, tweeters with several different mounting cups, high quality crossover networks and all grilles. Suggested retail price in the U.S. is $1,299.
FEATURES AND CONSTRUCTION
Focal's motto is "The Spirit of Sound." The Elite K2 Power series of speakers were developed to perform at very high levels of sonic accuracy, while also being able to provide listening levels high enough to satisfy even the most enthusiastic user. The signature Focal yellow Aramid fiber cones are used on both the tweeter and midrange driver, and represent years of development and incremental improvements. These drivers and the materials they are made of were designed specifically for the rigors and hostile environment of the car audio world.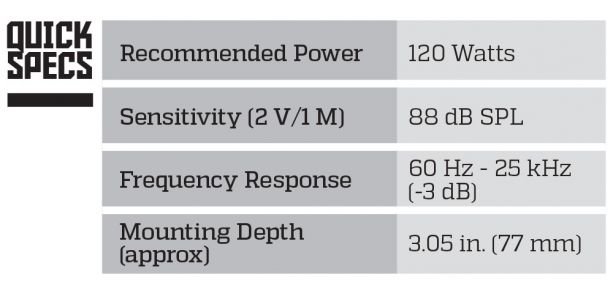 MIDRANGE
The 6.5-inch midrange woofers use rigid cast-aluminum baskets, which are finished in a gray powder coat with machined surfaces and the traditional Focal four-hole mounting system. The famous yellow Aramid cone is based on a thermoformed structural foam center core, with the Aramid fiber on the front side and a layer of glass fiber derived directly from the highly acclaimed (and very expensive) Utopia BE series. The back side of each cone is covered with a special fiber back "skin." These cones are stretched by hand at the Focal factory in France, with the result being a very strong, yet lightweight cone that's perfect for higher output levels. Instead of a dust cap, the center of each driver is fitted with a glass-reinforced phase plug, which has been coated with a metalized coating for good looks and protection from the elements.
TWEETER
The tweeter used in the 165KX2 system has been under constant development for over 10 years. Among the interesting design elements of the 34-mm tweeter is an inverted dome, which has been designed using a patented "M profile" to reduce directivity and improve off axis dispersion. The tweeter also is built with air vents behind the dome, which connect to a rear chamber for a lower resonant frequency. The steel mesh grille is removable and held on by the tweeter's magnetic energy, a method used by Focal of many years.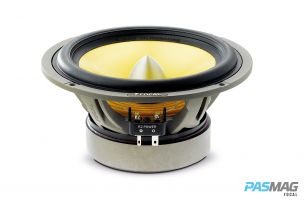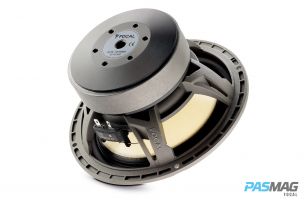 As part of Focal's K2 Power line, these components are supposed to be played loud and sound good doing so.
CROSSOVER
The K2 Power crossover networks are what you'd expect from a company who has built their reputation on sonic distinction. Behind the clear covers on the crossovers are high performance components, like polypropylene capacitors and air core inductors. Fully bi-ampable crossovers also offer a significant amount of tuning ability once installed with a three-position tweeter level switch, as well as a switch that boosts midrange output when the speakers must be mounted low in the doors. There are also switches that allow you to select different slopes for the woofer and tweeter filters. This amount of adjustability will be very helpful when tuning the system to various different types of woofer and tweeter mounting locations. Electrical connections are made via nickel-plated screw terminals.
LISTENING
Because component systems like this are not intended to reproduce the lowest registers, I typically use a high-pass crossover set at 80 Hz to feed the system. This allows me to drive the system to high power levels without fear of damage from over excursion. After installing the K2 Power system in the listening room's baffles and connecting it to my reference system, I proceed to put the Focal system through a series of musical paces, changing genres and volume levels as I evaluate the system's sonics. As regular readers of my reviews will already know, the sound of a speaker system is a very personal and preferential thing. What you like may be completely different from what I like, and neither one of us are wrong.
The Focal system reproduces complex orchestral passages with very good clarity and definition, and the system has no problem handling the drastic changes in dynamics available in a good classical recording. These are fairly transparent sounding speakers, that is to say they reproduce the music without adding any significant amount of coloration. Multiple voices singing in harmony were easy to identify as individual singers, and in my listening room, the system presents a very believable soundstage.
I also find that this system certainly doesn't mind being played loud. But the thing about the 165KX2s is that while the music is loud, it's also always very listenable and enjoyable. The system shows very good articulation of detail and subtleties, all the while playing at high levels. Mid-bass and vocal clarity are excellent, and the system is very pleasant to listen to for a long period of time. That being said, despite having the tweeter output set at +3 dB, I personally find the tweeters output to be slightly on the "polite" side, and find myself looking for a bit more output occasionally. However, when installed in a car where the mid-bass drivers will be mounted in the door and off-axis, the extra bit of missing tweeter adjustment would be there. Others who had the opportunity to listen to the system love the way it sounds, so again, when you spend this much money on a set of speakers, you really need to hear them for yourself before buying.
CONCLUSION
I have long been a fan of the Focal products and this system does nothing to change that. The K2 system is an excellent choice if you enjoy your music a bit louder than most of your friends, but don't want to give up sound quality and audiophile-type performance. The Focal K2 series of speakers provide very high quality sound reproduction with more than enough output. The system has been designed for the automotive environment and (thanks to making it very tunable) able to truly provide "The Spirit of Sound," with a kick. The K2 series of speakers combine excellence in dynamic reproduction with a level of detail and sophistication. But in a store display setting, I'd still like just a little more top end…
For more test reports, download the PASMAG+ tablet app for free from the App Store.
focal.com @focalofficial focal.corporate FocalCorporate