Written by Garry Springgay | 11 February 2016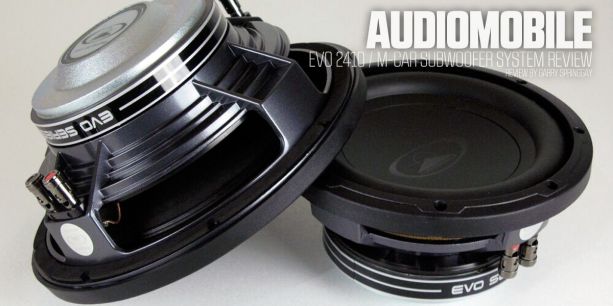 Looking for a woofer that delivers no-compromise sonic performance and power handling, yet fits in some tight spots? Look no further.
Every so often a product is sent for review that causes me to pause and reflect on the design and history of the concept. Such a product is the Audiomobile EVO 2410/M-CAR subwoofer system. Based on a tried and true theory of operation, the M-Car (Modular – Coupled Acoustic Radiators) concept is quite unique in the car audio industry. Basically, the system uses an EVO 2410 10-inch dual voice coil woofer ($349.95) and a matching 10-inch passive radiator driver ($199.95) in a very small enclosure.
Passive radiators are nothing new in the audio world, but they are fairly rare on the car audio side of things. The concept of a passive driver that used the energy from the backside of the driven woofer to augment the system's output was patented in 1935 by Harry Olson, an acoustical engineer who held a great number of patents for various acoustic devices from microphones to synthesizers. A passive radiator is basically a woofer that has no magnetics and no voice coil. It is driven by the air pressure in the enclosure, and it is tuned via adjustments to its suspension stiffness and moving mass.
FEATURES
In many ways, a passive radiator works like a typical bass reflex (vented) system, but there are distinct differences and advantages. Of course, like a vented system, the ultimate goal is to utilize the "free" energy from the back side of the woofer to increase the output of the woofer system. As in a bass reflex system, the passive radiator controls the woofer cone excursion near the tuned frequency, which increases power handling. But — and this is key — in a passive radiator system, the enclosure does not need to be made larger as you would for a typical vented system, and in fact can be significantly smaller for the same tuning.
Obviously, there is no port noise or pipe resonance in a passive radiator equipped system, and the output of the passive radiator is flatter over a wider bandwidth than that of a vent. Also, the placement of the passive radiator in the enclosure is not as critical as it is with a vented system. For these reasons, audiophiles tend to prefer the sound of passive radiator systems to a typical bass reflex design. The only drawbacks to a passive radiator system are that they are typically more difficult to design, and may have a higher cost.
In a car system where enclosure size is a serious concern, a passive radiator makes a lot of sense and this fact is not lost on the Audiomobile design team. In fact, the system sent for review had the dual 10-inch cones providing roughly the same piston area as a 13-inch woofer, but all in only a 0.6-cubic-foot box. The EVO 2410 woofer is designed for optimal performance in small enclosures, and because of its sealed back plate and 4-inch depth, the enclosure can be built to fit in difficult vehicles like trucks and exotic sports cars.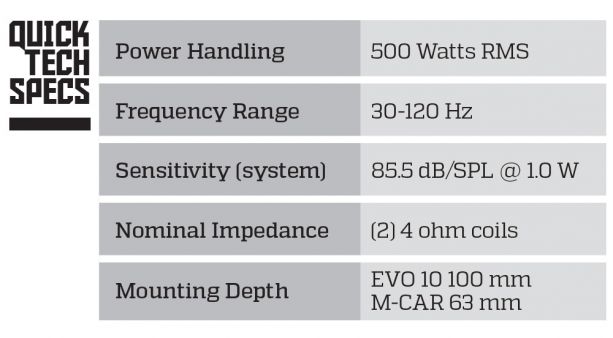 The folks at Audiomobile have put a lot of thought into the M-CAR program, and it shows. All you have to do is build the box to the correct volume dictated by Audiomobile and the system will be tuned perfectly. For example, if you wanted to build a system with a single driven woofer and two passive radiators, they can help you with that by simply adding 50 percent to the enclosure volume and bolting in the additional radiator. This would result in roughly the same cone area as a 16-inch woofer, but the box volume would only be three-quarters of a cubic foot!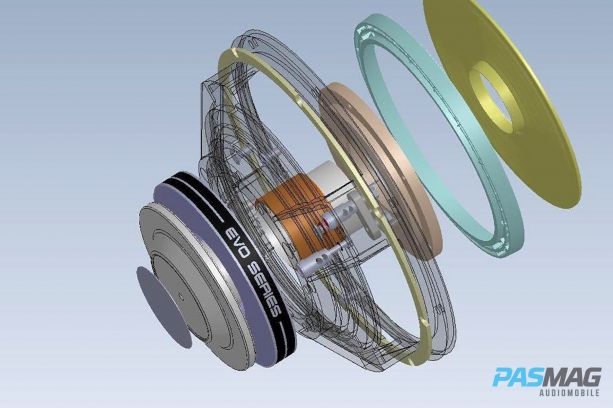 WOOFER TECHNICAL FEATURES
The EVO woofers are built using die-cast aluminum baskets, low carbon steel top plates and high energy ceramic magnet motors. The suspension for the moving assembly comes from a nitrile butyl rubber surround, and an eight-inch diameter cotton composite linear type spider. The amplifier's electrical energy is routed through woven-in tinsel leads and is used to drive a pair of four-ohm 53-mm copper coils, wound on a Kapton former. All of this in turn moves the Kevlar-reinforced composite cone, which was originally developed for professional subwoofer applications with a very high stiffness to mass ratio.
Six radial cooling vents are built into the woofer's frame, which is also cross-drilled under the spider to improve voice coil cooling. As a result, the woofer has a power rating of 500 watts.
LISTENING
With the Audiomobile M-CAR system connected to my reference system, I begin what turns out to be a rather lengthy and very enjoyable listening session. The setup of the system is pretty simple: I have a low-pass electronic crossover set at 90 Hz at -24 dB per octave and the woofers coils in parallel, resulting in a two-ohm load. I believe that a well-designed subwoofer system should be able to play any type of music well and simply reproduce the sound the recording engineer intended. To that end, as usual, I use a wide range of musical styles for my listening session.
I begin with some music that I think would be a good test for the system, with a few well-recorded and very revealing jazz and classical music selections from some of the best audiophile labels. On these exceptional recordings from Sheffield Lab, DMP, Telarc and others, the Audiomobile system sounds simply excellent. Listening to complex work from Weather Report and the London Symphony Orchestra, to Jennifer Warnes and Donald Fagen, the bass is deep and very well defined. In fact, I was quite impressed with the system's tonality and definition. Chord changes and other low frequency nuances are distinct and pure.
Okay, so it can play good, but can it play loud? Switching to some high-output bass tracks from Yello, Thomas Dolby and Motorhead, the passively assisted system proves that it is more than up to the task. During my listening, it's hard to believe the energy is all being generated by a single 10-inch woofer and that passive element. All in all, regardless of the musical genre, this woofer sounds very good in the recommended sealed box, right up to the 500-watt power handling limit.
ON THE BENCH
With the woofer system on the test bench, I make impedance plots that confirm a tuned frequency of 34 Hz. Then I remove the woofer and measure the usual parameters with my Klippel analyzer. Because this is a little bit different design for car audio, in addition to the usual Klippel and SPL measurements, I also do a bit of extra testing. Once I have the response curve from the M-CAR system, I want to really show our readers how well a passive radiator works.
So, I remove the EVO 2410 woofer and mount it in a half-cubic-foot sealed enclosure. Then I measure the system response and scale it to one watt at one meter. The Evo 10 delivers remarkably flat frequency response from 30 to 75 Hz, the critical subwoofer range, in the tiny 0.5-cubic-foot enclosure. As good as the woofer is by itself, the graphs produced show the incredible difference in output gained by the passive radiator. At 53 Hz, the difference is almost 12 dB!
CONCLUSION
I have to hand it to the folks at Audiomobile. With the development of the M-CAR concept, they can produce subwoofer systems small enough fit into the most difficult installations, yet provide true no-compromise sonic performance and power handling. However, this outside the box thinking is not new for these guys. This is the fourth product I have reviewed from Audiomobile and this is just further evidence that when it comes to challenges in car audio, they "get it." For example: unlike almost everyone else, they do not make a 12-inch "slim" subwoofer. Realizing that when it comes to bass reproduction there is no replacement for displacement, they have taken a somewhat different approach. Instead, they offer a solution that uses dual eight-inch woofers, which still has the piston area of an 11-inch woofer, but obviously fits into a much smaller footprint. While that's an example of thinking outside the box, some might say that solution, as well as this M-CAR system prove that the inside of their boxes are simply packed full of common sense.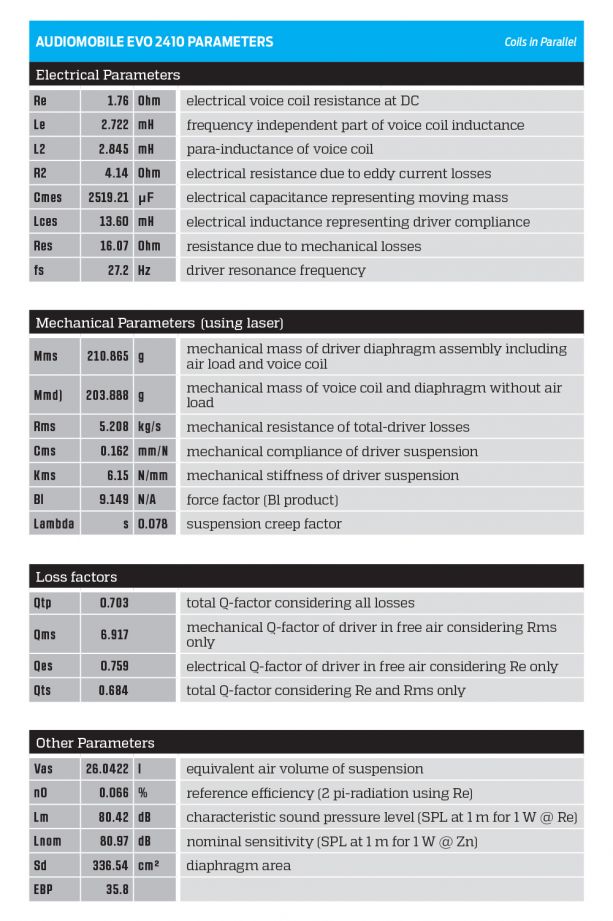 For more test reports, download the PASMAG+ tablet app for free from the App Store.
Audiomobile.net AudiomobileUSA