Written by Garry Springgay | 20 January 2016
A fully-digital amplifier that teams up with one of the best processors on the market to produce some serious results.
The name Audison is formed from the Latin words "audio" and "sonus," representing both the historic roots and the general philosophy of the company. Since the birth of the company, the Audison brand has earned a solid reputation for designing and building very high quality, high performance car audio products, many of which incorporate leading edge technologies. Over the years they have been the recipients of many prestigious awards and accolades, primarily because they have a passion for music, and take a no nonsense approach to the engineering of their products. And while generally not the most economical products available, the Audison brand of mobile audio gear has always stood for high quality and excellent performance. For this review, we are going to combine a couple of their products, the new Voce AV5.1k HD amplifier, and the Voce AV bit Ten D digital interface. Voce means "voice" in Italian, and these products are engineered well enough to easily be the voice of the company.
FEATURES
The Voce AV5.1k HD is a five-channel amplifier designed to be the only amp you'll need for your entire system. It is designed with the output power being staggered, so that the front and rear Class-AB channels have different power levels. The rated power for the front channels are listed at 75 watts per channel, while the rear channels are rated at 140 watts into four ohms and 250 watts into two ohms. The subwoofer channel has a 600-watt rating at four ohms and a 1000-watt rating into a two ohm load. If you were paying attention there, you probably noticed the front channels are rated for four ohm use only, but the rear channels and sub channel can be used with either four or two ohm loads.
On one end of the amplifier you find the input section featuring fully digital input connections. There are no RCA or high level inputs on the amplifier. To properly drive the Voce AV5.1k HD, you will need an Audison bit One or bit Ten D processor, with the connections done via an included high quality CAT5 Ethernet cable and an RJ-12 cable. Setup of the channel addressing is straightforward and takes only a few seconds. The digital audio bus is capable of carrying signal for up to eight channels.
With the bit Ten D processor, OEM and aftermarket integration problems are a thing of the past. The bit Ten D is capable of interfacing with virtually any analog or digital source and provides incredible signal manipulation capability, making tuning the system easy and producing excellent sonic results. The bit Ten D is a direct descendant of the highly praised bit One, and all Audison bit processors are equipped with incredibly powerful 32-bit 147-MHz Cirrus Logic DSP (Digital Signal Processing) and are controlled by easy to install computer software. For those of you who are into such details, the bit Ten D uses 24-bit A/D and D/A convertors. Tuning and adjustability includes the ability to reconstruct a full range signal from multiple bandwidth limited sources, the ability to "remove" the factory EQ from the signal and a 31-band equalizer.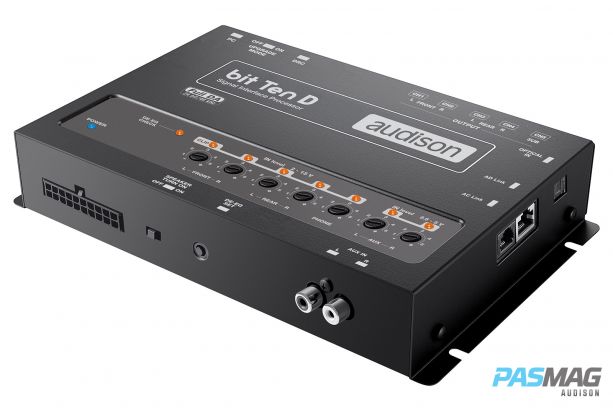 For sources without a dedicated subwoofer signal, the bit Ten D can also construct a mono center channel or subwoofer signal from the existing stereo signals. There are high- and low-pass crossovers with adjustable frequency and slope, phase inversion and signal delay with enough delay to "move" a speaker over 16 feet!
In addition to all of the above, the bit Ten D provides four channels of speaker level input, an auxiliary input and other cool features, like a cell phone mute function. There is also an optical digital input allowing the typical A/D conversion in your player to be bypassed. Five RCA outputs can drive aftermarket amplifiers, or you can use the digital connections to drive the Voce AV5.1k HD as I did for this review, which segues us back to that incredible amplifier.
The amplifier is equipped with heavy duty power and speaker terminals, which will accept four-gauge and eight-gauge cables, respectively. A second B+ terminal is provided for the connection of an external super capacitor. Also found on this end of the amp is a connection for the 12-volt trigger input and output. The amp and the bit Ten D can be configured to turn on with a traditional 12-volt trigger signal, or by using the audio signal, which is very handy in certain vehicles without a traditional trigger output. There are several other things that set the AV5.1K apart from other five channel amplifiers, such as the way the front channels are biased for maximum fidelity, or how the Amplifier Management Processor (AMP) continually monitors the operational condition of the amp and communicates the condition to the user via four different colored LEDs.
All of that aside, what really sets this amplifier apart from everything else is the fact that this is a full digital input amplifier. The advantages of using digital signal transfer between components in a car are significant. First of all, by sending a digital bitstream of data, you automatically eliminate the possibility of radiated noise issues entering your signal cables, which is a major source of complaint for many people. Second, the digital signal provides optimal signal to noise and dynamic range in the audio signal, and these benefits can be easily heard even by an untrained listener. Speaking of listening…
LISTENING
For my listening session, I connect the amp's front and rear channels to two pairs of high performance studio monitor speakers and a 12-inch woofer in a sealed enclosure. After a few tweaks of the crossovers and level adjustments, I sit down and begin my listening with a true test for any amp that's going to drive a full system: The Atlanta Symphony playing Introit and Kyrie from Requiem Opus 48. This track is an excellent test for how well an amplifier can reproduce complex choral voices and a full symphony orchestra at the same time. The Audison gear performs perfectly with a resulting listening experience that is not just enjoyable, but memorable. Needless to say, I am impressed!
I move on to more popular, but still very revealing tunes… The soft passages and reverberance in the Cowboy Junkies' Trinity Sessions really is amazing through these Audison products. This recording was made with the band standing around a microphone in The Church of the Holy Trinity in Toronto, Canada. The recording does a brilliant job of capturing the ambience of the room, and the Voce amplifier reproduces it with almost startling clarity.
The session continues with me listening for any telltale signs of digital artifacts, such as high frequency harshness or added high frequency noise. I find nothing at all to complain about; in fact, the Audison system sounds very much like my expensive studio reference amplifier in many respects, which is to say, the AV5.1k HD and bit Ten D are natural and realistic sounding. The system has more than enough power to handle dynamics, yet it's very quiet when it's supposed to be. All in all, this is very good sounding gear. This is my first experience with an all digital input amplifier and it was impressive.
For those of you who are wondering how to get a digital audio source in your car, there are several companies who build products that will connect to an Apple or Android device. This approach allows you to bypass the player's limited quality onboard DAC and provide a fully digital signal via SPDIF or digital coaxial outputs, which can then be fed directly into a bit processor.
PERFORMANCE/BENCH MEASUREMENTS
The five-channel Audison amplifier measures well on the test bench. Frequency response is excellent and the amplifier easily exceeds every one of its published power numbers. Distortion measures very low, especially on the high-biased front "audiophilestyle" channels. A look inside the amplifier reveals what could best be described as artistry. These products are incredibly well made and use only the fi nest components. As a person who sees the inside of literally hundreds of products each year, I can tell you the Audison stuff makes everything else look really average. It is worth noting that this amplifier can draw a significant amount of current, so you will want to make sure you use top quality pure copper cables. You may want to take advantage of the terminal provided for the external super capacitor as well.
CONCLUSION
The Audison AV5.1k HD amplifier coupled with the amazing bit Ten D processor should prove to only further the excellent reputation and accolades of the audio gear from a company that clearly cares about sound. If you are serious about your sound quality and don't mind spending a few extra bucks for a quality product that will undoubtedly provide many years of enjoyment, the Audison AV5.1k HD and bit Ten D should be on your short list of equipment to audition. Once you hear it, you'll probably own it.
For more test reports, download the PASMAG+ tablet app for free from the App Store.
AudisonHertz.com @AudisonOfficial Audison.Official AudisonChannel