Written by Garry Springgay | 12 January 2016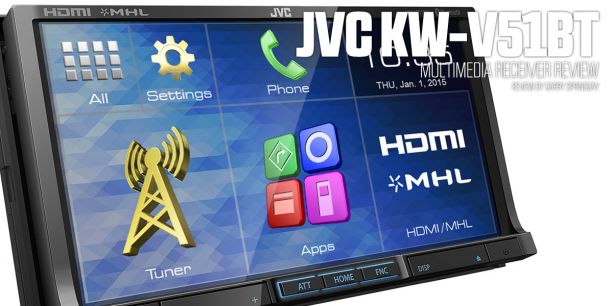 For those whose lives revolve around a smartphone and their favorite apps contained therein, JVC offers a double-DIN-sized multimedia receiver with you in mind. With a top quality seven-inch touchscreen, CD/DVD playback, USB and SDHC compatibility and built-in Bluetooth, the KW-V51BT is designed to satisfy all of your in-car entertainment needs. Thanks to its ability to interface with either Apple- or Android-based smartphones via the addition of HDMI/MHL connectivity, it's a great choice no matter which type of smartphone you currently use, plus it allows you to keep your options open in the future. Truly an international unit, the multilingual display will support up to 26 languages! For our review, though, we'll stick to English.
FEATURES AND FUNCTIONS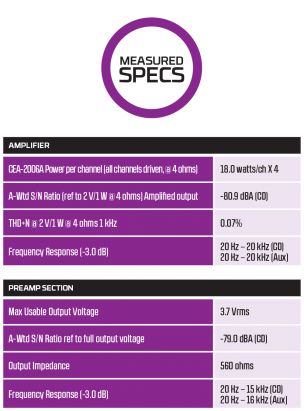 This is a head unit primarily designed for people who prefer to stay connected and take advantage of the apps installed on their smartphones while driving. With the addition of an HDMI/MHL2 certified input, it's possible to transfer the control of your smartphone right to the seven-inch TFT touchscreen display of the head unit. Via the use of various interconnect cables, the KW-V51BT will work with iPhone 4 through 6+. It is also compatible with select MHL-enabled Android smartphones. Once connected, a variety of apps from your phone become available right there on the touchscreen in the dash, and can be controlled with the JVC's display, or by voice command with Siri Eyes Free or Google Now. The KW-V51BT is also capable of the playback of streaming audio services, such as Pandora and iHeart Radio.
All major compressed file formats, as well as lossless ACC and FLAC files are supported. The home screen provides three possible source options with one touch, while the others are available on a secondary menu. To make everyday operations simpler, you can choose your three favorite sources for display on the home screen. The motorized 1.15 megapixel touchscreen can be set to various angles for easy viewing, and the color of the panel and button illumination provides over 30,000 different colors to choose from, so it will definitely match your dash lighting. Background themes can be selected from eight built-in themes, or you can import your own image as a background.
Rear seat video outputs are included, as well as dual-zone audio, so keeping the kid in the backseat entertained will be simple. Other available accessories include a rear view camera input, activated by selecting reverse gear, SiriusXM satellite radio and compatibility with most factory steering wheel controls via an external adapter.
AUDIO
On the audio side of things, the KW-V51BT is equipped with a four-channel power amplifier and front, rear and sub pre-outs. The amplifier is rated at 22 watts per channel and the output voltage of the pre-outs is advertised at four volts. For signal control and system tuning, a three-band parametric EQ provides adjustment for 12 different frequencies. The front and rear pre-outs can be set separately to one of eight high-pass crossover frequencies or simply left full-range.
The subwoofer output can be set to one of five low-pass frequency settings, or an all-pass setting. In addition to the crossover frequency, the sub outs also have adjustments for phase and level.
CONTROLS AND FUNCTIONALITY
In terms of ease of use, I find the JVC unit to be pretty intuitive to operate, with the majority of frequently used functions requiring only a minimum of input from me. If you recall my review of the previous generation KW-V50BT, for better or worse, this unit's operation is virtually identical.
Volume is adjusted via hard buttons on the lower left edge of the faceplate, but track changes are done on the touchscreen. The on-screen icons are large enough to select easily and the amount of pressure required for the touchscreen is about perfect; however, there were a few things about the KW-V51BT's ergonomics that I feel could be improved.
I again find myself wanting more than only three source choices on the home screen. The size of the three source selection icons is huge, so adding another source or two would not have hurt the ease of use. I also miss having an HD Radio tuner, but with iHeart Radio and Pandora available and a good data plan this isn't a big deal. Another foible was the inability to adjust the sub output level without stepping through at least four touchscreen presses and three menus. For most enthusiasts, the sub level is one of the most often adjusted controls, so it makes no sense to have it buried this far down. Other than that, the unit seemed pretty straightforward to use and adjust.
LISTENING
In the listening room, as you'd expect, the KW-V51BT proves to be a very good sounding and able performer. The sonics from the DVD mechanism and the iPod interface are top notch in all respects. All of the controls and adjustments work well, and pairing my phone to the unit is dead simple. I also tried out the included infrared remote control and it works great as well. Bluetooth audio sounds as good as can be expected from this type of source, which was pleasant, if not truly "hi-fi" worthy.
ON THE BENCH
On the bench, with the unit connected to my Audio Precision analyzer, I ran a battery of tests and the results are very good. The internal amplifier makes the same power as all the other high quality head units (that use the same MOSFET IC) and signal to noise confirms a very low noise floor. Frequency response, crosstalk and THD also measure very well. Pre-out voltages did not quite meet the published spec at 3.7 volts. Output impedance was on the high side at 560 ohms.
CONCLUSION
The new KW-V51BT is very similar in every respect to its predecessor. Given the ability to interface with virtually any Apple- or Android-based smartphone, the JVC KW-V51BT will have a lot of appeal to the advanced or habitual smartphone user. Even better, people who care about their music will appreciate the excellent sound quality and tuning control, and everyone will enjoy the ability to customize the look and layout. So if you'd like a source unit that keeps you connected and allows you to take full advantage of the power of a modern smartphone, pay a visit to your local JVC dealer and check out what the KWV51BT can do for you.
For more test reports, download the PASMAG+ tablet app for free from the App Store.
Links:
mobile.jvc.com @JVC_USA JVCMobileEntertainment JVCAmerica
mobile.jvc.ca @JVCCanada JVCMobileCanada JVCCanada