Written by Garry Springgay | 12 January 2016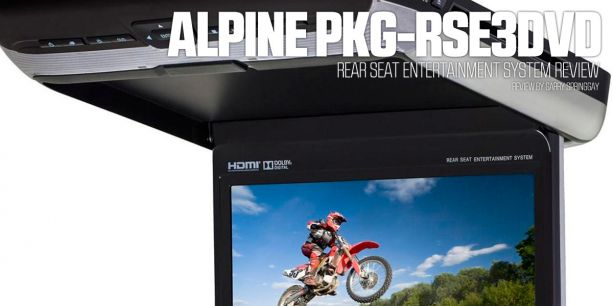 Are we there yet? If you have ever done a road trip with the family, those words indicate the onset of boredom for your passengers. Well, if you install an Alpine PKG-RSE3DVD rear seat entertainment system, that phrase will most likely never be heard.
The overhead mounted PKG-RSE3DVD system consists of a 10.1-inch flip-down monitor with a built-in DVD player, and two sets of wireless headphones. So, if you can't bear to hear another Barney song or sit through Little Mermaid one more time, the wireless headphones are a welcome addition. On the other hand, should you prefer to play the audio through the vehicle's sound system once in a while, you can use the system's auxiliary output, or run the audio through a built-in FM modulator. In addition, an auxiliary output allows connection to another monitor, such as a headrest unit, if desired. The back seat passengers will have full control of the playback, either via the unit's controls, which are built right into the top panel, or via the included wireless remote control.
In addition to playing DVDs, this system accepts video input from an iPod, iPhone, iPad or a typical video game console, making this one of the most flexible and functional systems available.
Built with a durable, automotive-grade DVD/CD mechanism, the PKG-RSE3DVD is designed for in-vehicle challenges, such as vibration and heat, and will easily withstand the rigors of the road while delivering quality playback. The WSVGA monitor features 1.84 million pixels worth of picture quality, which is a whopping 60 percent more than its predecessor, the PKG-RSE2.
A large, bright dome light is built into the console, and is easily wired to the existing light. The PKG-RSE3DVD is designed for installation flexibility and convenience. It comes with your choice of three console shroud cover colors (tan, black and gray), so it's simply a matter of installing the color that suits your vehicle best.
After that, all you have to do is enjoy the ride. With no more questions of "are we there yet?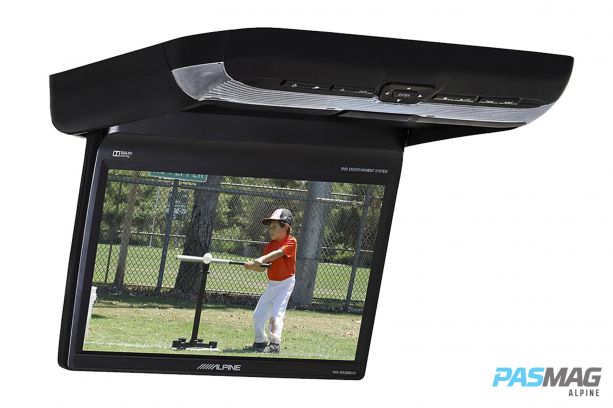 FEATURE LIST:
10.1-inch overhead fold down WSVGA video monitor (16:9 aspect ratio)
1.84 million pixels of picture quality.
Built-in DVD player and control buttons.
Large dome light.
Playback formats – DVD video, DVD+R/RW, DVD-R/RW, XviD, JPEG and MP3.
Multi-function wireless remote control.
Two AUX inputs and one AUX output.
Two pairs of SHS-N106 wireless headphones.
Built-in wireless FM Modulator transmitter.
Multiple color trim choices.
One-year warranty.
For more information on the Alpine PKG-RSE3DVD Rear Seat Entertainment System, go to:
http://alpine-usa.com
http://alpine-canada.com