Written by Garry Springgay | 22 September 2015
Anyone who has been into car audio for more than an hour or so knows the name MTX. The brand has been a vital part of the renowned Mitek Group for over 40 years and is known as "America's Sound Company."
When it comes to car audio speakers, at the very top of the MTX food chain in the component speaker category are the "Signature Series" components. Available in 6.5-inch and 5.25-inch sizes, these are the finest full-range systems MTX has to offer. MTX was kind enough to send us a set of the $599.95 (U.S. MSRP) 6.5-inch SS7s. The SS7 component system is comprised of a 6.5-inch midrange driver, a 1.2-inch (30-mm) tweeter and a two-way, custom designed crossover network. Here is what we found.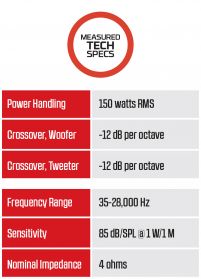 Midrange and Tweeter
The midrange driver used in the Signature Series system is a serious looking bit of kit. A stout cast aluminum basket provides the foundation for the high performance midrange. Unlike many cast baskets, the SS7 features the usual myriad of mounting holes usually only found on stamped steel baskets. Because of this, the versatility in mounting the driver in an OEM application is greatly increased.
Behind the basket is a 14-ounce ferrite motor completed with an antique nickel finished bottom plate. The SS7 driver also features the same type of ribbed T-yoke that is found in many MTX subwoofers. To maximize cooling of the four-layer 1.5-inch copper voice coil, vents are provided below the spider plateau, while the aluminum basket acts as a heatsink. The voice coil is wound on a Kapton former to keep moving mass as low as possible.
Coil centering and compliance is provided via a progressive polycotton spider and an acrylonitrile butadiene rubber (NBR) surround. The cone is quite unique looking in that the actual cone is pressed paper, but completely covered by a one-piece black glass fiber dustcap, resulting in a very high-tech appearance. The electrical terminals are sturdy Faston-type spades connected to the voice coil via a pair of low-resistance, fully-insulated tinsel leads. Full coverage steel mesh grilles are provided for installations that do not use a factory grille.
The system's tweeter is built on a Ferro-Fluid-cooled 30-mm voice coil, driving a moisture-resistant Teteron dome. A protective steel grille is integrated into the tweeter housing. Both fl at and angled surface mount adapters are also provided in the kit.
Crossover
The MTX Signature Series come with a rather unique crossover network. The network is built into a round housing measuring approximately 3.75 inches in diameter and has no screw-type speaker wire connections. In the place of the typical terminal strip-type connections, the MTX system uses pre-attached color coded wires. Additional wires are provided for tweeter level adjustments. The housing itself can be mounted via two mounting tabs or a threaded insert. This allows the crossover to be mounted from either side and improves the ease of installation.
Inside the housing is a -12 dB per octave high pass filter featuring mylar capacitors and air core inductors. As an example of great attention to detail, even the resistors used to control tweeter level are of the non-inductive variety to maintain the accuracy of the crossover. The low-pass section is also of the second order variety and uses an iron core inductor and electrolytic capacitors to achieve a crossover frequency of 2.8 kHz. A PTC resettable "fuse" is also included to protect the tweeter from accidental over-current situations.
Listening
Due to a tight publishing schedule, we did not have time to fully audition the SS7s, but if you are already an MTX fan, we will leave you with this bit of information from the MTX website: "Loyd Ivey, the Founder of MTX and the GodFather of audio, has designed world class speakers for over 40 Years. Loyd has always been 'Serious About Sound...'" and on these high performance components he places his signature.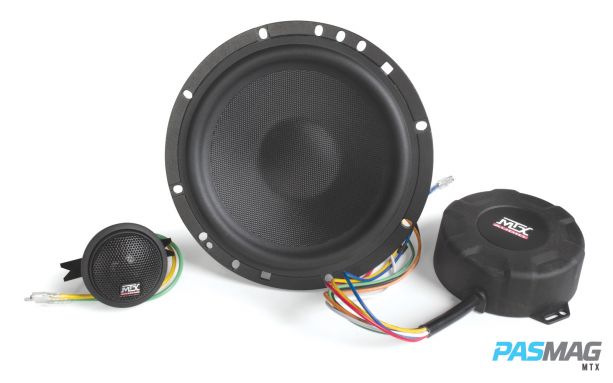 For more information on the MTX Q-12 Signature Series SS7 component speaker system, go to www.mtx.com and on Facebook, Twitter, Instagram and YouTube.
For more test reports, download the PASMAG+ tablet app for free on iTunes.