06 June 2011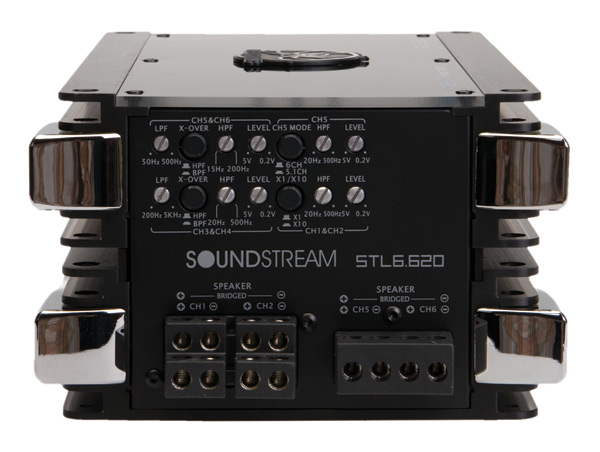 You have probably noticed the trend towards making car audio amplifiers smaller. And small is good, especially if you live in the real world where your amplifiers have to compete for trunk space with groceries, kid's toys and yard sale finds. This is where the Stealth series of amplifiers from Soundstream shine, by packing a lot of performance and features into a small footprint amplifier that is stackable to save even more room. Most companies have been able to accomplish a smaller amplifier footprint by utilizing complicated and expensive high efficiency topologies, but the folks at Soundstream have taken a couple of steps outside the box, and built the Stealth series of amplifiers while retaining traditionally good sounding Class AB topologies. Case in point, the Soundstream Stealth STL6.620 six channel amplifier. The STL6.620 is designed to suit virtually any type of system you'd like to build.  Power output is rated at 55Wx4 and 105Wx2 into 4 ohms, or 80Wx4 and 150Wx2 into 2 Ohms. Bridged into a 4 Ohm load, the fifth and sixth channels can develop over 300 Watts, which can be plenty for a good subwoofer system.
Features
Rather than be another "me too" full range Class D amplifier, the engineers at Soundstream decided to retain their tried and true Class A/B topology, citing sound quality as their primary focus. The way the amplifier is constructed is also a little unconventional. The STL6.620 has a footprint of about 11.2" x 6.5" x 4.3" tall, and if that seems tall to you, it's because the amplifier is basically two heatsinks stacked one on top of the other. The bottom half contains the power supply and the 2 more powerful channels, while the top half is home to the other four channels and most of the input signal controls. The amplifier has an opaque black acrylic top cover with the logos and model identification emblazoned on it. The heatsink itself is finished in rich looking black brushed aluminum, and six chrome plated plastic side bars fit into the heatsink fins for a polished appearance. Additional amplifiers of the same size can be stacked up on top, saving yet more space.
Terminals for power and speaker connections are typical set screw types, and will easily handle adequately gauged wire. With all six channels available as full range, or clever combinations of high pass, bandpass, and low pass filters, the STL6.620 can be used as a conventional multi-channel amp with 4 channels to drive front and rear speakers, and a bridged pair of channels providing prodigious power for your subwoofers. Or, it can also be used to actively crossover two or three way component speaker systems, or it can even be configured in a 5.1 mode, providing center channel output.  There are 3 pairs of RCA input jacks, and a pair of pass through outputs as well. Controls are plentiful, and while they may be a bit confusing to understand at first, simply because of the multiple configuration methods available, the owner's manual does a good job explaining exactly how to get things set up for your particular type of installation. This is one of those very flexible input sections that do require at least a brief read through of the manual to make sure you are getting the full potential from the amplifiers adjustability. I liked how the pots were all detented, and a handy chart provided allowed you to dial in specific frequencies simply by counting the "clicks".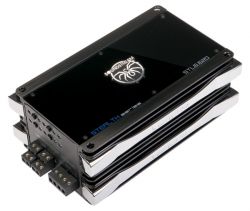 Listening
For my listening evaluations, I ran the amplifier in 5 channel mode, with the 4 main channels driving my component speakers, and the remaining two channels bridged to a 4 ohm woofer in a sealed enclosure. I ran the front and rears full range, and used the built in second order low pass crossover to limit the sub to about 80Hz and below. The amplifier sounded very good, and made copious amounts of power and showed no signs of running out of steam until I pushed things way beyond the realm of sanity. The top end of the musical register came through with very natural timbre and good detail, while the bottom end sounded warm, tight and strong. The amplifier is quite transparent, and imparts very little of its own character to the music, which is precisely how a good amp should operate. The amplifier turns on and off quietly, and the detented controls make setting things up a breeze. I did notice that it got quite warm during my somewhat enthusiastic 2 hour session, but heat was certainly never a problem. I did decide to remove the six chrome decorative side bars, to allow better heat dissipation, thereby reducing the temperature of the heatsink.
Performance/Bench Measurements

On the test bench, the STL6.620 met or exceeded the published specifications for power as well as signal to noise, and throughout the testing managed nary a single misstep. As you'd expect with a Class A/B amplifier, the STL6.620 was not as efficient as a modern Class D amplifier, but purists may tell you that's the price you pay for Class A/B sonics. During testing, the amplifier did not overheat, however, I did do all my bench work with the chrome bars removed, to allow maximum normal cooling from radiation and convection.
Conclusion
Cleverly executed, well engineered packaging has brought us an amplifier that delivers enough power and flexibility to be the only amplifier in a complete system, or to be the cornerstone in a larger system. With good sound quality, affordability, a small footprint, and about twice the power, I won't be missing my old Reference 405 anytime soon.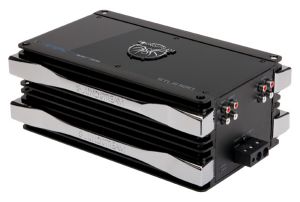 Technical Date

The following power measurements were obtained using industry standard methods. (1kHZ @ 1.0% THD+N - Battery voltages shown +/- 0.2V)
Measured Performance Specifications

Manufacturers Rated Power

Actual Measured Power

@  1.0% THD+N                  @ 12.6V Battery

Actual Measured Power

@  1.0% THD+N               @ 14.4V Battery

55x4 + 105x2 @ 4 ?

41x4 + 89x2 @ 4 ?

56x4 + 120x2 @ 4 ?

80x4 + 150x2 @ 2 ?

58x4 + 131x2 @ 2 ?

80x4 + 177x2 @ 2 ?
Signal to Noise Ratio referenced to 2V output.

(CEA-2006A) (1 watt @ 4 ohms)

-87.8dBA

Signal to Noise Ratio referenced to full output.

-108.6dBA

THD+N at rated 4 ohm power

0.10%

Maximum Efficiency at full 4 ohm power per ch.

59.7%

Maximum Efficiency at full 2 ohm power per ch.

51.4%

Idle Current

1.1A (cold)

Input Sensitivity

200mV – 4.0V

Maximum Current @ full power, lowest rated impedance

91.1A

Frequency Response (-3dB)

13Hz – 37kHz

High Pass Crossover                                         CH 1&2

20Hz – 5kHz

-12dB/Oct

Low Pass Crossover                                          CH 3&4

CH 5&6

200-5kHz           50-500Hz              -12dB/Oct

Subsonic Filter

See High Pass

Bass EQ boost

None