06 June 2011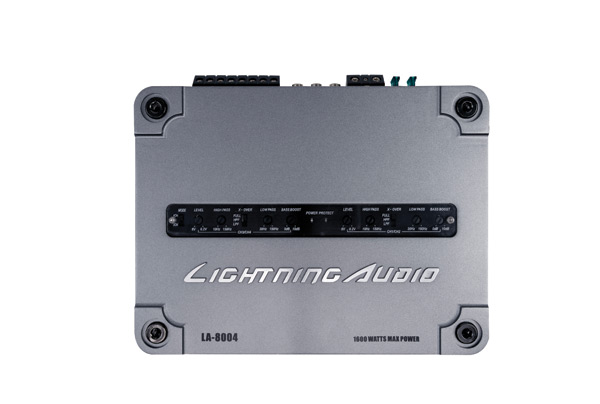 After almost disappearing from the mainstream car audio marketplace for about a year, the Lightning Audio brand has re-invented itself and is back stronger than ever with a series of competitive high performance amplifiers and speakers. A subsidiary brand of Rockford Corporation, the Lightning Audio colors are again flying high and proud at specialty independent car audio retailers all over the country. To show us what they've been working on, a top of the line LA-8004 amplifier showed up here at the lab. We put it through the paces, and here is what we found.
Features
The Lightning Audio LA-8004 is a conventional Class AB four channel amplifier. But while the internal topology may be conventional, there are quite a few details that aren't. First, at just 9.9" x 7.5" x 2.7", the LA-8004 is a fairly compact unit, especially when you consider that it is rated for 80x4 into 4 ohms, and 110 x 4 into 2 ohms per channel. It has a sort of industrial look to it, with smooth surfaces and rounded corners, finished in a matte gray powdercoated top plate, with contrasting gloss black sides. The result is a purposeful looking amplifier, especially when it's turned on and the Lightning Audio badging is illuminated from the backside in white light.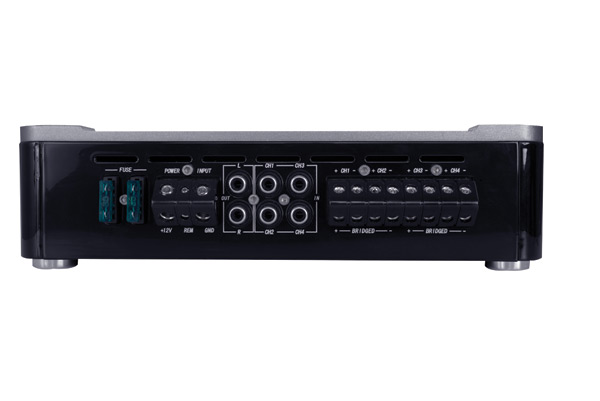 Unlike many of its competitors, the LA-8004 manages to place all of the wiring and signal connections on one long edge of the amplifier, which simplifies a tidy installation. The signal controls are mounted under a clear removable acrylic cover on the top of the unit. Top-mounted controls like this are pretty handy when tuning, allowing easy access to crossover and EQ tuning controls without having to do a lipstand on the floormat. Adjustments include 10Hz to 150Hz high pass crossovers, and 30 to 150Hz low pass crossovers. There are also separate bass EQ pots for the front and rear channels, and a 2ch/4ch input selector switch.
Power cable and speaker connections are handled by nicely finished, angled set screw terminals, which will handle 8 and 12 gauge wire respectively, but I'll never understand why you need three different sizes of hex wrenches to do the wiring on an amp like this. Sure, they are supplied, but a liberal application of the old KISS principle (Keep It Simple, Stupid!) would be welcomed. Also on the business side of the amplifier is a pair of 25A ATC style fuses, 2 pairs of RCA inputs, as well as a pair of pass through type RCA outputs.
Inside the LA-8004 I found a very nicely designed PCB with zero tolerance surface mount parts used wherever possible. Crossover distortion is eliminated by individual channel bias pots, instead of compromising performance with a cheaper fixed resistor. Four high current MOSFETs are used for power supply switching, and each channel uses a matched pair of MOSFET devices as outputs. A total of twelve 1000µF caps are used, four for the power supply storage, and the remaining eight to stiffen the output rails. The amplifier's controls and switches are mounted on a daughterboard that floats longitudinally over the main PCB. Build quality looks very good and the amplifier uses high quality components throughout.
Listening
With the LA-8004 driving a pair of component speakers with the front channels, and a 4 ohm 12" subwoofer bridged to the rear channels, I made a few adjustments to the crossover and gain, and did some critical listening. The new flagship multi-channel amp did a very good job driving my loudspeakers, and proved to have plenty of power for all but the most enthusiastic volume levels. The amplifier sounded quite transparent and clean, and it was also dead quiet between tracks or during very soft passages. Bottom end response was fat and warm sounding, with good authority. The bass may have been just ever so slightly muddied, but to be fair, I'm talking about seeds and stems here, not likely the kind of thing you'd even notice while driving down the road. I played all sorts of music through the LA-8004 for about 3 hours, and during the entire time did not note one complaint with its performance. It did get good and warm during my listening session, so I'd make sure this amp gets mounted in a well ventilated area if you plan on using most of the power it makes available.
Performance/bench Measurements

On the bench, the LA-8004 met the power specifications found in the online owner's manual, but without a lot of power headroom, coming in at just a couple of watts over rated power. Signal to Noise ratio was very good, as I had expected it to be from the listening session. Being a Class AB amplifier, overall power efficiency isn't its strong suit, but then again, it's a lot less money than most of the ultra efficient Class D four channels available. While measuring the crossover functions, I found out that the high pass filter is also engaged when the amp is in low pass mode, so something of a low frequency bandpass filter can also be arranged. The amplifier has well-designed protection circuitry for thermal, short circuit, and high battery voltage conditions. I would deliberately cause a fault, and the amp would simply protect itself until the fault was corrected.
Conclusion
Priced right around $349.99 (U.S.), the new Lightning Audio LA-8004 amplifier is a well-made, quality product that delivers good power, great sound, is compact enough to be easily installed and looks good too.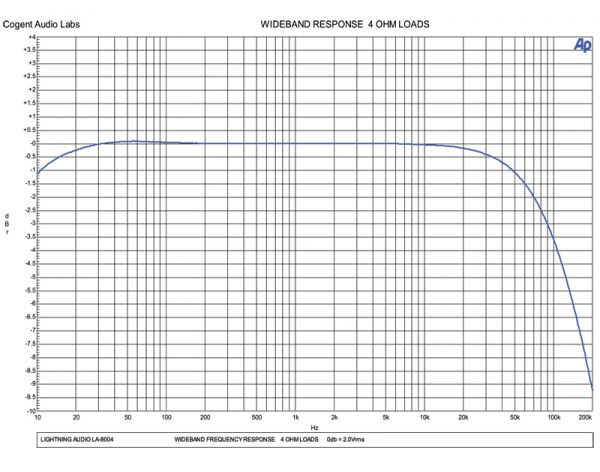 Technical Date

The following power measurements were obtained using industry standard methods. (1kHZ @ 1.0% THD+N - Battery voltages shown +/- 0.2V)
MEASURED PERFORMANCE SPECIFICATIONS
Manufacturers Rated Power

Actual Measured Power

@  1.0% THD+N                  @ 12.6V Battery

Actual Measured Power

@  1.0% THD+N               @ 14.4V Battery

80 x 4 @ 4 ?

61 x 4 @ 4 ?

81 x 4 @ 4 ?

110 x 4 @ 2 ?

85 x 4 @ 2 ?

112 x 4 @ 2 ?

220 x 2 @ 4 ?

172 x 2 @ 4 ?

224 x 2 @ 4 ?
Signal to Noise Ratio referenced to 2V output.

(CEA-2006A) (1 watt @ 4 ohms)

-83.7dBA

Signal to Noise Ratio referenced to full output.

-102.8dBA

THD+N at rated 4 ohm power

1.0%

CEA-2006A rated 4 ohm Power (minimum power per channel developed over the entire intended audio bandwidth)

77 Watts

Maximum Efficiency at full 4 ohm power per ch.

64.1%

Maximum Efficiency at full 2 ohm power per ch.

53.3%

Efficiency at  10 watts per channel, 4 ohms

21.7%

Idle Current

0.9A

Input Sensitivity

180mV- 5.6V

Maximum Current @ full power, lowest rated impedance

58.4A

Frequency Response (-3dB)

<10Hz – 89kHz

High Pass Crossover

10Hz – 150Hz

-12dB/Oct

Low Pass Crossover

30Hz – 150Hz

-12dB/Oct

Subsonic Filter

None

Bass Boost

0 to +9dB @ 45Hz