Written by Garry Springgay | 25 November 2010
Established back in 1991, American Bass is a widely recognized audio brand in the staging lanes at all levels of sound competition, and has been responsible for setting several world records over the years. We thought it would be cool to have a look at one of the most popular models in the American Bass amplifier line, the VFL-500.1. And when you understand that this amp is designed for the rigors of top level SPL contesting, the model number prefix makes a lot more sense. The VFL-500.1 is a brute of an amplifier, measuring 25.7 inches long, 10.25 inches wide, and 2.75 inches tall, and tipping the scales at almost 35 pounds. Interestingly, the company does not publish a 4 ohm power number for the amplifier, but you know just by looking at it it's going to be a powerhouse. Finished in a raw brushed aluminum color and incorporating thick heatsink fins on the top edges and sides, the amp has an "all business" look to it. It may look purposeful, but it's still well finished.
FREE Trial Issue
FEATURES
The VFL-500.1 is a full-featured amplifier, and incorporates a -24dB/Oct low pass crossover, variable from 35-250Hz, and a variable subsonic filter with a range of adjustment from 10-50Hz also at -24dB/Oct. There is also a variable phase control, bass boost, remote level control, and of course a gain control. Additional features include pass through RCA outputs to feed a different amplifier and a separate RCA output used to feed a second VFL-500.1 in slave mode. One end of the amp is home to the dual 1/0 gauge power and ground inputs. Yes, it has provisions for four 1/0 power cables! Between the dual power connections are the speaker terminals, again in a 4 terminal configuration to provide easier connectivity to multiple woofers. Checking out the opposing end of the amp, you'll find all the input signal connections, and all the control pots and master/slave switch, and the connection for the remote level control. The pots are good quality and very smooth to turn, with a 270 degree adjustment range.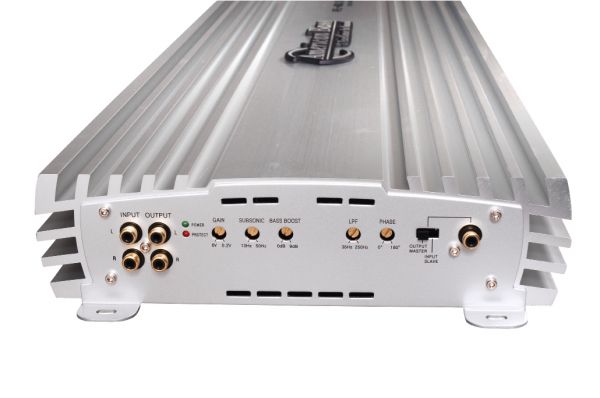 I removed the bottom cover of the VFL-500.1 and had a look inside, and what I found further underlined the serious performance level this amp was designed for. The power supply is designed for very high current handling, and to that end, there are four toroids, and twenty-four TO-247 case MOSFET devices. A total of twenty high speed, high temp 1200µF capacitors store energy for the power supply. There are very heavy gauge buss bars all over the power supply side of the amplifier to ensure maximum current transfer with a minimum of heat and resistance build up. On the output side, eight 1800µF caps provide energy for eighteen TO-247 case MOSFET output transistors. Quad filters are used to clean up the Class-D carrier waveforms and a pair of 30A output relays prevent turn-off pop. The circuit board itself is top quality double sided fiberglass and low tolerance surface mount parts are used throughout the amp wherever possible. This is a well made, stoutly built amplifier.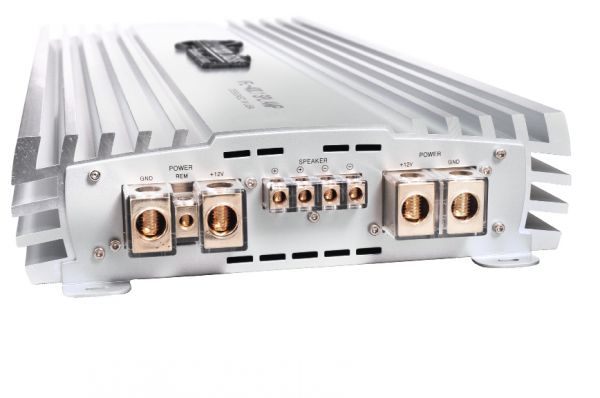 LISTENING
When I get a powerhouse like this in my listening system, it's always a treat because it's one of those situations where I can simply play things as loud as I like without ever worrying about reaching the amplifiers limits. I connected the VFL-500.1 to four 15-inch subwoofers in sealed enclosures, with a final impedance of 2 ohms. After setting the gain and crossover I picked a few favorite tracks from Telarc and Sheffield Labs with excellent deep bass and fast, articulated notes in the lowermost registers. The VFL-500.1 certainly proved itself, not only in terms of effortless power but also in its ability to accurately reproduce deep bass notes from Don Dorsey's synthesizer or the rapid attack and resonance of a large kick drum or kettle drum. Bass notes were well defined, without added ringing or overhang. From Telarc's "Phantom of the Opera" opening track, the thunderstorm sounded very realistic especially when I turned up the volume to levels that I wouldn't normally listen at. What fun! The amp has enough power and control to make deep powerful bass at virtually any level you'd care to listen at. With this amp in my system I found I reached a point where my ears would give up before the amp ran out of steam. But beware, because you're going to need several (or more) very stout woofers to handle this beast, and if you use it at 2 or 1 ohm loads, you'll need a serious charging system to handle the current demands.
Read on For Full Results
PEFORMANCE/BENCH MEASUREMENTS
The next morning I began the process of doing all the technical measurements and tests on the test bench. As I suspected from looking at the internal bits and from listening to it, the amp is capable of making a ton of power. It's no wonder that American Bass is very competitive in the SPL wars, this amp makes well over 4700 watts into 1 ohm. That's over 6 horsepower! And while big power is the main claim to fame of the VFL-500.1, the amp still performed well in all the tests. It has typical Class-D signal to noise specs, and exceptionally good efficiency, actually better than 90% at full power into either 4 or 2 ohms. Frequency response was very good, and the filters did exactly what you'd expect. Even THD at 1 watt was under 0.1%, which is unusual for an amp with this much power.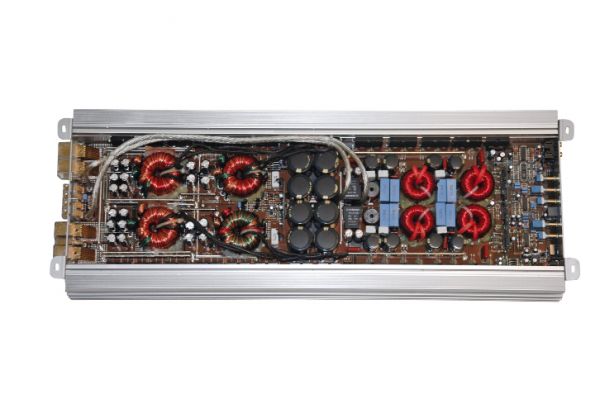 CONCLUSION
This is the first large American Bass amp I've tested in a couple of years, and I have to say I came away quite impressed. The VFL-500.1 is well made, and should be very reliable. But the real joy of owning an amp like this is the same as having a car with about 800 horsepower. You may never need or use it all, but just knowing it's there, waiting to be unleashed, tempting you to crank it up… VFL, indeed! Priced at $2,400 this monster amp is worth a look for all you power junkies. Contact American Bass at www.americanbassusa.com to find a dealer near you.
for more visit www.americanbass.com
Want to Read More?
Click Below for Full Digital Issue!