Written by Garry Springgay // Photos By: Manufacturer | 06 October 2010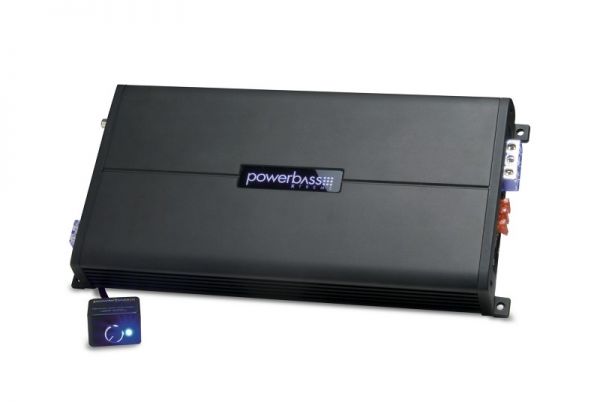 If you are looking for big power to drive your subwoofers, but don't have much space for a monster amplifier and maybe not much room left on the credit card either, the folks at Powerbass have just the ticket. It's called the XAX-1200D, and while small in stature, it's certainly not short on performance.
FEATURES
The all new XAX-1200D is rated at 375, 580, and 800 watts into 4, 2, and 1 ohm loads respectively. In addition to the system design flexibility the low impedance drive capability offers, perhaps the most valuable thing about the Powerbass amp is exactly what it isn't and that's large. One of the smallest subwoofer amps I've seen in a while, the XAX-1200D measures a diminutive 14.6" x 8" x 2". The key to the amp's ability to be so small is the engineering team paid a lot of attention to efficiency, and designed the amp from the beginning to employ fan assisted cooling. This ensures the small heatsink won't get overheated in the middle of your road trip, even when you've been rockin' out for the last 200 miles.
The Powerbass XAX-1200D has a fairly austere cosmetic appearance. The top of the heatsink is smooth and finished in a flat black powdercoat,  but illuminated terminals, an edge lit logo, plus a couple of status LEDs spice things up a bit. Die-cast plastic end caps with internal metal reinforcements trim out each end of the amplifier, and also provide the mounting feet to secure the amp. And before you scoff at the use of plastic, remember that making the caps and mounting points from a non-conductive material prevents potential ground loops and reduces the possibility of alternator noise.
The amp has the power connections, fuses and the cooling fan on one end, and all of the signal input, output and control functions on the other. Power terminals easily accept 4 gauge cable and the XAX-1200D is protected from over-current by three 40A ATC fuses. On the opposite end of the amp you'll find controls for gain, crossover frequency selection (25 to 250Hz), subsonic filter frequency (10 – 50Hz), bass EQ frequency (40-100Hz) and boost (0-12dB), a 0-180° phase switch. There are also connections for remote level control and a master/slave switch and connection point to run two of the XAX-1200D's in bridged mode to a single speaker.
The RCA input connections are rugged panel mount types and the speaker terminals will accommodate 8 gauge cable.
Taking a peek inside, I found the amp is well made, with a pair of large power transformers, a full dozen MOSFET power supply devices, plenty of capacitance, and two pairs of beefy TO-247 case output devices. The PCB is a double-sided affair, and uses primarily surface mount type components for very tight tolerance controls.
Read on for Full Results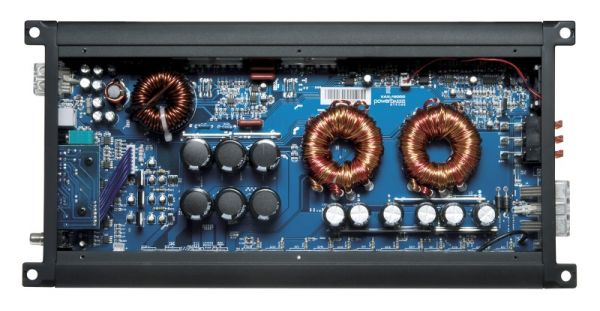 LISTENING
I connected the XAX-1200D in my reference system to a pair of 12" woofers wired to provide a 2 ohm load. The Powerbass amp lived up to its name, easily providing all the oomph I expected, and delivered authoritative bass, with a warm, yet well controlled sound. I played around with the various controls and functions and everything worked just as I would expect, although I think I would have preferred a -24dB crossover slope rather than the -12dB slope it has. Throughout several hours of listening the amp drew very little current and barely got warm, even when the volume level was raised for an extended period. The operation of the fan was virtually inaudible, so no worries there, even if you mount the amp in the passenger compartment. I also listened for turn on or turn off pops, and found none, which is exactly as it should be.
PERFORMANCE/BENCH MEASUREMENTS
On the test bench, the XAX-1200D easily exceeded all of the published specifications. It produced more power at any impedance that it was rated for, even when the battery voltage dropped to 12.6 volts, and did so while merely sipping current from my 900 amp supply. The frequency response is not the flattest I've seen, but the shape of it certainly won't cause any sound quality complaints. Signal to noise measured very good, and overall power efficiency was excellent, at better than 84%. During testing, I dead shorted the outputs, and the protection activated instantly, doing its job to prevent all the magic smoke from escaping.
CONCLUSION
When you're out shopping for a new subwoofer amplifier, don't let the small size of the Powerbass XAX-1200D fool you. This amp is more than capable of delivering woofer shredding power while at the same time, taking it fairly easy on your charging system. It's full featured, and should you eventually decide that you want even more power, simply buy a second one and connect them together. This new Powerbass amp sounds good, works good, comes with a full one year warranty, and at only 519 bucks, it's a good buy too!
For more information visit www.powerbassusa.com