Written by Garry Springgary // Photos By: Manufacturer | 17 August 2010
Page 1 of 2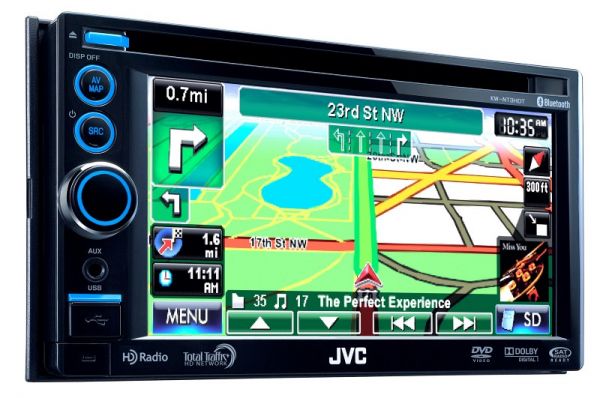 When it comes to choosing a new source unit for your cars dashboard, everyone has their own set of priorities. For some, the main goal is simply good sound. For others it may be compatibility with their personal music player or Bluetooth enabled cell phone. Or, maybe you want video playback and a good GPS navigation system. But if you're like me, you want it all!
It's good for people like me then, that JVC has produced a product with all of the above, and then some! The new KW-NT3HD is a double DIN chassis unit, featuring a removable 6.1-inch TFT LCD touch screen, GPS Navigation, Real Time Traffic info (KW-NT3HDT model only), DVD, CD, iPod/iPhone, Bluetooth enabled, HD tuner, this baby has pretty much everything anyone could need in terms of connectivity and convenience. This model is designated as the JVC KW-NT3HD in the Canadian market, but gets an additional "T" on the end of its model number in the US market that indicates the available "Traffic" function.
COOL FEATURES
This headunit is one of the most feature laden products I've seen in quite a while. So to try and cover every feature JVC has built into the KW-NT3HD would be virtually impossible in the space we have in the magazine. Let's start with the powerful 400MHz processor running Windows Automotive. This setup provides blazing fast processing speeds for all the functions,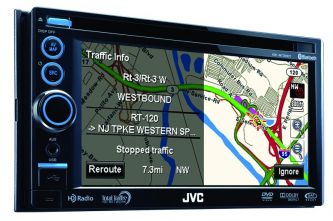 whether it's the GPS or video playback. With the KW-NT3HD, things like map refreshing or chapter selection happen quickly. The onboard GPS system uses Navteq data, and 6 million points of interest are provided by InfoUSA. Not enough? By using data from Google Maps, new POI's can be downloaded to memory. The 3D style GPS display includes lane information, speed limit displays, and furnishes voice guidance and text to speech in three different languages. Location information comes from three separate sensors, the GPS signal, a vehicle speed pulse signal, and a built in gyro sensor, providing excellent accuracy even in poor satellite reception conditions.
In the United States where HD Radio is becoming increasingly popular, the JVC KW-NT3HDT model provides a free lifetime license to HD Total Traffic Network, providing real time traffic information, as well as a bunch of other handy info like sports scores and weather updates. Currently, the Canadian KW-NT3HD model does not have the traffic function available. However, the Canadian model also includes the HD Radio tuner for future expansion in Canada, which the company has confirmed will start to happen during 2010
Another popular feature that can be utilized thanks to HD Radio is built in iTunes tagging for songs you hear on the radio. You tag the song, and the next time you connect your Apple device to iTunes, the site will provide you with information on the song and artist. And speaking of your iPod/iPhone, the JVC KW-NT3HD allows control of the content via the on screen menus, or via the device itself so your passenger can play DJ if they feel like it. Regardless of how it's controlled, all of the iPod data is still displayed on the screen. And of course any unit this high-tech is going to have Bluetooth functionality built in as well, so you can enjoy full connectivity for hands free calling, or streaming audio via Bluetooth, all wirelessly. For instance, you could run your Pandora app from your iPhone, and stream it wirelessly to the KW-NT3HD. This same function can also be done through USB using "External Mode". The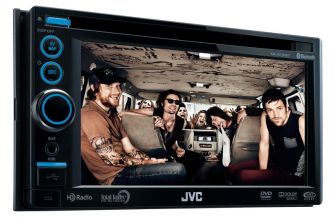 benefit is that users can listen to audio from any app (ex. Pandora, other internet radio apps, games, Youtube, etc.) while their iPhone/iPod touch is plugged in through USB and still keep their battery charged with good sound quality.
And the almost endless list of features and cool gadgets just keeps growing… The JVC unit also includes an adjustable adaptive volume control that automatically increases the volume with vehicle speed, a connection for steering wheel controls, an input for a rear view camera, and an almost infinite selection of 30,000 button illumination colors.
On the audio side of things, the JVC has a built in 4 channel power amplifier, front, rear and subwoofer RCA outputs, with 2.5 volts of signal available, and there are also audio/video inputs, and a video output to drive additional screens.
CONTROLS AND ERGONOMICS
The display and controls are very simple to use, and the touch screen interface is well thought out. I appreciated the rotary volume control and overall simplicity of the layout and menu design. In a product with this much functionality and capability, things can get really complicated in a hurry but the engineers at JVC have done an excellent job at the ergonomics and logical menu layouts. I was quite surprised to be able to find and adjust pretty much anything I wanted without needing to refer to the 95 page owner's manual, which by the way, is thoughtfully provided in a printed book instead of a cheaper but really inconvenient CD.
Adjustments are straightforward and clear, and that's a good thing, because there are a ton of things that the user can play with and tailor exactly as you'd like them. For example, there are built in high and low pass crossovers, each with 10 different frequencies and four different slopes to choose from. And there's also a built in seven band EQ, independently adjustable levels for each source, a subwoofer volume control, adjustable gain for the internal amp, and much more. Another thoughtful touch is how the whole faceplate comes off the unit for security purposes. Inexplicably, the only USB connection is front panel mounted. Don't get me wrong, it's really handy for using a flash drive, but it's also the only place on the unit to connect your iPod. I really wish the unit had an additional USB port in the rear so I could leave my iPod connected all the time, and have the wiring hidden.
Read on for Full Results