Written by Garry Springgary // Photos By: Manufacturer | 17 August 2010
Page 1 of 2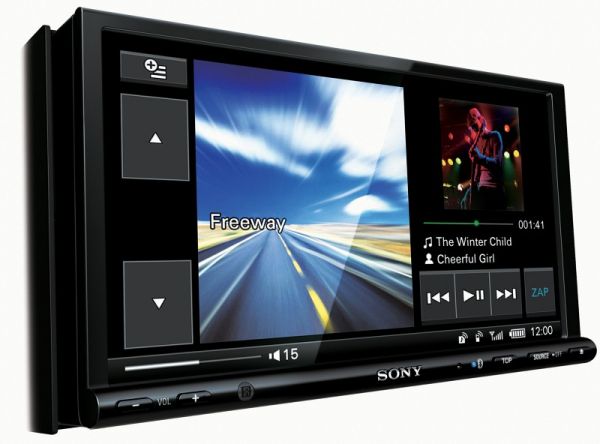 In this review we're going to take a look at the new Sony XAV-70BT multimedia receiver. It's got all the goodies you'd expect from a $749.00 (US) double DIN sized video headunit, 7" TFT touch screen, AM/FM/DVD/CD/MP3/iPod/iPhone/USB/Bluetooth… you get the idea. But it's also got something else - something I've never seen before, and it's pretty cool.
COOL FEATURES
If you're reading this, it's too late, you're already an audio enthusiast, and you're probably going to have a very special relationship with music for the rest of your life. We spend a lot of time listening to, and receiving a great deal of enjoyment from, our favorite songs and we all tend to gravitate to music that suits our current mood. We all like music that's fast, up-tempo and exciting when we're happy or enthused, and when we're quiet, contemplative, or just plain tired, we like tunes that are slower, more mellow and laid back. Some of the more organized folks I know actually create playlists for their various moods. But for the less organized among us, how aggravating is it when you're just driving along and find yourself constantly switching songs to find something that suited your mood?
Well, Sony has invented a feature that solves the problem for us. They call it SensMe™ and it's designed to automatically play music to suit your mood. It works using a special piece of Sony software that you install on your computer to perform something called a "12 Tone Analysis" on all your songs. From this analysis, the software groups your songs into various "channels" that correspond with the tempo and mood the track consists of. These channels are copied to your portable device, and when not in the car, you have the choice of selecting Energetic, Relax, Upbeat, Mellow, Lounge, Emotional, Dance, or Extreme. In the car, there are seven different channels to choose from, Freeway, Chillout Drive, Weekend Trip, Midnight Cruise, Party Ride, Morning Commute and Goin' Home, each channel with music specifically suited to that type of driving.
You can even use a 2 dimensional "mood map" with an onscreen display to alter the characteristics of the music selected. The horizontal axis is based on mood from sad to happy, and the vertical axis is tempo based, slow to fast.
But SensMe™ isn't the only cool feature of the XAV-70BT. The 7" active matrix touch screen LCD delivers excellent video quality, and allows control of the adjustments and functions. Built in Bluetooth connectivity includes A2DP, HFP, and AVRCP support, making the connection to your cell phone or other Bluetooth device effortless. Hands-free calling, as well as streaming of music or internet radio is simple and wireless. Of course full iPod/iPhone connectivity is supported, and with the optional RC-200IPV cable, full video playback is also provided. Sony's innovative Zappin™ technology is also on hand, to provide you convenient track searching by listening to passages of the songs.
Of course the XAV-70BT is also fully compatible with any USB device, including Sony's Walkman MP3 players, or even just regular flash drives. And should your companion want to play DJ, simply use the Passenger Control mode to control the music via the iPods controls directly.
A powerful DSP processor is behind Sony's Advanced Sound Engine, and ensures everything from your MP3 tracks to multichannel DVD audio always sounds its best. If you want to change the stereo imaging, arrival times are adjustable for different seating positions, and there is also a Center Speaker Optimizer circuit for creating a center channel sound, without a speaker. Also included is a 7 band EQ, and variable frequency crossovers for main and subwoofer channels.
A built in MOSFET power amplifier provides clean power for up to 4 speakers, or if you plan to use external amplifiers, the XAV-70BT comes complete with front, rear and sub RCA outputs, with a full 4 volts of drive signal.
Still want more? In addition to the two Aux inputs and a rear video output, you can add on Sony's optional HD Radio tuner or satellite radio tuner for even greater choices in source material. You can also add Sony's XAR800C rear view camera for a clear view of what's behind when you're backing up.
CONTROLS AND ERGONOMICS
Okay, the Sony XAV-70BT is loaded with cool features, and all the bells and whistles. Controlling them is done primarily via the touch screen, and the rather plain GUI used in the XAV-70BT is fairly intuitive and clearly marked. Icons are used for most functions, and the touch area designated on the screen is large enough to use with gloves on. There are a few things though that I thought could use a bit of improvement. First, the touch screen requires a very deliberate touch, and I found myself not pressing hard enough the first time over and over again. I have used dozens of touch screens, and this one definitely needs more force than most. However, the controls were easy to use as long as I pressed hard enough.
After making a change or selection, there is a lag in the system that seems excessive. You press the screen, but it can actually be a couple of seconds before you know whether or not the change has been made. This tended to get frustrating on the test bench, but in fairness, during testing I make more adjustments in a few hours than most people will in a month of use. While I'm griping, I wasn't particularly keen on the smallish pushbutton volume controls or the multiple steps it took to change sources. In general the human interface requires very deliberate actions and a bit of patience. It's simply not as fast or responsive as competitive products.
On the positive side, once I got the selections made, everything worked perfectly and the DVD video picture quality was excellent. iPod control and playback functions are good, and fast. My iPod has 11,000 songs on it, and I could get from 50 Cent to ZZ Top in mere seconds. Artwork was nicely displayed, and the whole layout was clear and easy to read at a glance. There are several choices for backgrounds, and color options so those of you who like to personalize things won't be disappointed.
I also found the "Gesture Command" function to be interesting and entertaining if not actually very useful. You can make up or down or side to side strokes on the touch screen, which will then change tracks or radio stations. It's cool, but I can't see myself using it much.
The monitor angle can be set to one of four different positions for best viewing angle, and the position can be stored to memory.
Read on for Full Results