Written by Garry Springgay // Photos by Manufacturer | 21 June 2010
Page 1 of 2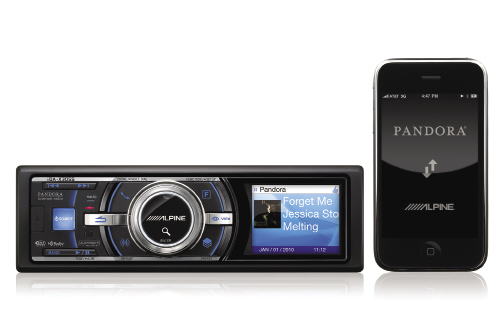 A few years ago, several car audio manufacturers introduced digital media receivers that did not have a CD or hard drive. Rather, they played music from portable media players like iPods and USB thumb drives. And many thought that was the ultimate in convenience for always having your favorite tunes handy.
But how would you like to have access to your favorite music every time you get in your car, with good sound quality, and never have to take a CD, media player or USB drive with you? Sound farfetched? Well it isn't, because thanks to the engineers at Alpine, the technology exists, and I'm listening to it as I type this.
What I'm talking about is something most internet savvy music lovers have discovered a couple of years ago, the internet radio application known as Pandora. And now Alpine has introduced a new source unit, that when connected to an Apple iPhone, can bring Pandora's amazing content selectivity to your ride. Enter the new $400.00 (USD) Alpine iDA-X305S Digital Media Reciever.
Pandora Explained
The name Pandora means "all gifted" in Greek. In ancient Greek mythology, Pandora received many gifts from the gods, including the gift of music from Apollo. Since 2000, they have been hard at work on a something called the "Music Genome Project". It represents more than eight years of analysis by a trained team of musicologists, and spans everything from recent new releases all the way back to the Renaissance and Classical music. What it amounts to, is the most comprehensive analysis of music ever
undertaken. A team of fifty musician-analysts has been listening to music, one song at a time, studying and collecting literally hundreds of musical details on every song, for years. It takes 20-30 minutes per song to capture all of the little details that give each recording its magical sound - melody, harmony, instrumentation, rhythm, vocals, lyrics and more with almost 400 separate attributes. Pandora does not use machine-listening or other forms of automated data extraction, because they believe that each individual has a unique relationship with music, and no two people have tastes exactly alike. The result? You can select an artist you like, and Pandora finds other music just like it. When I first tried it, I was very skeptical, but after several months of use I can say it actually works very well!
How To Get Pandora In Your Car
To expand on how to use Pandora in your car and with the iDA-X305S in particular, there are some limitations and requirements. First of all, because of royalty and licensing laws, the Pandora service only works in the United States. As a result, the iDA-X305S is not offered for sale anywhere else. So, if you live in the U.S. and would like Pandora in your car, you must use an Apple iPhone. The iDA-X305S will not currently access Pandora with any other brand of smartphone, and because most of the streaming will be done via the 3G cellular network, it must be an iPhone, and not an iPod Touch, as wi-fi coverage is still far too spotty. Alpine says the iDA-X305S is also compatible with the new iPhone 4!
Then you must have an account on the iTunes store to download the free application. Even though it's free, you must set up an account to get the application on the iPhone. This is not a big deal for most iPhone users who generally already have an iTunes account, but for a Blackberry or Android user like me, who doesn't even use iTunes to sync my iPods, it is a bit of a hassle. However, once installed, you can control the Pandora application right from the dash - the iPhone only acts as the link to the internet.
COOL FEATURES
Okay, lest you think the whole iDA-X305S is all about Pandora, let's talk about some of the other features found on this single DIN sized unit. Of course it has iPod/iTouch compatibility and can also play music from a USB thumb drive. And it also has an excellent AM/FM tuner, and is ready to accept Alpine's optional HD Radio or Satellite radio tuner modules. An optional adapter will also provide Aux input functionality for other sources.
Alpine included three sets of 2 volt pre-amp outputs, with a separate subwoofer level control, and a built in defeatable 18 watt x 4 power amplifier. DSP control of high pass crossover, selectable center frequency and Q in the tone controls, and connectivity to Alpines separate IMPRINT processor are also included, along with Alpines MediaXpander circuitry. Other add-ons include an amp power boost with the KTP-445 head unit power pack and bluetooth hands-free calling with the KCE-250BT, both sold separately.
CONTROLS AND ERGONOMICS
I liked the layout of the iDA-X305S, the large rotary volume control is located in the center of the front panel, and is easy to find without looking. It does seem to require a lot of rotation to make big changes and it's a bit heavy feeling, but the upside of that is very fine control. To the left of the volume knob are the most commonly used buttons, and the layout is spacious and logical. On the right side is the very easy to read 2.2-inch color TFT screen, which displays all the pertinent information, as well as album art. Button colors can be set to red or blue, and the screen backgrounds can also be customized to best match your interior and tastes. A portion of the front faceplate detaches for security, and a soft bag is provided to store it in.
Read on for Full Results