Written by Gary Springgay // Photos by Manufacturer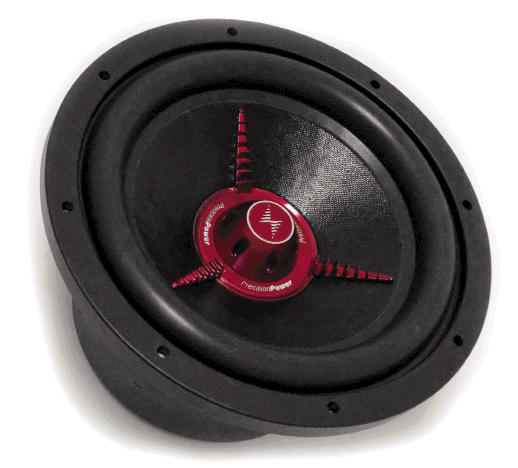 Okay, I've been around a while, probably quite a bit longer than most of the readers of this magazine. I sort of grew up around audio and cars, and so it was really natural for me to make a career of combining them. I've seen a lot of brands come and go over the years, many simply trying to make a fast buck selling really cheap gear to unsuspecting enthusiasts, without a real thought to how it sounded. But, there are a few really great brands that have endured all the changing fads, hard times, intense competition, and everything else that has been a factor in the car audio market. And those who have endured and continue to prosper, all share one thing in common. They all are obsessed with good sound, and building products that create the type of listening experience their customers crave. One of those brands is Precision Power. Through a series of different ownerships and locations, the brand has weathered the storm and is once again creating sonically excellent products for customers as crazy about good sound as they are. As an example of this dedication to performance, we're going to take a look at the all new Power Class PC.15 woofer.
Features
The new Power Class series of subwoofers from Precision Power are designed to satisfy the performance needs of both the sound quality enthusiasts as well as provide enough
output to keep ground pounding SPL nuts happy. The woofers use some cleverly designed and integrated components to accomplish exceptionally high performance levels, while providing an appealing and different sort of retro look. The sample I received was the 15-inch PC.15 dual voice coil version, which is priced around $299.95 in the USA.
The first thing you notice when the woofer comes out of the box is the really unique (and I think very cool looking) alloy dustcap and cone brace structure. Looking at the cone of the woofer, the effect is sort of like looking at a mag wheel with matching center cap. The alloy dustcap has three "spokes", each about 3.7-inch long, which have short vertical fins cast in them. The entire dustcap/fin assembly is solidly affixed to the cone, and serves two purposes. First, because the dustcap center is also attached to the aluminum voice coil former, the assembly acts as a heat sink, and helps dissipate thermal energy from the voice coil assembly. The second function is to reinforce and stabilize the cone itself, to reduce distortion at high power levels. The alloy assembly is quite attractively finished in a candy apple red finish, with polished highlights. The cast aluminum basket has the same high gloss candy finish. Hot rodders and Harley guys will love the retro/high-tech look.
The cone material itself also has a retro connection, it's made of non-pressed spruce pulp. Yes, that's right, a paper cone on a modern high performance woofer! There is a growing number of folks who have spent some time comparing the sound of the modern materials like polypropylene, carbon fiber, aluminum, and the rest, and have discovered that from a sonic perspective, it's tough to beat a well designed and properly braced paper cone. Evidently the speaker engineers at Precision Power agree. The cone has recesses molded into the surface to receive the alloy brace assembly.
Connecting the cone to the candy red cast aluminum basket, is a UV treated wide-roll foam surround, and underneath, a pair of 8-inch poly-cotton linear spiders. Linear one-way X-max is rated at 15mm or about six tenths of an inch. The tinsel leads for the dual voice coils are cleverly integrated between the dual spiders for a stealthy look. The voice coils themselves are four layer, 2 ohm copper coils, wound on a 2.5-inch black anodized aluminum former. In the interest of long term reliability, additional voice coil cooling is afforded by a well vented spider mounting ring.
Driving the whole assembly is a stout strontium-ferrite motor assembly, with a bumped and vented bottom plate for additional excursion clearance. The motor assembly is wrapped in an embossed rubber boot. Wire connections are handled by very solidly mounted, nickel plated, spring loaded terminals which will easily accommodate 10 gauge cable.
Read on for Results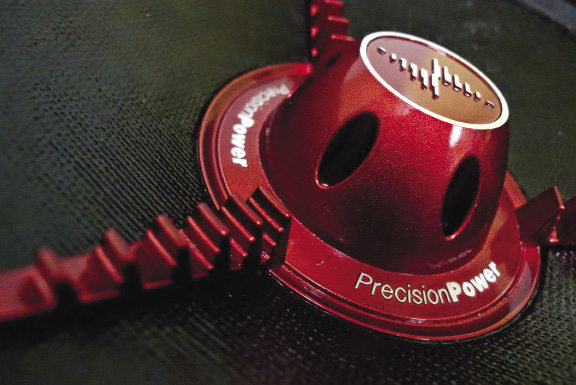 Listening
I read the owner's manual that accompanied the woofer, and it recommended a variety of enclosure designs, from 1.5 to 2.5 cubic feet sealed, or from 3.5 to 4.5 cubic feet vented. I chose to listen to it in a 2 cubic foot sealed enclosure. I believe this is a good compromise on enclosure size for a 15, and is typical of what I see on the streets. After the usual break in and normalizing period, I connected the woofer to my reference system and began what turned into a very extended listening session.
This is one of those woofers that just sounds "right" on all kinds of music, and simply handles everything you throw at it. Over the course of most of an entire afternoon, I must have played four or five dozen different tracks, including complex work from the London Symphony Orchestra, to Jennifer Warnes, Thursday Diva, Queen, Brooks & Dunn, Randy Newton, 50 Cent, Nelly, Metallica, Ozzy, Led Zeppelin, Rush, Pink Floyd, Supertramp, Thomas Dolby, and Norah Jones. Regardless of what I played, the results were the same. Clean uncolored bass, with excellent control and superb detail. Kick drums sounded full and warm, with no ringing or unwanted overtones, bass lines had great articulation and I kept surprising myself with how "tight" and crisp this big woofer sounded. If you are one of those people who think you can't get tight, clean bass from a 15-inch woofer, you need to listen to this one in a two cubic foot sealed box. It was really, really good. As I cranked up the power, I never felt like I was pushing the PC15 too hard, even when power levels would briefly exceed the 900 watt rating. The woofer did not complain, or show any sign of strain, it just played loud, and sounded good.
On The Bench
The next day I moved the woofer into the lab and measured the parameters, and inspected it closely after the previous days fairly intense session. The inspection revealed no trace of any sort of damage or stress, even though I know that I had exceeded the suggested power rating a few times… but that happens when I'm having fun! My Thiele-Small parameter measurements closely matched the published numbers, certainly within the usual tolerances we see with this type of product. I also noted that my choice of
a sealed enclosure was a good one, as the specs indicated. I'm sure that the performance would be quite impressive with a vented design, as the woofer certainly has enough motor strength to warrant it, but the trade off in space seems sort of unnecessary when the sealed box performance is this good.
Conclusion
Every once in a while, a product crosses my bench that I'm genuinely impressed with, and is a pleasure to evaluate. The Precision Power PC15 is such a product. The woofer has everything anyone could expect, excellent sonics, realistic enclosure requirements, very good power handling, and cool cosmetics. If you are thinking about a new subwoofer system, you should check out the sound of the PC15 at a Precision Power dealer near you. If it's good enough to impress a critical old guy like me, I'm pretty sure it'll impress you too.