Written by and Measurements by Garry Springgay // Photos by Manufacturer

One of the benefits of reviewing products every issue is that we get a chance to occasionally test something before or just as it becomes available in the marketplace. And that's the case this time, because our contacts at Alpine Electronics sent one of their brand new head units to evaluate. After watching other brands incorporate Bluetooth functionality directly in their head unit chassis, we finally get an Alpine that does the same. This is one of the first Alpine single DIN sized models to fully incorporate Bluetooth hands free technology, without having to buy anything else. Yep, finally… the CDE-103BT is an Alpine unit with built-in Bluetooth, no adapters required! COOL FEATURES
The Alpine CDE-103BT is a single DIN sized headunit that retails for the same $249.99 price in the USA and Canada. For that price, you get a full featured AM/FM/CD/MP3 player which also provides full speed connectivity of an iPod or iPhone with the optional KCE-433iV cable. The CDE-103BT meets Apple's specifications for "Made for iPod" and "Works with iPhone" compatibility. And if you're like me and have thousands of songs on your iPod, you'll especially appreciate Alpine's "Quick Search" file search mode. This clever system splits your songs into six groups accessed via the preset buttons on the faceplate. This allows you to quickly jump to a section, rather than scroll through the entire alphabet to get to where you want to be. Another search mode is also handy, this one allows you to scroll through the various hierarchies such as Playlist, Artist, Album, Song, Podcast, Genre etc. Either way, it's fairly painless to find the track you're looking for.
The Alpine unit has a removable faceplate, and an easy to read, single line display with large white characters. Button colors can be set to red, orange, green or blue to match almost any interior lighting. Also on the front panel is a USB connection for those who prefer to carry their music on a USB drive, and for users of personal music players other than the iPod, there is also a 3.5mm Auxiliary input jack.
But what really sets this new model apart from last year's Alpine head units is the CDE-103BT now comes with Parrot-powered Bluetooth functionality integrated right into the unit. And of course Alpine also includes the remote mount microphone, so there really is nothing else to buy. The setup of the Bluetooth system is pretty straightforward, and the CDE-103BT is compatible with most current Bluetooth enabled cell phones. You can import up to 1,000 numbers from your cell's phone book, and even use voice dialing if your phone supports it.
CONTROLS AND FUNCTIONS
The most often used control on any head unit is the volume control, and I'm pleased to report that Alpine continues to use the best possible method for this frequently used function, the rotary encoder, or "a knob",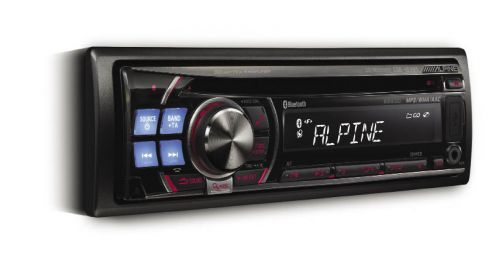 as my buddy Jeff calls it. The next most often used buttons are usually track up and down, and the CDE-103BT gets high marks there too, with easy to locate large buttons for these functions. In fact, all of the controls are thoughtfully placed, and the ergonomics of the Alpine CDE-103BT lend themselves to being easy to use without looking or only needing a quick glance.
As with most modern headunits, the Alpine CDE-103BT is equipped with a DSP based processor. This provides all sorts of control capability when it comes to getting your sound adjusted how you'd like it. Built into the innards of this model is a processor that provides a selection of tone control choices, as well as a defeatable, variable frequency high pass crossover. The rear RCA outputs can be converted to subwoofer outputs, and the level of those outputs can be varied either equally with the front outputs, or separately via a subwoofer volume control. And if you're not planning to use the built-in four channel amplification, there is even a setting that allows you to turn the amplifier off, which reduces current consumption and chassis heat. Nice!
To get your system tuned to suit your needs, the bass and treble controls each offer a selection of four frequencies; 60, 80, 100, and 200Hz for the bass section, and 10, 12.5, 15, and 17.5kHz for the treble section. In addition to that adjustability, you can also select the "Q" or the width of effect that the bass control provides, in 4 increments. Adjustability like this really allows to you to tone down or accentuate a specific region, and is much more useful than a simple bass or treble control. Another nice feature, the DSP processor will not allow excessive boost to be applied that would cause distortion at high volumes, so that's simply another tuning detail that's already taken care of for you. If you are using the internal high pass filter, you can set it to 60, 80, or 100Hz.
And the adjustability doesn't end there. For the Bluetooth settings, of course the system allows you to adjust the volume of the incoming call, as well as select which speakers are used for playback. You can choose to have the incoming call played back on all the speakers, or either of the front speakers, or both front speakers. Additionally, the volume of the microphone can be adjusted as well, to optimize call clarity and minimize feedback.
Read on for Results
LISTENING and USE
The Alpine CDE-103BT is very straightforward to install and connect. As with most CD headunits, it is suggested that the horizontal mounting angle be kept under 35° to prevent CD mistracking problems. The main harness plugs in, and has the usual selection of wires, but if just got your first pair of wire strippers, or you're a newbie to head unit installation, be careful to choose the correct blue output wire for your amp trigger and power antenna. There are two blue output wires, and both provide a 12 volt source, but under different conditions. The solid blue wire is for the power antenna, and it only provides 12 volts when the unit is in tuner mode. This prevents the antenna from being up when you are listening to a CD or iPod, for example. The blue/black wire is the correct wire to use to turn on an external amplifier, as it will provide power whenever the unit is turned on regardless of mode. The RCA connections are chassis mounted, and recessed about 0.75" so the cable shells don't require additional in-dash clearance, which is helpful when things get tight behind the dash. I got the unit connected in my listening room, and began playing with the connections and controls.
The CD transport loads and plays CD's or CD-R's with a hundred or so MP3 tracks quite quickly, and using the USB input or hooking up my iPod worked great! I happened to have the optional cable for my iPod, and the connection is indeed fast and seamless. In terms of sonics, the Alpine CDE-103BT doesn't leave much to be desired. Radio reception and the sound quality of the radio in both AM and FM modes was fine, as is generally the case with the Alpine tuners.
The unit has a natural, neutral sound to it, without adding any unwanted noise. Highs were detailed and articulate, and in general, the Alpine unit sounded excellent, regardless of the source. The controls were easy to find and use, and didn't require endless referencing of the owner's manual. If you are familiar with typical Alpine operational nomenclature, you may not even need the manual. I appreciated the functionality provided by the subwoofer level control, and the various tone settings should be adequate for all but the most serious tweakers.
ON THE BENCH
As usual, after my listening was completed, I moved the unit to the electronics lab and connected it to my Audio Precision analyzer. The Alpine CDE-103BT either easily met or exceeded all of it's published specifications! Frequency response was virtually ruler flat on both the RCA outputs as well as the amplified section. Signal to noise was very good too, as was stereo separation, and distortion levels. The RCA outputs are good for about 2.3V, which is what you expect at this price point. The only specification that could have been a bit better was output impedance, but at just over 300 ohms, it's still better than many units in this price range. 

CONCLUSION
Others may have been selling units with built-in Bluetooth for the last year or so. But, if you wanted an Alpine you used to have shell out big bucks for their Bluetooth adapter. Well those days are over, as Alpine has entered the integrated Bluetooth game with this great piece. Offering the safety and convenience of true hands-free telephone operation, easy to use controls, plus great sounding audio and features with enough flexibility to satisfy most users, the Alpine CDE-103BT should become a very popular choice.
USA - www.alpine-usa.com
CAN - www.alpine-canada.com