It seems like every time I find a multimedia receiver with all the connectivity and convenience features I want, the audio section is lacking. Or I get a really great audio player, but it doesn't have all the bells and whistles I'd like to enjoy during my drive. If you have been waiting to buy a new multimedia receiver for your car that had all the features and high end audio performance as well, your wait may be over. Thankfully, the folks at JVC have built a unit focusing on high performance audio and an uncommonly good blend of features, some of which aren't even found anywhere else.
Features:
The double-DIN sized JVC KW-AV70BT offers all the usual good stuff, including a high-quality, seven-inch TFT display, DVD playback, iPod/iPhone connectivity, Bluetooth, Pandora, four-volt pre-outs, and a high-power internal amplifier. But it's the additional and unusual added features that really make this unit worth every penny of its $549.95 U.S. list price.
Features like the removable motorized face for security, or the "App Link" mode which provides on-screen use of many different music, driving, and convenience oriented apps for the iPhone are a welcome addition. One of my favorite things about this unit is the MotinX-GPS Drive app for mapping and live traffic reports. When the KW-AV70BT is connected to your iPhone with the optional KS-U30 cable, it gives you full navigation functionality without spending a grand on a full-navigation unit. And here's some real value - the app costs about twenty bucks a year - and because it is integrated with Wikipedia and Facebook it's more accurate than the preloaded maps you get with more expensive navi units. Other fun and useful on-screen apps include the high-quality MOG music service, Tunein and Inrix traffic.
iPhone users can also bring Pandora stations along for the ride by connecting via the rear-mounted USB cable. But the cool stuff doesn't end there. The unit can be set to display all of your information at a glance, but if you find the display distracting, you can set it to go dark and come back to life using the built-in proximity sensor. This sensor will re-activate the display whenever your hand gets close to the unit. It works like magic and it's really cool.
Additional features include full hands-free connectivity for taking and making calls via Bluetooth, as well as Bluetooth music streaming from virtually any enabled device. An Android phone or basic USB drive can also be connected as a mass storage drive via the USB port, providing on-screen playback and control of your entire portable music collection. Still want more? How about compatibility with your vehicle's steering wheel controls, high- and low-pass filters, a three-band parametric EQ, and dual-zone capability to keep the kids happy in the back seat. The KW-AV70BT is even compatible with a rear view camera, an optional SiriusXM tuner and includes another set of A/V inputs for any other device, such as a game or second DVD player.
Controls and Ergonomics:
When it comes to ease of use, the KW-AV70BT boasts a very user-friendly GUI that allows you to make adjustments and selections from intuitive menus without a lot of fuss. The touch screen-based soft keys are big enough to access without accidentally activating something else, and their placement is very logical. The only thing I would like are non-touch screen volume and track controls to avoid having to constantly look at the screen. However, the screen can be customized with separate settings for backgrounds, text and buttons, meaning an almost infinite number of combinations to get things exactly the way you want them.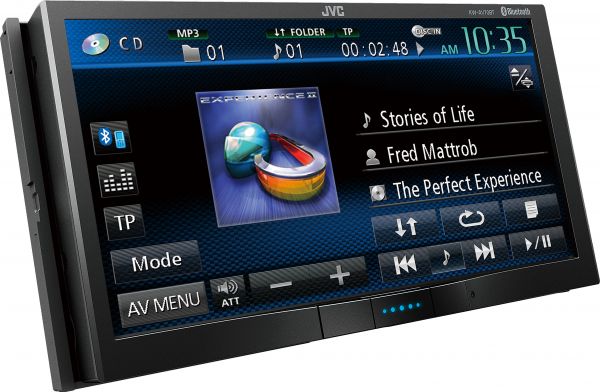 Listening:
To begin my listening session, I first connected the KW-AV70BT's amplifier to my reference system speakers to get a feel for the performance of the internal amplifier. A few songs later, I concluded the internal amplifier was more than adequate for the casual user and sounded just fine. Of course the biggest limitation with internal amplifiers in head units is the limited power. Even the best performers can only manage about 20 watts per channel of usable power, which is okay for listening to news or stock market reports, but any real music lover will add external amplification. So, switching to the four-volt RCA outputs, I connected the JVC as the source in my reference system. From a sonic perspective the KW-AV70BT sounded excellent, with good frequency response and very low noise – I also appreciated the intuitive controls. This is a product that has been designed well enough to make reading the owner's manual almost unnecessary. During listening I found no fault with the sonics of the KW-AV70BT. All in all, the detail, stereo image and overall tonal balance were spot on and virtually indistinguishable from my high-end reference CD player.
On The Bench:
Moving back into the lab, I put the unit through its paces. The resulting measurements confirmed what I had experienced when listening. Frequency response was very flat and the signal-to-noise ratio measurements were among the best I've seen in recent memory. The internal amplifier produced the full rated 20 watts per channel, while the pre-outs measured a full four volts of usable output. Source impedance was average for a high-performance audio player at 293 ohms.
Conclusion:
Like I said, if you have been waiting for a multimedia receiver with the perfect blend of features and performance, the JVC KW-AV70BT might be exactly what you've been waiting for. It offers excellent value and if you are an iPhone user, the wide range of available apps makes it an even better buy. The best part is, you can have all the cool connectivity toys and the audiophile in you won't have to compromise when it comes time to sit back and enjoy the music.
Measured Specifications
Amplifier
CEA-2006A Power (all channels driven @ 4 ohms)
20.2 watts/ch (x4)
A Wtd Signal-to-Noise Ratio (ref to 2V/1W @ 4 ohms) Amplified Output
-81.2 dBA (CD)
THD+N @ 2V/1W @ 4 ohms 1kHz
0.05%
Frequency Response (-3.0dB)
20 Hz – 20 kHz (CD)
Preamp Section
Max. Usable RCA Output Voltage
4.0 Vrms
A Wtd S/N Ratio Ref. to Full Output Voltage
-86.5 dBA (CD)
Output Impedance
293 ohms
Frequency Response (-3.0dB)
20 Hz – 20 kHz (CD)