Written by Garry Springgay // Photos by Manufacturer
If you're an avid enthusiast, you're likely quite familiar with the name Scosche. The family owned and operated company has been providing dash kits, adapters, harnesses, and all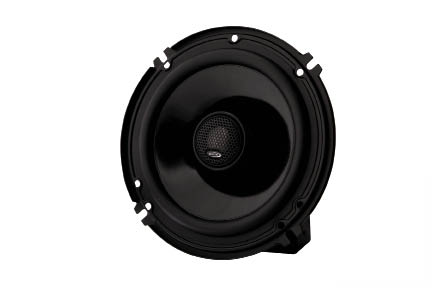 manner of high quality installation aids since 1980. But what you might not know, is in recent years, Scosche has also introduced a couple of amplifier, speaker and subwoofer lines known as REALM and EFX. The REALM brand is more focused on audiophile performance with higher pricing, while the EFX line of gear is directed at the everyday enthusiast with a tighter budget, but still seeking high quality, good value and excellent performance. 
This time we're going to run a set of the EFX loudspeakers through the test lab and see how they perform and compare to other brands at a similar price. The speakers we chose are the $229.00 (USD) EFX C65's, which are sold as a 6.5-inch full range system, utilizing a convertible design allowing the tweeter to either be mounted separately or coaxially.
Features and Design
The EFX C65 midrange drivers come out of the box configured as separates, with a tapered phase plug screwed in the center of the speakers pole piece. The stamped steel basket is designed to work with a variety of mounting sizes and bolt patterns. While sold as a 6.5-inch speaker, the basket actually only requires a 5-inch mounting hole diameter. This allows the EFX C65 to be a drop in mount in many cars where a full size 6.5-inch speaker won't fit without cutting.
Another interesting feature of the EFX C65 is the way the crossover network comes attached to the midrange driver. It can be dismounted from the driver and mounted separately if you prefer, but I liked how it solved the age-old problem of "where do I put the crossover" when installing separates. Plus it makes the install a bit quicker and easier, so the idea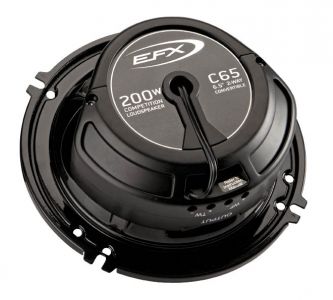 gets a big thumbs up from us! The EFX C65's midrange driver uses good quality fairly conventional materials, such as the NBR rubber surround, and an injection molded high gloss black polypropylene cone.
Motivation for the cone comes from a 1-inch high temperature copper voice coil, wound on a Kapton former. The suspension is handled by a single vented Nomex spider. The magnetic motor of the driver is a 3.4-inch ceramic ferrite material, with the base and top plates finished in the same corrosion resistant gloss black powdercoat as the basket.
The tweeter used in the EFX C65 system is a 19mm titanium dome design, and is pre-mounted in a swivel cup and protected with a steel mesh grille. The swivel cup uses a bayonet style connection design that allows them to be quickly and securely mounted on posts that replace the phase plugs for a coaxial type installation, or you can transfer the tweeter to one of two different kinds of housings to allow separate tweeter mounting.
The patent pending design of the reversible "Universal Backmount Adapter" provides simple and secure mounting of the tweeter behind factory panels or A-pillar locations, or a well designed flush mount cup can be used in a typical door panel.
As mentioned previously, the crossover provided with the EFX system comes already attached to the midrange driver, but it can be removed for remote mounting if you desire. In that case, a soft rubber sealing cover is installed on the removed crossover to keep moisture and debris from entering the assembly. From and electrical perspective, the crossovers utilize a 1st order (-6dB) low pass filter for the midrange, effectively reducing its output at about 4500Hz. The tweeter gets its signal via a 2nd order (-12dB) high pass filter, also at about 4500Hz. The output level of the tweeter can be cut by 3dB with a switch found opposite the input terminals.
While there is nothing terribly exotic or fancy about the systems individual components, the C65 is obviously built with care and attention to detail. Build quality and value are excellent for a speaker system in this price range, and all the required parts, pieces, wires, and terminals are all found neatly packed in individual re-sealable plastic bags. The owner's manual is a fairly basic affair, but it provides you with all the instructions and information you'll need to install the system correctly. The EFX system comes with a one year warranty.

Read on for Full Results
Listening
After getting the system unpacked and inspected, I mounted the C65's in my listening rooms baffles and sat down to find out how it sounded. I have to admit, I came away fairly
impressed at the EFX C65 systems overall pleasant tonal balance and timbre. Generally speaking, I've never had very high expectations of moderately priced systems such as this, but the EFX C65's surprised me. The high frequency output was good, if a tad on the polite side. I specifically listened for traces of sibilance or edginess in the metal dome tweeters, and found very little to gripe about. In fact if anything, I would have liked just a touch more output from the tweets, but that would be easy to do with a bit of carefully applied equalization.

I thought the midrange output of the system sounded natural and reasonably uncolored, female vocals such as Tracy Chapman and Norah Jones were reproduced with great clarity and a sense of space. Saxophone and trumpet "cut" nicely without becoming harsh or edgy, and background detail was clearly evident regardless of what I listened to. This is a good indication that someone paid attention to intermodulation distortion during the design phase, and the speakers were assembled with care.
As good as they are, the brutal realities of the laws of physics always apply, and with a cone diameter of just a bit more than 4.5 inches, you can't expect the C65's (or any other speaker of a similar size) to dish out a lot of bottom end. But, I found they were more than capable down to about 80Hz, which is where your subwoofer will take over anyway, so it's not really an issue unless you don't have a subwoofer in your system.
And if you wanna rock and roll, the EFX's won't let you down there either. I dug deep into my musical archives and pulled out Deep Purple's classics "Mary Long" and "Smooth Dancer" sounded great, and the incredible detail in the bands performance wasn't lost or difficult to hear.
(Side Note: Deep Purple was one of the pioneers of hard rock and metal music. The musicianship in the band is legendary, particularly in the MarkII lineup of 1960-1973. If you have never heard these pioneering songs of hard rock on a very good system, you should. Both songs mentioned above are from the less popular but excellent, "Who Do We Think We Are" album. Each of the band members provide a unique and astonishing performance, and the songs are fast paced and driving. To be able to pick out Ian Paice's fantastic stickwork on "Smooth Dancer" while Roger Glovers bass lines, Jon Lord's Hammond B3, and the amazing Ritchie Blackmore's guitar work all combine to deliver a fast paced, hard edged but rhythm and blues feel. Fantastic.)
And if you're simply not a fan of hard rock, never fear, the C65's sounded good with everything I threw at them, from classical to country, hip-hop and jazz. No matter what your favorite tunes are, the EFX C65's will have you covered.
On the Bench
After my listening was completed, I brought the system to my acoustics test bench to have a look at the mechanical and electrical aspects of the system, and to measure the actual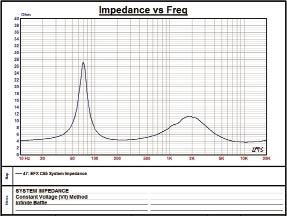 on-axis frequency response.
I always like it when what I think I hear correlates with my measured data, and that's exactly what happened in this case. The response curve is quite flat, with a small dip right around 10kHz, which probably accounts for the "politeness" of the tweeters, but also contributes to the lack of sibilance and hard sounding highs.
The system has a nominal impedance of just over 4 ohms, and the midrange drivers resonant frequency measured about 70Hz, which is the lowest frequency you should use when setting the systems crossover point.
Conclusion
I'm fortunate to be able to make my living working with and listening to some of the best audio gear on the planet, so I sometimes find it difficult to get excited about a 200 dollar pair of car speakers. But in the case of the EFX C65's I was actually quite impressed, especially given the actual size of the cones and the modest price. If you're in the market for a new set of coaxes or components, have a listen to the C65's at your local Scosche dealer and see if you don't agree.
www.scosche.com