Written by Garry Springgay // Photos by Mark Pereira and Manufacturer
Page 2 of 2
Listening  

After the obligatory break-in process was completed, I installed the Sony XS-LD126P5 into a 0.8 cubic foot sealed enclosure. The recommended enclosure according to the supplied information is 0.77 cubic feet, so I figured after subtracting the air volume displaced by the woofer structure; the box would be about perfect. With the dual 4 ohm coils wired in parallel for a 2 ohm load, I connected the woofer to my reference system, and made a few adjustments. I eventually decided on a crossover frequency of about 100Hz, at -24dB per octave. This setting allowed the Sony woofer to provide strong bass output, but the steeper slope prevented too much high frequency information from coming through. Because I test dozens of 12-inch woofers each year I had some preconceived notions about what I expected from a Sony woofer at $130.00 or so. I have to say, I was quite surprised when the Sony XS-LD126P5 not only had more output than I was expecting, but it also easily handled the power I fed it, right up to and probably a bit over its 400W rating without complaint!
During my listening, I noted the woofer was smooth and warm sounding, but still provided decent articulation of complex bass passages. Another point I noted during listening was that the woofer was completely devoid of unwanted mechanical noise, which can't be said for all the popular woofers at this price point. The woofer had respectable low frequency output and handled transients like kick drum accent and plucked bass very well. I also noted that the woofer did not need a lot of power to provide some righteous output, so the sensitivity is obviously high. While it's probably not going to outperform a much more expensive $300 plus dollar woofer from a sonic perspective, but I thought it did very well, and would be an brilliant choice in any system with a smaller woofer amplifier.  
On The Bench  

After my listening session was over, I allowed the XS-LD126P5 to cool down and normalize again before bringing it into the acoustics lab to measure the Thiele-Small parameters and do the rest of the objective measurements. Firing up my trusty LMS program, I began by measuring the small signal parameters, and comparing what I got to the published figures. I'm happy to report that the Sony measured very close to the published data, which again isn't always the case with more economical woofers. After re-installing the woofer back into the sealed enclosure, I measured the frequency response and the actual impedance curve of the XS-LD126P5. Both looked very good, with no unpleasant surprises.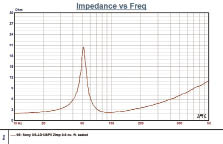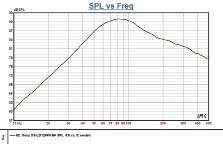 Conclusion
If you are looking for a good sounding, good looking woofer at a very reasonable price, the Sony XS-LD126P5 deserves serious consideration. Particularly well suited to systems with 200 to 400 watts of subwoofer power, this woofer will deliver plenty of bump and work well in a very reasonable size enclosure. Easily able to run with the big dogs, but leaving you some gas money left in your wallet, what's not to like?
www.sony.com