Written by Garry Springgay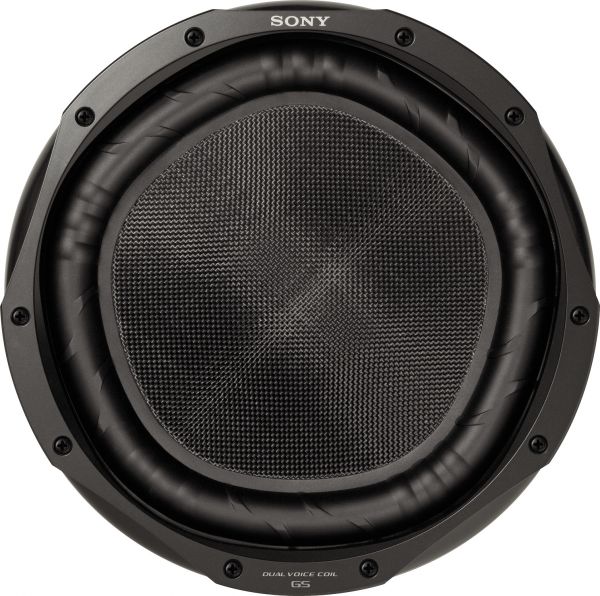 Just in time for a long summer of cruising the town with your tunes bumpin' comes the Sony XS-GS120LD 12-inch subwoofer. This good-looking new GS series subwoofer is rated for 400 watts RMS (520 Wrms ref. CEA-2031) and features dual four-ohm voice coils for flexibility in your installation wiring as well as other high-performance features that will help your car become the hit of local sound-offs. And, with a three-year limited warranty and selling price under 150 bucks, you could even call it a sound investment.

FEATURES

Looking at the XS-GS120LD from the front, the first thing I notice is its five-sided woven glass fiber cone and permanently-mounted ABS trim ring. These elements combine to create a woofer that manages to look both high-end and business-like all at the same time.

The woofer is built on a stamped steel basket that has been finished in a gloss black powder coat. Focused around the two-inch diameter copper windings of the dual four-ohm voice coils, a double-stacked high-energy ferrite magnet assembly provides the mechanical motivation. The coils are wound on a Kapton former and connect to drive the underside of the cone assembly with an injection-molded escutcheon that not only solidly connects the two critical components, but also adds support and rigidity to the cone.

The cone on the Sony GS subwoofer is also something special. Constructed of a very lightweight but extremely strong mica-reinforced glass fiber material the cone also uses a unique five-sided shape, which Sony claims reduces standing waves that can diminish bass output. The outer edge of the high-tech cone is anchored to the basket by a specially-molded rubber surround that Sony calls a "stroke stabilizer."

The bottom side of the moving assembly is centered and suspended by a progressive-type spider, which has the tinsel leads from the four terminals woven into it. This technique eliminates the possibility of "lead-slap" or stressed lead under high excursion conditions. And, the attention to quality details doesn't stop here as the XS-GS120LD also has serious five-way gold-plated binding posts for the wire connections instead of the ubiquitous (and much cheaper) spring-loaded stuff I see on almost everything else. Very nice Sony!

LISTENING

As the features of the Sony XS-GS120LD are quite impressive, I've been looking forward to listening to it. So, after my traditional exercising and break-in of the woofer, I mount it in a 0.8 cu-ft sealed enclosure and connect it to my reference system.

Starting with a crossover setting of 100 Hz at -12 dB/oct, I work my way through a variety of my favorite woofer evaluation tunes. As I'm listening, I notice more high frequency output than I'd expected. After some experimentation, I experiment with the crossover point and eventually decide on 80 Hz at -24 dB.

After the tweaking and another round of listening, I come away quite pleased with the results. This woofer has lots of output. It's fairly musical and lively with good definition and control. The overall bass extension is lacking a bit, so I try it in a larger 1.25 cu-ft sealed enclosure where its performance improves significantly in terms of low frequency extension and the timbre of the lower registers. There is an expected reduction in overall SPL, but, for the average user, I think the manufacturer's recommended 0.75 cu-ft sealed size size ought to be about right. For more discerning listeners who care less about very high output and more about experiencing the lowest registers, I'd suggest a larger enclosure.

Because Sony also recommends the XS-GS120LD for use in a vented enclosure, I simply port the 1.25 cu-ft box and tune it to about 38 Hz and the woofer really comes to life with more output than ever before. Interestingly, the woofer still sounds good, delivering a tight "round" sounding bottom end. I go over the same 20 or so songs with no significant reduction in sound quality to satisfy my ears and affirm my opinion that the vast majority of listeners will prefer a vented design's overall output. My advice is to set the subsonic filter on your amplifier to about 30 Hz and have at it!

PERFORMANCE / BENCH MEASUREMENTS
After a prolonged cooling period, the woofer comes out of the enclosure and goes into my lab for some bench measurements. My data is right in line with Sony's published specifications, so those readers who use a computer-modelling program should have similar good results. My one-watt measurements are as follows:

MEASURED PERFORMANCE SPECIFICATIONS
Revc = 1.710 ?
Fo = 29.418 Hz
Sd = 0.051 M²
Vas = 5.1 L (1.946 cu-ft)
Cms = 149.189 uM/N
Mmd = 189.570 g
Mms = 196.193 g
BL = 11.186 T•M
Qms = 5.801
Qes = 0.496
Qts = 0.457
Levc = 0.642 mH
No = 0.274 %
SPL = 86.392 dB
EBP = 59.31

QUICK TECH SPECS
Power Handling - 400 watts RMS
Frequency Range - 30-1,000 Hz
Sensitivity - 86 dB/SPL @ 1.0W (1.414 V @ 2 ?)
Nominal Impedance - (2) 4 ? coils

CONCLUSION
If you're looking for a well-built yet moderately-priced woofer that takes a backseat to very few in the performance department, the Sony XS-GS120LD subwoofer is a very credible choice. It's loaded with features usually found on much costlier products and my critical listening sessions prove it can more than hold-its-own against similarly-priced subwoofers. Combined with Sony's three-year warranty and worldwide network of dealers, it's almost a no-brainer investment too.
| | |
| --- | --- |
| | |