Written by Text and measurements by Garry Springgay
Page 1 of 2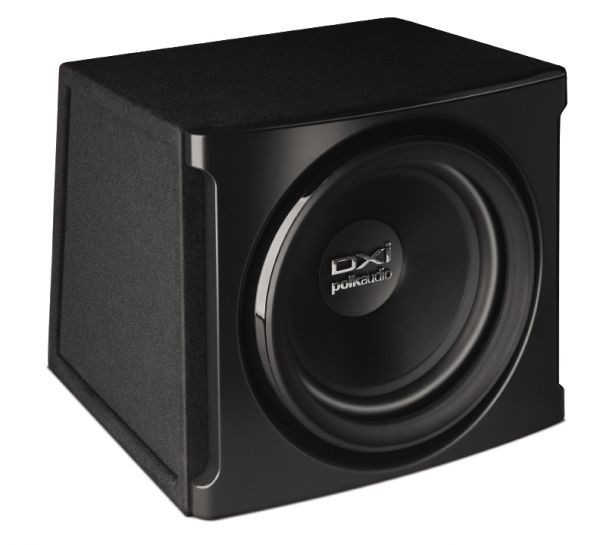 Polk Audio's DXi112 Subwoofer system is made for any enthusiast who wants big bass, great style and a quality product without breaking the bank. When it comes to putting together a good performing subwoofer system, the details matter. Polk Audio has taken their years of experience and delivered the DXi112, a product designed to blow you away with its performance and value.
Features
The Polk Audio DXi112 subwoofer system is a complete, fully finished ready to connect to your amplifier subwoofer system priced at just $199.95 USD. The design uses a well-made vented enclosure, and a 12-inch marine rated dual voice coil subwoofer. Polk Audio engineers obviously paid close attention to every small detail. The DXI112's enclosure is constructed of ¾-inch medium density fiberboard or "MDF". This is the material of choice for most high end subwoofer enclosures, as it has very high strength as well as low resonance. A look inside the enclosure revealed solid construction, with good gluing at all the seams and joints.

A layer of polyester fiberfill is also glued in place inside the main enclosure. To vent the enclosure, an internal slot type baffle is used for the DXi112 system, and has been tuned to about 38Hz. The design has approximately the same port area as an 8-inch round port, providing excellent port area, thereby reducing port turbulence noise and improving efficiency. The front of the enclosure is trimmed with a gently curved injection molded automotive grade ABS plastic trim panel that very nicely finshes the woofer, and can be painted to match your trim. Black low profile carpeting covers the rest
of the enclosure, which measures 17.25 wide x 18.25 deep, and about 15 inches high. Connections are made simple and secure via a set of nickel plated spring-loaded terminals in a recessed mounting cup, spaced correctly to accept a double banana style plug.
The subwoofer driver is a dual voice coil 12-inch woofer utilizing a pair of 4 ohm coils wired from the factory in parallel for a 2 ohm load impedance. A "Dynamic Balance" polypropylene cone is suspended on the top side by a Santoprene surround, and an injection molded ABS dustcap with chrome plated lettering provides additional cone reinforcement as well as a nice cosmetic touch. The cone assembly connects below to a 2-inch 4 layer copper voice coil wound on a Kapton former, and cooled for better power handling by a vented pole piece. Additional mechanical suspension and stability is provided by a linear Nomex spider, which is attached to a flat landing surface on the woofers basket. The basket itself is a stamped steel design for ruggedness without added cost. The magnetic motor is made of ceramic ferrite and measures 4.5 inches in diameter and weighs about 8 pounds. When mounted in the enclosure, the woofer is trimmed out with an ABS trim ring that holds a thick rubber bumper to prevent anything from getting close to the cone or surround. The cosmetic result is a clean, and uniquely different design.
Listening
Polk Audio recommends 20 or so hours of break-in on the DXi112. So I simply connected the subwoofer to my reference system, set the volume at a moderate level, walked away and let it play for 24 hours, before doing any critical listening. They also suggested a 12 or 18dB crossover set to 80-90Hz. So, with the subwoofer system connected to my reference gear, I set the sub amps crossover at 80Hz, -12dB per octave, and sat down to do some listening. The main claim to fame of the Polk Audio DXi112 is efficiency, meaning it will deliver a lot of output with very little power, and man, it certainly does that… in spades! The DXi112 is capable of playing at very loud levels with only 100-150 watts driving it! Whether you like rock, rap, blues or country, the DXi112 system has a ton of output, and will shake your mirrors with the most modest of amplifiers. Just for fun, I compared its output side by side to another system that had a pair of high performance 10's in a vented enclosure, and the single 12-inch Polk system was still significantly louder!
While the amount of output the DXi112 developed was almost staggering, the system lacked a bit of the musicality that
I have come to expect from Polk Audio products. This isn't to say the system sounded bad, in fact far from it, but it just didn't have the depth of extension down low, and tended to be fairly non-linear in its delivery of the lower spectrum. The bass lacked some detail and clarity, but wow, it certainly made up for it in SPL. From about 50Hz and up, there was so much more output than below 50Hz, the system tended to sound sort of narrow and peaky in its output, much like a bandpass enclosure would be, which is also very high in efficiency. I know this situation could be improved somewhat by using a lower crossover frequency, and/or steepening the slope, but then it would also reduce the overall output accordingly.

Read on for Full Results