Written by Garry Springgay // Photos By: Manufacturer
Page 2 of 2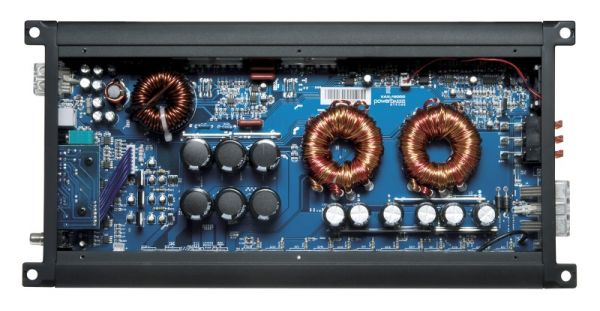 LISTENING
I connected the XAX-1200D in my reference system to a pair of 12" woofers wired to provide a 2 ohm load. The Powerbass amp lived up to its name, easily providing all the oomph I expected, and delivered authoritative bass, with a warm, yet well controlled sound. I played around with the various controls and functions and everything worked just as I would expect, although I think I would have preferred a -24dB crossover slope rather than the -12dB slope it has. Throughout several hours of listening the amp drew very little current and barely got warm, even when the volume level was raised for an extended period. The operation of the fan was virtually inaudible, so no worries there, even if you mount the amp in the passenger compartment. I also listened for turn on or turn off pops, and found none, which is exactly as it should be.
PERFORMANCE/BENCH MEASUREMENTS
On the test bench, the XAX-1200D easily exceeded all of the published specifications. It produced more power at any impedance that it was rated for, even when the battery voltage dropped to 12.6 volts, and did so while merely sipping current from my 900 amp supply. The frequency response is not the flattest I've seen, but the shape of it certainly won't cause any sound quality complaints. Signal to noise measured very good, and overall power efficiency was excellent, at better than 84%. During testing, I dead shorted the outputs, and the protection activated instantly, doing its job to prevent all the magic smoke from escaping.
CONCLUSION
When you're out shopping for a new subwoofer amplifier, don't let the small size of the Powerbass XAX-1200D fool you. This amp is more than capable of delivering woofer shredding power while at the same time, taking it fairly easy on your charging system. It's full featured, and should you eventually decide that you want even more power, simply buy a second one and connect them together. This new Powerbass amp sounds good, works good, comes with a full one year warranty, and at only 519 bucks, it's a good buy too!
For more information visit www.powerbassusa.com