Written by Garry Springgay // Photos By: Manufacturer
Page 1 of 2

The other day I was in a car audio shop (imagine that!) and I heard a lady looking at new CD players ask, "Does anyone even bother with CD's in the car anymore?" Well, while a few of us audiophile types don't go far without a few favorite discs on hand, of course the compressed digital formats and portable music players have been the go to source for your traveling tunes for quite a few years now. Obviously, this fact isn't lost on the aftermarket head unit manufacturers who are producing more and more DMR's or "Digital Media Receivers" that do not even have a CD slot.
This time we're going to have a look at a very modestly priced DMR from Sony, the new $149.95 DSX-S100.  With the Sony, you insert your iPod, Walkman, or flash drive into the unit where you'd normally load a disc. Behind the fold down faceplate is something Sony calls a "Tune Tray" to securely store your iPod® or Walkman® MP3 player neatly within the receiver.
COOL FEATURES
The Sony DSX-S100 is a single DIN sized receiver with a fold down removable faceplate. Behind the faceplate is a tray that rotates out to hold your portable media player or USB drive, and then allows it to be totally concealed behind the faceplate with no wires showing. A special connector to adapt an iPod to the USB connection is also included, so your iPod cable is not required. Also located on the right side of the faceplate is an auxiliary input jack allowing connectivity to any non-USB based player. Also included of course is a high performance AM/FM RDS tuner which is compatible with Sony's optional Satellite Radio or HD Radio tuner module for even more stations and selection in CD quality. A wireless remote control is also included for those who prefer not reaching for the dash to adjust basic functions.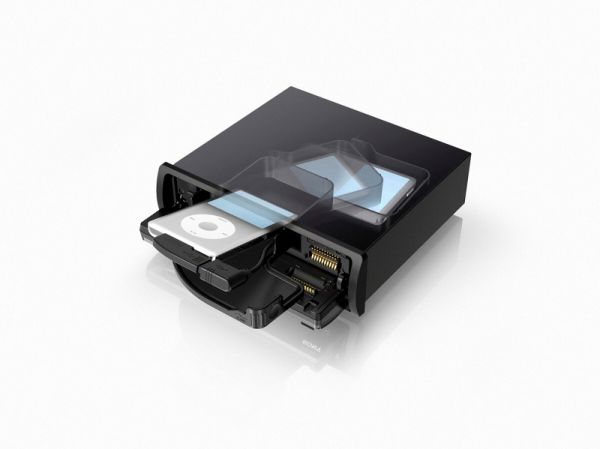 Even though the DSX-S100 is definitely on the value oriented end of the scale, Sony has seen fit to include many of the same features and functions found in their much more expensive units. The DSX-S100 incorporates Sony's innovative and handy "Zappin™ function that plays 6, 9, or 30 second snippets of songs until you find the one you want. If you prefer, you can also quickly search and select songs by category, including artist, album, genre, or playlist., or using Sony's Jump Mode allows you to fast forward through a music category in 10 percent increments.It also has a built in 3 band EQ with preset curves as well as the ability to customize your own frequency shaping. Then there is a feature called DSO (Dynamic Soundstage Organizer) which uses special circuitry to "virtually" raise the soundstage and spread it wider across the dashboard. This can be a welcome feature for vehicles with badly compromised speaker positioning. Sony's Digital Music Plus is an enhancer technology designed to improve detail and high frequency definition in compressed music formats.
The audio section of the DSX-S100 has it's own set of respectable credentials as well, with 2 pairs of 2 volt pre-outs, with one pair selectable as sub or rear outputs. An independent volume control for the sub out channel offers bass level control from the driver's seat, and there are even adjustable built in high and low pass crossovers. A built in power amplifier is rated at 17 watts x 4 for a total of 68 watts of continuous power, and because the rating follows the stringent CEA-2006 guidelines, you can be sure of getting all the power advertised.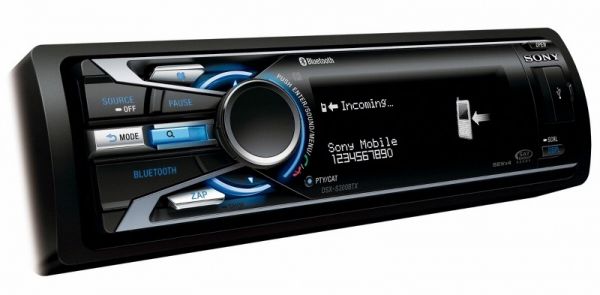 CONTROLS AND ERGONOMICS
I liked the look and feel of the DSX-S100 as soon as I turned in on and began playing with it. I liked the rotary volume control, and the fact that it uses a very easy to read 2 line fluorescent LCD display. Other controls and buttons are logically laid out, and I was able to find most of the functions settings and adjustments without even reading the printed manual. My iPod and USB drive fit perfectly inside the chassis, and were recognized instantly, and I was quite impressed with the speed of the interface. Finding a particular song on either storage device was fast and simple, especially after I got the hang of the correct series of button presses. If you are one of those people who are constantly looking for the song you want, you'll get the hang of the Sony quickly, and it's very fast at searching or scrolling through folders and files. Making adjustments was also pretty straight forward, with a simple menu driven system that is quite easy to use, despite sometimes requiring what seemed like an inordinate amount of items to get through to find the one I was looking for. The removable faceplate comes on and off positively, and folds down far enough to not be in the way when inserting or removing your iPod.
Read on for Results