Written by Garry Springgay /// Photos By: Manufacturer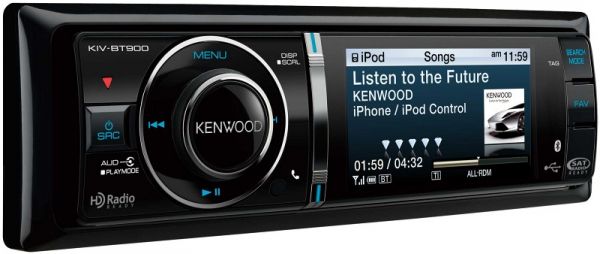 Many audio enthusiasts have changed their music collections over to a compressed digital media format, and now carry thousands of songs within their favorite players. With your entire music collection at your fingertips, the need for a CD mechanism in the dash becomes more diminished all the time. To that end, many manufacturers have developed multimedia-based source units that focus on connecting to your existing media player, and forego a CD transport completely. The new Kenwood KIV-BT900 is just such a unit. With full connectivity to a wide array of Apple devices as well as Microsoft's Zune player, the KIV-BT900 is perfectly suited to users who have ripped their CD's and left them in a pile at home.
COOL FEATURES
As you'd expect, the single DIN chassis KIV-BT900 is fully compatible with iPod and iPhone devices, and includes a high speed cable connection for those products. A bright and easy to read 3-inch full color TFT LCD provides info on your music source as well as album art, and can also display full color photos. It also provides playback of video from an iPhone/iPod and from a USB external device. The video can then be displayed on the screen of the unit as well as output, via RCA video out, to rear seat monitors. The large rotary multifunction knob and control buttons operate very much like the controls on an iPod, which makes the KIV-BT900 very intuitive to operate. Non-iPod users will also appreciate the ability to connect via a USB connection, and if you are a Zune user, the USB connection will provide full Zune audio control, although there is no Zune video support. However, the new Kenwood is much more than just a handy player for your digital media. Incorporating a high performance AM/FM RDS tuner with text functionality and of course playback capability for MP3, AAC, WMA, and WAV files, the unit is also HD tuner and Satellite Radio ready. There is even 512MB of built in memory on board to hold photos or music files.
The high performance audio section features a built-in defeatable amplifier, 3 pairs of 4 volt pre-outs, extensive DSP sound control, separate rear seat audio functionality, and built in Parrot powered Bluetooth handsfree functionality. All these features mean the Kenwood has all the bases covered pretty well, and combines convenience as well as increased safety with distinguished audio performance.
CONTROLS AND ERGONOMICS
The non-removable but very cosmetically appealing front panel of the KIV-BT900 incorporates a large easy to use rotary encoder surrounded at the four points of the compass by sizable, easy to use controls for menu, play/pause, and track up/down buttons. All of the controls are sized to be easily manipulated while wearing gloves. Kudos also goes to Kenwood for not using one of those frustrating "wobble knobs" which are all too easy to move in the wrong direction while driving. As previously mentioned, a crisp 3" color LCD screen is located on the right hand side of the front panel, with a resolution of 320x240 pixels. Button illumination is provided by variable multi-color LED's and the results cover the color spectrum, so there's no doubt you'll be able to find a color that complements your interior, or you could simply let the colors change by themselves for a different look at every glance.
Manipulation and control of your digital media files is very simple and straightforward, and the ability to search using a high speed search bar or a 3 letter alphanumeric method makes it very quick and easy to find the selection you want, even with thousands of tracks available.
The Parrot powered Bluetooth connectivity provides full hands-free control of your mobile phone, and your phone book will transfer to the KIV-BT900. The audio output will automatically mute when receiving a telephone call.
Setting up the unit is quite simple, with the menus easily accessed and selected using the rotary control. The internal DSP chip provides a vast array of tuning functionality, from built-in crossovers with 13 selectable frequencies as well as three different slope configurations, user adjustable 5 band equalization, to Bass Boost levels, and Kenwood's "Highway Sound" enhancer. You can also adjust for speaker pathlength differences of over 5 feet on each of the six channels of output using the DTA function.
Read on for Full Results


LISTENING
My listening evaluation of the KIV-BT900 went very well, the unit sounded great with either my iPod or USB thumbdrive as the source. It should be noted, however, that to get great output with any player you need to have high quality input, so if you're ripping stuff at 96kbit/s it's still going to sound like it. With good quality 256kbit/s files, I noted a flat, accurate response, with excellent detail and very little background noise. Vocals were natural and the timbre of instruments was easy to identify. The high voltage pre-amp outputs also provided nice and hot signals to my amplifiers, which allowed me to use reduced amp gain, further enhancing the signal to noise and dynamic range of my system. The audio adjustment functions can be accessed while playing, and it was interesting to play with several different adjustments and listen to the effects in real time. And compared to some other units I have played with, the Kenwood gets very high marks in ease of use and functionality when it comes to the signal processing and general setup. Suffice to say there is more adjustment capability in this source unit than I used to have in my pro-audio rack doing live concert sound, and the logically arranged menus mean you don't have to jump through burning hoops to quickly find what you need. The thing that kept coming to mind while playing with the KIV-BT900 was how sensible it is, and that translates to it just being a pleasure to use.
ON THE BENCH
Moving from the listening room into the lab, the Kenwood underwent the usual battery of tests, measurements and checks. All in all, it performed very well, and posted quite respectable numbers. All of the controls and functions performed as advertised and with very good accuracy, as you'd expect with a modern digitally powered unit. My only minor quibbles were the rather mundane preamp output impedance of 255 ohms, and the internal power amp fell about 1dB shy of the advertised 22 watts per channel.
CONCLUSION
Kenwood has spent some time and effort successfully designing a unit that makes a lot of sense. It's easy to live with during day-to-day use, and provides a very high level of sound quality. With all of the available tuning functionality and the convenience and safety of hands free telephony, I have no doubt the KIV-BT900 is going to be a big hit with audio enthusiasts and commuters alike.
For more information visit www.kenwood.com or www.kenwood.ca