Written by Garry Springgay Photos by Manufacturer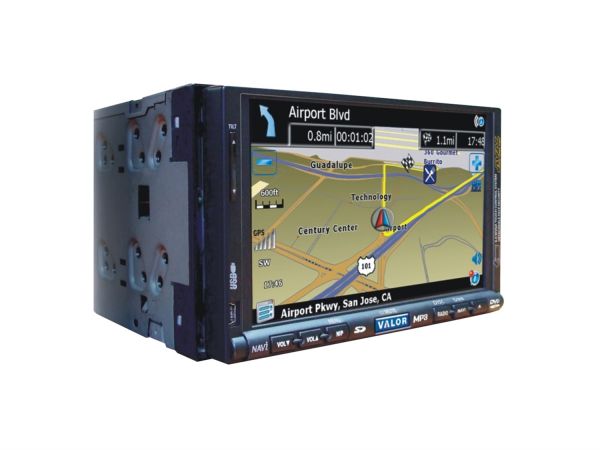 The new double DIN sized, DDN-888W Navigation/DVD Receiver from Valor Multimedia is their latest, feature-packed product. The Valor DDN-888W features full built-in GPS navigation and DVD playback on a high quality 6.9-inch touch screen TFT LCD. An unusual feature is the way the entire LCD screen is fully detachable, providing both security and convenience. The widescreen LCD has full 800x480 resolution, with a total of 384,000 pixels and utilizes a seven position tilt function for maximum viewing satisfaction. Also incorporated into the DDN-888W is Bluetooth connectivity for hands free cell phone functionality and A2DP playback of music as well.
The fully featured GPS system uses mapping from Navteq, with the entire USA mapping database stored on a single supplied 4GB SD card, with 11 million points of interest. Because the GPS system is primarily housed in the detachable faceplate, you can remove the faceplate and take it in the house with you, power it up via the included AC adaptor, and connect it to you computer via a built in USB port. This is  a handy feature for updating of the mapping software, or downloading specific routes or new points of interest to the mapping data. Mapping can be viewed in either 2D or 3D modes, and voice guidance is also provided to make finding your destination easy and safe. Plus, there are no worries about running out of storage space for your mapping, because the DDN-888W will support memory cards up to 16GB. The GPS system is driven by a 500MHz processor for high speed routing and automatic rerouting performance.
FREE Trial Issue
Video playback is handled by a high performance DVD transport that is resistant to shock and vibration, thanks to it's built in electronic shock protection memory buffer. The mechanism will not only play back CD's and DVD's, but also MP3 or WMA files burned on DVD+R discs. Additionally, video files such as MPEG1, MPEG2, and MPEG4 as well as .avi and Xvid formats are supported. You can even view .jpg format photos on the screen. DVD menus are fully interactive, and controlled via the easy to use touch screen.
Audio duties are handled by either a built in 4 channel amplifier, or via front, rear, and subwoofer RCA outputs, rated at 2.5V. A built-in DSP processor provides decoding for Dolby Digital DVD's, and also provides a built in 7 band graphic equalizer for precise adjustments in your systems tuning. A USB connection and extension cable are provided to connect your portable media player or USB drive to the unit.
The DDN-888W uses a very easy to navigate GUI, (Graphical User Interface) and even without a manual we were able access all for the features and functions of the prototype unit reviewed, and make any adjustments we wanted. Confirmation of on-screen button presses can be monitored by a dual level audible beep, or you can choose to turn it off if you prefer. Picture quality is very good, and all the frequently accessed controls such as volume and source selection are also easy and intuitive. Some of the most frequently adjusted functions such as volume, navigation or tuner selection can also be accessed via hard buttons on the lower edge of the faceplate. The on screen menus are easy to read, and make navigating through the various sections simple and straightforward.
If you are in the market for an upgrade to your mobile entertainment system, in addition to the DDN-888W, Valor Multimedia offers a broad selection of mobile multimedia products. From headrest monitors, overhead monitors, overhead All-in-One monitors with DVD, in-dash single or double DIN Navigation/DVD receivers, and accessories, Valor DVD covers all the bases at very attractive prices.
For more visit www.valormultimedia.com
Want to Read More?
Click Below for Full Digital Issue!