25 October 2012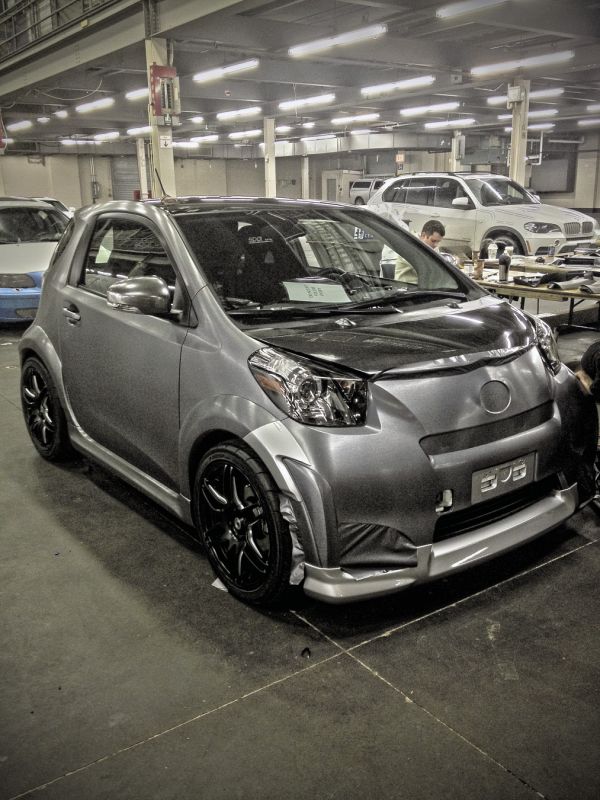 The PASMAG Project IQ was ready for some entertainment upgrades, so we took it to see Franky "Crazy" Valenti at 20Hz Audio Sound & Security with the goal to transform this cool little run-about into something truly memorable. With some help from Clarion, Wirez, Lumens and LG, the diminutive Scion iQ has been transformed into a mobile theatre that rivals some of the full-sized theatres we used to visit when we were kids! Check out the behind-the-scenes action and see how the audio system came to fruition.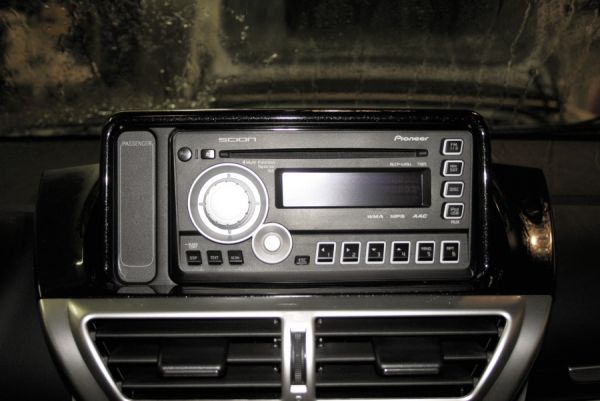 The factory radio is ready to be relegated to paper weight duty.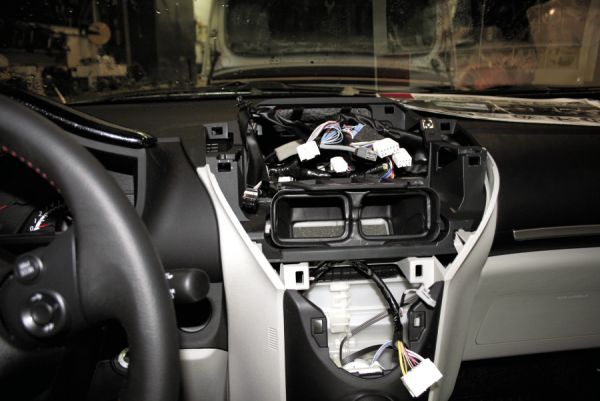 Valenti and crew remove the basic factory radio in preparation for a Clarion NX501 Multimedia Station.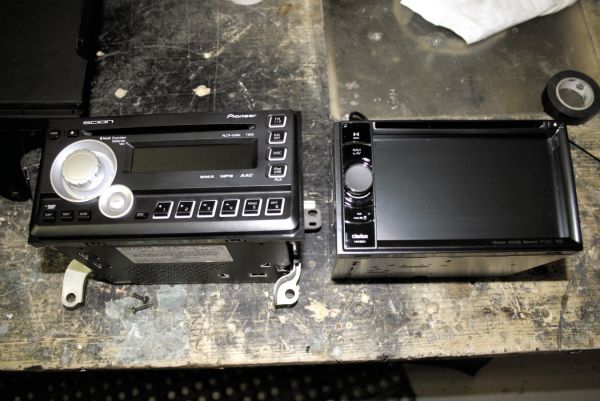 Here you can see the chassis is similar in size, but the factory radio has an oversized face. We'll take a high-resolution touchscreen over big buttons any day.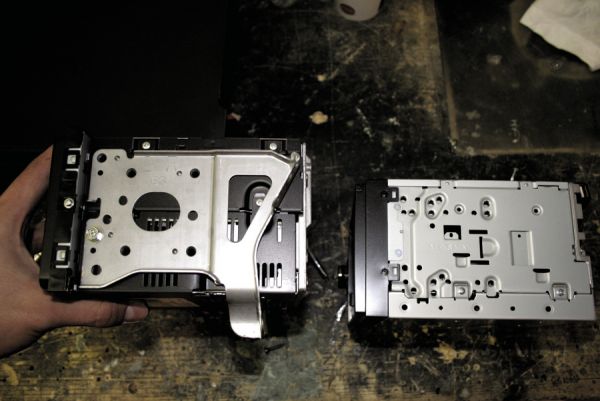 The factory mounting brackets transfer over to the Clarion without any problem.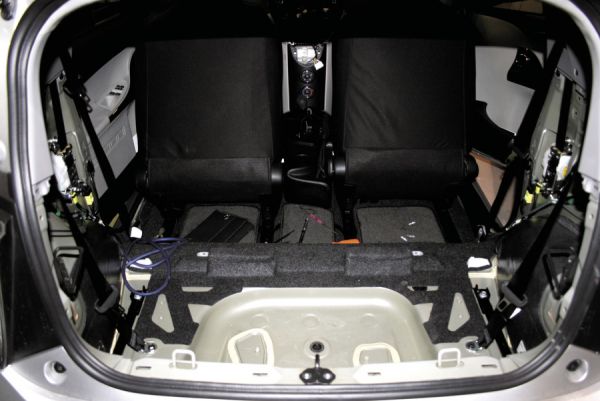 The rear of the car is stripped in preparation for wiring and a subwoofer enclosure.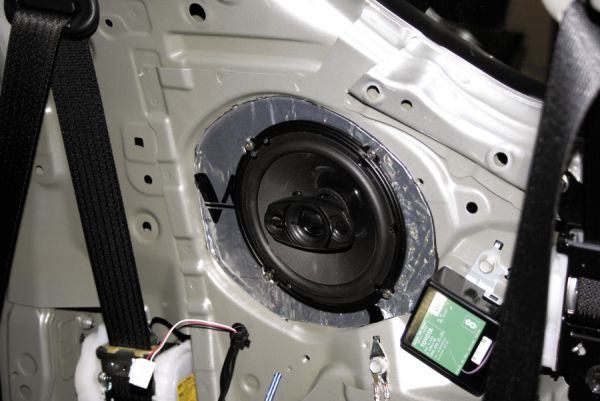 Clarion SRQ1632R three-way speakers mounted on Wirez Premium Sound Deadening are installed to provide sound in the back.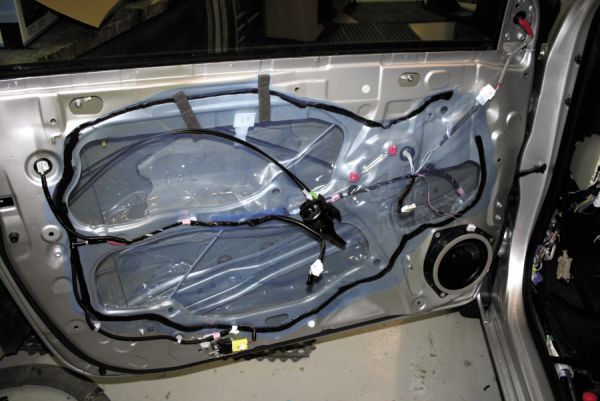 The stock door is ready for Wirez Premium Sound deadening and new speakers.8Etched Plexiglas with the 20Hz Audio logo fills the new opening.
The doors are deadened and custom plates are made for another set of Clarion three-way speakers.
The Scion logo is cut out of the door with a rotary tool.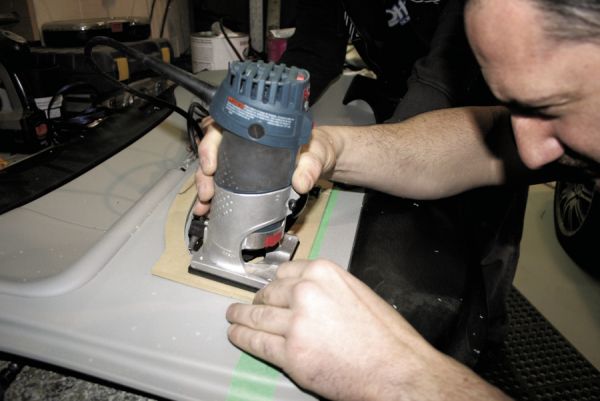 The door is then trimmed with a small router to provide a smooth edge.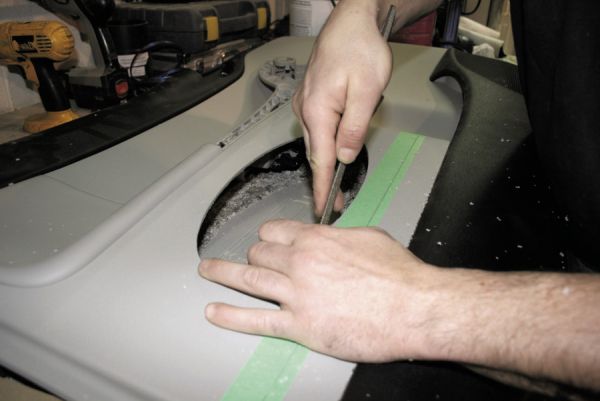 A little hand-filing work makes sure the edge is perfect.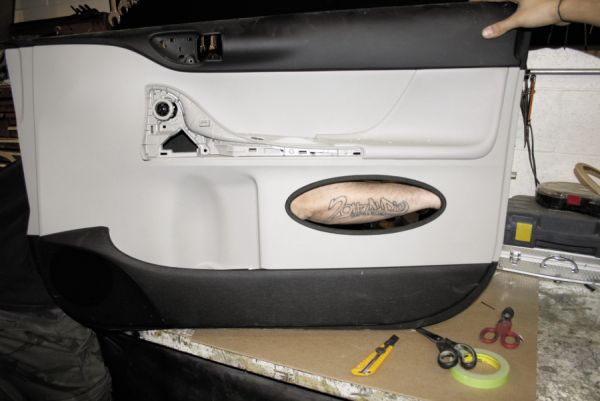 Suede-covered trim piece is cut and put in place.
Test fitting for the logo size. Yep, forearm looks about the right size.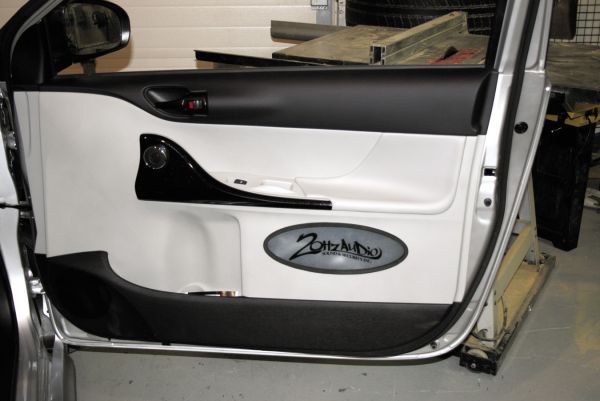 Etched Plexiglass with the 20Hz Audio logo fills the new opening.

Wiring is run through the car and the location for the amplifier chosen.
Custom amp rack and subwoofer enclosure are created from MDF.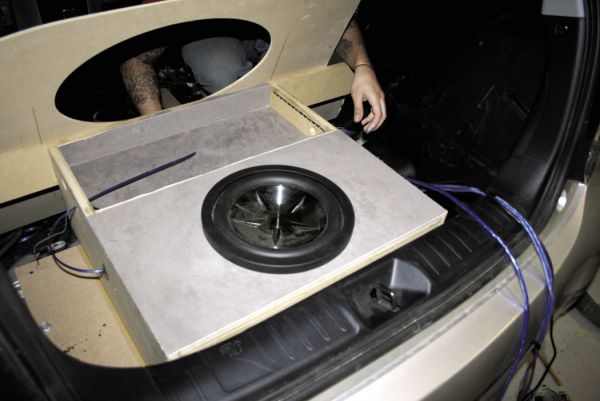 Light grey suede trims around the Clarion PXW1051 10-inch subwoofer.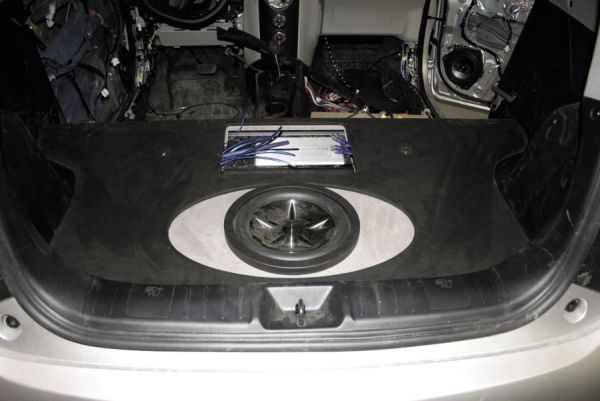 A black suede trim panel surrounds the sub and a Clarion XH5410 four-channel amplifier.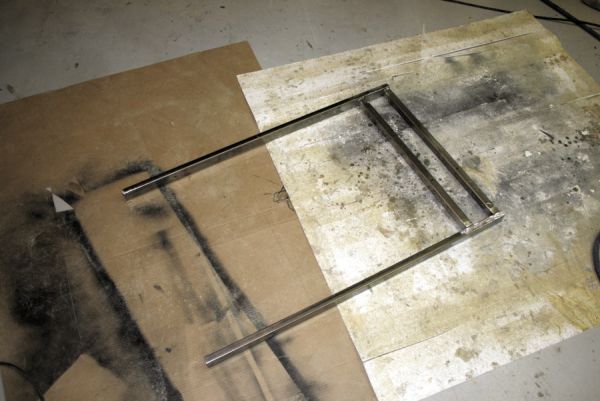 An aluminum bracket is welded together to support an LG flat panel TV that will fill the rear of the iQ.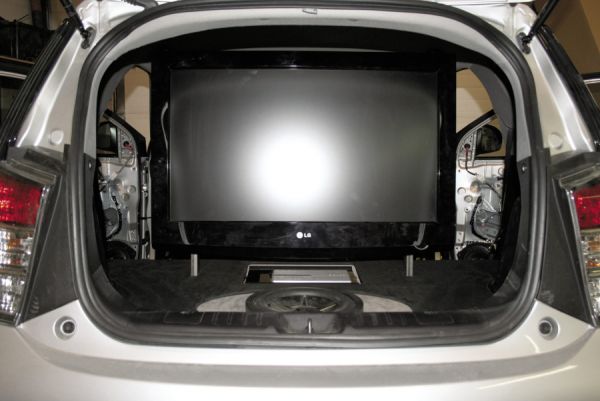 The big LG TV in place.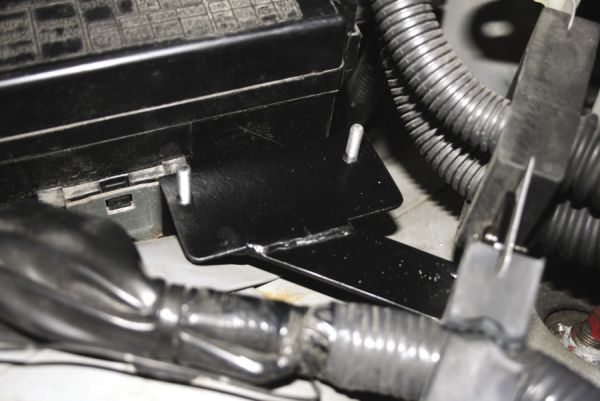 A custom bracket is made to hold the battery protection device in place.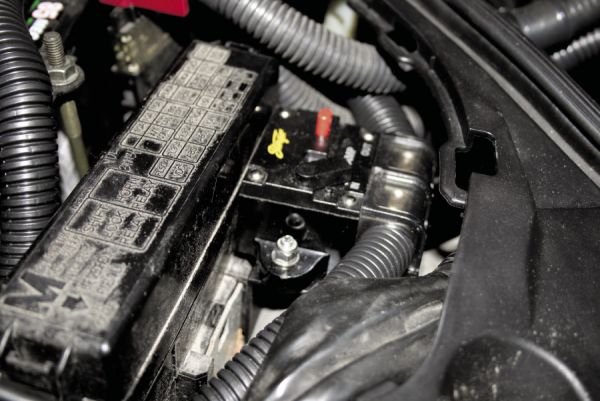 A Stinger circuit breaker is used to protect the little factory battery.

The car back is together with some blue illumination adding some style.
The tiny front bumper of the cool little Scion.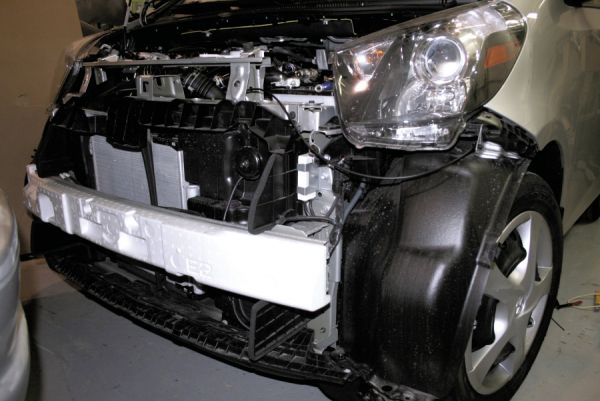 The front bumper is removed to allow for a tidy installation of HID headlight ballasts.
The factory projector assemblies are ready to accept the new bulbs.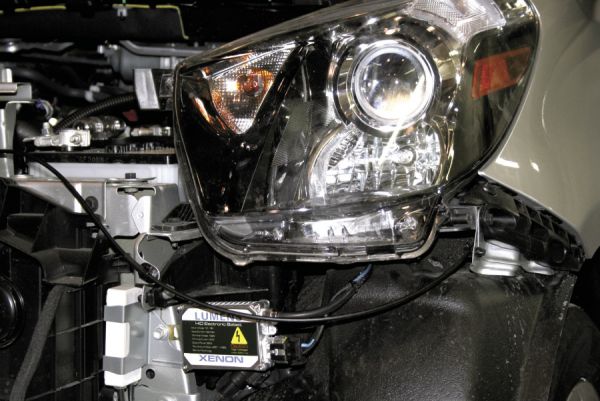 The Lumens ballasts attach to the front radiator support.
Nice white light ready to light up the road in style.
Source Box
20Hz Audio - 20hzaudio.com
Clarion - clarion.com
McGard - mcgard.com
Five Axis - fiveaxis.net
TRD - toyotaracing.com
Ibherdesign Automotive Styling - ibherdesign.com
MT Motorsports
Wilwood - wilwood.com
Yokohama Tire - yokohama.ca | yokohamatire.com
Lumens High Performance Lighting - lumens.com
Caraid Customs
Konig Wheels - konigwheels.com
Auto Style - autostyle.ca
Air Runner Systems - airrunnersystems.com
Johnston Research Performance - jrponline.com
Wirez - gotwirez.com
Clifford - clifford.com
Restyle It - restyleit.ca
Advan Carbon Technologies - advancarbon.com