Page 2 of 7
---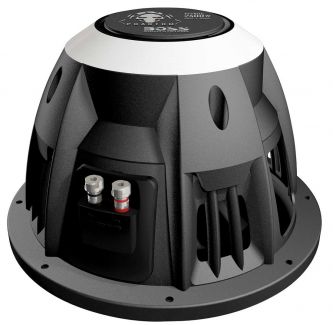 Boss Audio Phantom Series P128DC
The new Boss Audio "Phantom Series" P128DC 12-inch subwoofer handles 2,400 Watts max power. It has a Dual 4 Ohm high temperature black aluminum voice coil featured in a specially designed die cast aluminum basket with an electroplate black injection cone and extra durable butyl rubber surround.  A P108DC 10-inch (2,200 Watt) model is also offered in this Phantom Series. For more visit www.bossaudio.com

---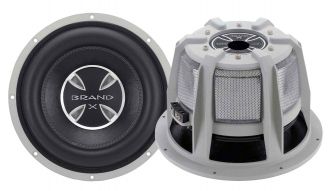 Brand X Model: XFL12SPL
The Brand X XFL12SPL 12" dual 1.2 Ohm voice coil is a true competition grade subwoofer. This Subwoofer uses a die-cast aluminum frame, with a double stacked 320 oz magnet structure. This model uses dual 3" high temperature Baccar Voice coils, with oversized high density foam surround. This subwoofer has a RMS power rating of 2000 watts, with a Peak wattage output of 4,000 watts. For more information on this driver or any other Brand X product, please visit www.brandxaudiovideo.com.
---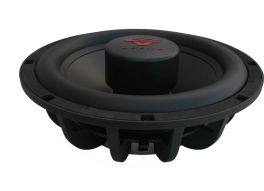 Cerwin-Vega Mobile S-Max Today's cars are high on features but short on space. Packing big sound in these cars is harder than ever, but the team at Cerwin-Vega Mobile has a solution. The new S-Max subwoofers feature a unique space saving design complete with a high-energy front mounted neodymium magnet system coupled to a conventional cone, spider and surround allowing for big woofer performance in a chassis that's only 3 inches deep. Cerwin Vega S-Max subwoofers are available in 12-inch dual two and dual four Ohm configurations. For more visit www.cerwinvegamobile.com
---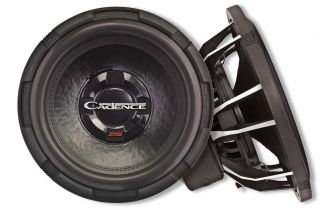 Cadence Acoustics ZRS DVC Series
With the Cadence ZRS12-800-D4 Dual 4 ohm voice coil 12-inch subwoofer you'll not only hear the music, you'll feel the music. Power ratings of 800 Watts RMS and 1,600 Watts Peak for high power handling in any application. The Kevlar reinforced paper cone is attached to the double foam surround by adhesive and then stitched to ensure a secure bond for extended, vigorous play of your favorite tracks all day long. Cooling is achieved by the use of a vented pole piece for optimal transfer of heat away from the motor.  Built to take all your amplifier can dish out.  ZRS12-800-D4 subwoofers are capable of high power for SPL and extended listening for everyday use.  For more visit www.cadencesound.com or call (800) 477-2328.
---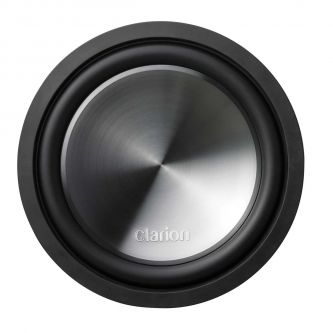 Clarion WQ3010D
Clarion's WQ3010D 12-inch Dual 4-OHM Voice Coil Subwoofer offers 1,500 Watts of Max power with 500 Watts of continuous power handling and a frequency response of 30 to 1,000 Hz. The WQ3010D offers seamless parabolic design coupled with Dual Voice Coils to maximize Bass response. It features an aluminized composite dust cap, reinforced FRP/ paper cone, nitrile butadiene rubber high excursion surround, hyper extended vented pole piece and Spider Exhaust Technology (S.E.T.) cooling. Dual gold plated terminal blocks and custom stamped steel power coated chassis make this a
subwoofer with superior performance at a good value.  For more visit www.clarion.com

Read on for More Products