---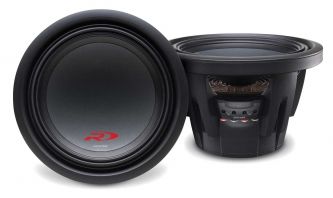 Alpine Electronics SWR-1243D
Alpine's newly redesigned SWR-1243D 12-inch, dual 4-ohm Type-R subwoofer featuring a shallow 6.375-inch mounting depth for more installation flexibility. Exclusive third-generation HAMR engineering delivers cooler operation, longer life and tight, accurate bass, while ultra-long linear excursion provides dynamic, realistic sound. The single piece cast frame and shorting sleeve provide minimum inductance variance and reduced thermal compression. CEA-2031 speaker ratings: 600W max RMS, 1800W peak power. For more visit www.alpine-usa.com or call (800) 257-4631.
---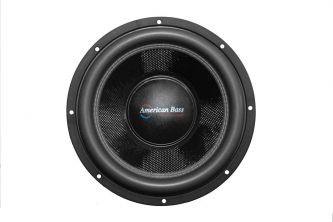 American Bass HD15D1
The American Bass HD15D1 is one of the four powerful drivers in the HD line-up. American Bass also offers a pair of 12-inch versions, with dual 2? and dual 4? voice coils. All of them are rated at 1,500Wrms and 3,000W Maximum power. Magnet depth for the HD15D1 is 8.98 inches. For more visit www.americanbassusa.com
---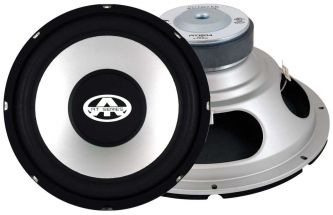 Autotek AT Series
The Autotek Super Sport line of AT series entry level subwoofers is ideal for those looking for extreme power, without an extreme budget. With great features it offers high value, accurate bass reproduction and the quality expected from Autotek. The AT subwoofer line offers two 12-inch (AT12D2 and AT12D4) subwoofers. The ultra-rigid stamped steel basket and high energy magnet add to the power handling capabilities and reliability. The integrated spider tinsel-lead design adds to the durability and the foam surround provides increased excursion. For more visit www.maxxsonics.com
---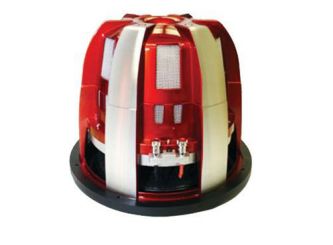 KONAKI KO-12175
The Konaki KO12-12175 comes in one-piece rubber gasket, dual 2-ohm and features a huge 175oz ferrite magnet cast in an aluminum basket with diamond-coating. An outstanding look in a non-pressed paper cone with rubber surround, aluminum magnet cover and takes a 3-inch 4-layer black ASV voice coil for greater power handling capability and maximum heat radiation. KO12-12175 uses a power handling rating of 1,800 max peak watts. For more information, visit www.konaki.com.
---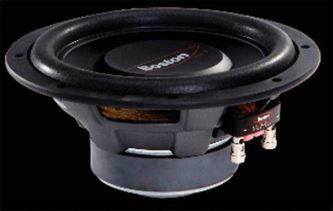 Boston Acoustics G1
Boston Acoustics' G1 subwoofers sport high excursion,  RadialVent cooling, and the unique SureSet impedance selection/overdrive protection; features that not only allow the woofer to handle more power but also add a level of reliability not available from competitors at any price point. Its shallow depth allows the G1 to fit into limited space enclosures, as little as 4 1?4-inch for the G108. Add stunning design, high-end features like spring-loaded terminals, and the flexibility to work with multiple enclosure types and the G1 is a subwoofer that redefines entry level. For more visit www.bostonacoustics.com or call (978) 538-5000
Read on for More Products
---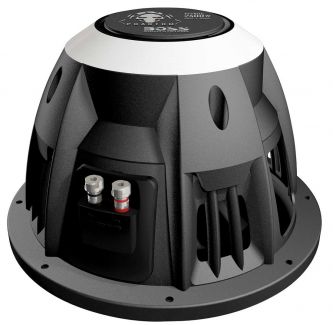 Boss Audio Phantom Series P128DC
The new Boss Audio "Phantom Series" P128DC 12-inch subwoofer handles 2,400 Watts max power. It has a Dual 4 Ohm high temperature black aluminum voice coil featured in a specially designed die cast aluminum basket with an electroplate black injection cone and extra durable butyl rubber surround.  A P108DC 10-inch (2,200 Watt) model is also offered in this Phantom Series. For more visit www.bossaudio.com

---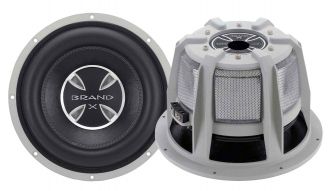 Brand X Model: XFL12SPL
The Brand X XFL12SPL 12" dual 1.2 Ohm voice coil is a true competition grade subwoofer. This Subwoofer uses a die-cast aluminum frame, with a double stacked 320 oz magnet structure. This model uses dual 3" high temperature Baccar Voice coils, with oversized high density foam surround. This subwoofer has a RMS power rating of 2000 watts, with a Peak wattage output of 4,000 watts. For more information on this driver or any other Brand X product, please visit www.brandxaudiovideo.com.
---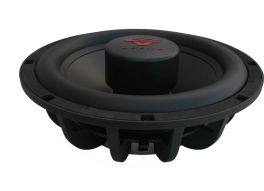 Cerwin-Vega Mobile S-Max Today's cars are high on features but short on space. Packing big sound in these cars is harder than ever, but the team at Cerwin-Vega Mobile has a solution. The new S-Max subwoofers feature a unique space saving design complete with a high-energy front mounted neodymium magnet system coupled to a conventional cone, spider and surround allowing for big woofer performance in a chassis that's only 3 inches deep. Cerwin Vega S-Max subwoofers are available in 12-inch dual two and dual four Ohm configurations. For more visit www.cerwinvegamobile.com
---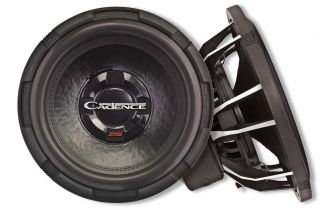 Cadence Acoustics ZRS DVC Series
With the Cadence ZRS12-800-D4 Dual 4 ohm voice coil 12-inch subwoofer you'll not only hear the music, you'll feel the music. Power ratings of 800 Watts RMS and 1,600 Watts Peak for high power handling in any application. The Kevlar reinforced paper cone is attached to the double foam surround by adhesive and then stitched to ensure a secure bond for extended, vigorous play of your favorite tracks all day long. Cooling is achieved by the use of a vented pole piece for optimal transfer of heat away from the motor.  Built to take all your amplifier can dish out.  ZRS12-800-D4 subwoofers are capable of high power for SPL and extended listening for everyday use.  For more visit www.cadencesound.com or call (800) 477-2328.
---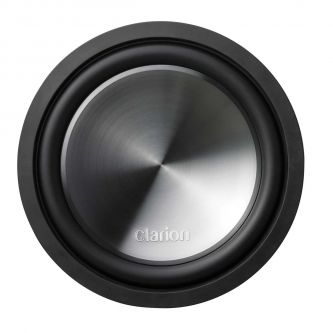 Clarion WQ3010D
Clarion's WQ3010D 12-inch Dual 4-OHM Voice Coil Subwoofer offers 1,500 Watts of Max power with 500 Watts of continuous power handling and a frequency response of 30 to 1,000 Hz. The WQ3010D offers seamless parabolic design coupled with Dual Voice Coils to maximize Bass response. It features an aluminized composite dust cap, reinforced FRP/ paper cone, nitrile butadiene rubber high excursion surround, hyper extended vented pole piece and Spider Exhaust Technology (S.E.T.) cooling. Dual gold plated terminal blocks and custom stamped steel power coated chassis make this a
subwoofer with superior performance at a good value.  For more visit www.clarion.com

Read on for More Products
---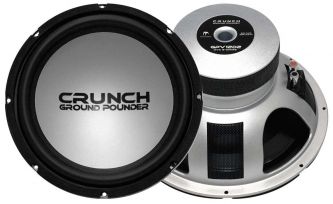 Crunch Ground Pounder Anniversary Series
Crunch has taken a radical approach to the standard spider design by separating the two spiders. Our engineers have determined the ideal distance and position to produce maximum excursion outward and inward, while maintaining optimal control. The result is increased output SPL and durability. The Ground Pounder Anniversary Series is designed for sealed and ported enclosures to maximize efficiency and produce even greater sound. The great looking cosmetics are enhanced by a one-piece cone and dust cap, which also add to the impressive power handling capabilities of this impressive Subwoofer line. For more visit www.maxxsonics.com
---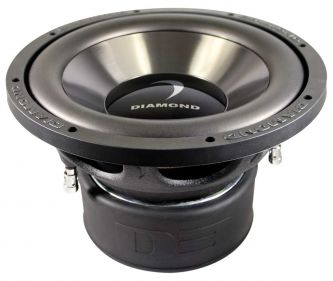 Diamond Audio D3 Series
Getting sound quality and sound quantity used to be an impossibility until now. The Diamond Audio D3 series subwoofers feature a unique design that allows for optimum SPL with sacrificing sound quality. The subwoofers unique thermal management system includes a custom stamped basket with active venting to dispense of hot air that robs other woofers of their performance and longevity. Left over radiant heat is dissipated through an aluminum dust cap. These woofers are available in 8, 10, 12 and 15-inch sizes in both dual two and dual four Ohm configurations. For more visit www.diamondaudio.com.
---
---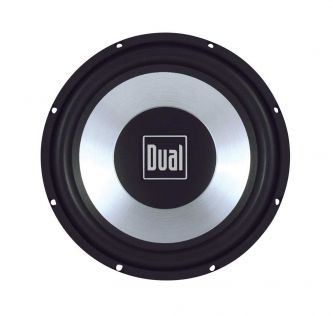 Dual DS12
Dual's DS12 12inch subwoofer offers excellent power handling, high efficiency, and killer bass, all with a high-end appearance which sets it apart from the crowd. The Dual DS12 features an injection-molded polypropylene cone with a heavy-duty foam surround that promotes deep excursion. Power handling is rated at 175 watts RMS/500 watts peak, thanks to a 2-inch 4 layer voice coil wound on a high temperature Kapton former and a vented back plate. This versatile sub delivers big bass from virtually any sealed, ported, or bandpass enclosure. For more visit www.dualav.com or call (866) 382-5476
---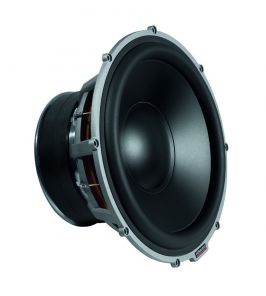 Dynaudio Esotar² 1200
The Esotar² 1200 is a 12-inch subwoofer equipped with Dynaudio's highest level of transducer technology, built into a rigid, die-cast solid aluminum frame, featuring Dynaudio's characteristic MSP (Magnesium Silicate Polymer) diaphragm driven by a large, 4-inch diameter voice coil. The exceptionally large voice coil is formed of extremely lightweight aluminum wire wound on a Kapton former. Thanks to a powerful and massive magnet, this low-mass driver construction provides excellent transient response, speed and precision, effortlessly reproducing low frequencies down to 18Hz. For more visit www.dynaudiousa.com or call (630) 238-4200.
---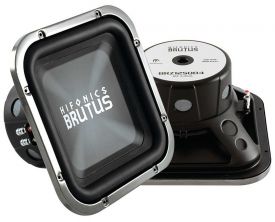 Hifonics Brutus
The Hifonics Brutus offers an innovative dual spider spacing design that separates the two spiders to maximize excursion outward and inward while maintaining optimal control. Other features include the durable rubber surround for long excursion while the heat-dispersing ported nickel-plated back plate and ultra-rigid stamped steel basket ensure reliability and strength. The integrated spider-tinsel lead design and nickel-plated push and insert speaker terminals keep the amps energy focused within the speaker's core. Dual 4-Ohm configurations offer flexibility in 12-inch and 15-inch round and 12-inch square sizes. Powerful bass reproduction is rated at 1,200 W Maxx and 600 W RMS. Or more visit www.maxxsonics.com

Read on for More Products
---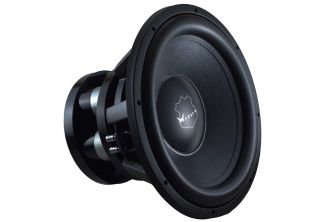 Incriminator Audio Warden
The Warden is the next generation of all out SPL monsters – forget everything you've seen until this point. The Warden is the first true high gauss SPL Neo subwoofer on the market with a steel top plate for maximum transfer of magnetic flux from the neodymium magnets to the gap which in turn equals more magnetic force to drive the cone to Extreme SPL levels. For more visit www.incriminatoraudio.com or call (256) 417-6658
---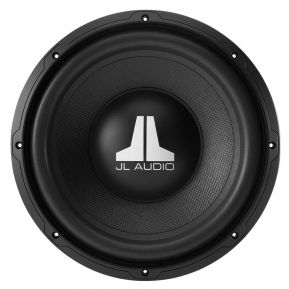 JL Audio 12WX
The JL Audio 12WX is built from the same DNA as the rest of the JL Audio subwoofer lineup and dedicated to the proposition that real value can only exist when real performance is delivered. Like all JL Audio subwoofer drivers, the 12WX is centered on a long excursion, DMA-optimized motor system, supported by JL's patented Elevated Frame Cooling and a highly linear suspension. This means it delivers lots of low-distortion, high-quality bass with all types of music. The JL Audio 12WX is ideally suited for lower power applications and offers a powerful combination of performance, value and installation attributes. For more visit www.jlaudio.com or call (954) 443-1100. In Canada, contact Gem-Sen Distributing at (905) 660-3110
---
JVC CS-AW8240
The JVC CS-AW8240 12-inch subwoofer offers up 3,000 Watts Max Power Handling and 1,000 Watts continuous power in an exceptionally designed package. This subwoofer features a Kevlar laminated HEMP-fiber cone, Rapid-Fire Impedence Selector Terminal (With Fuse Protection), Air Vented Aluminum Cast Basket, Santoprene Surround and a 103 Oz. Dual-Stacked Strontium Magnet. The innovative multi-mount smart trim ring, edgy good looks and powerful performance make this JVC subwoofer a welcome addition in any enthusiast's ride. For more visit www.mobile.jvc.com or call (800) 252-5722. In Canada visit www.jvc.ca

Kenwood KFC-W3012DVC
The Kenwood KFC-W3012DVC 12-inch subwoofer handles high amplification with ease as it features a maximum rated input of 1,400 Watts.  Such demanding power handling requires the subwoofer to handle the pressure without cracking, both figuratively and literally.  So, the KFC-W3012DVC features a textured polypropylene injected cone that increases rigidity and flexibility. For multiple installation options the subwoofer features a dual 4-ohm voice coil giving the buyer a wide range of system applications. With features like this it's easy to see the Kenwood KFC-W3012DVC is the choice for big booming and hard hitting bass. For more visit www.kenwoodusa.com or call (310) 639-9000. In Canada visit www.kenwood.ca or call (905) 670-7211.
---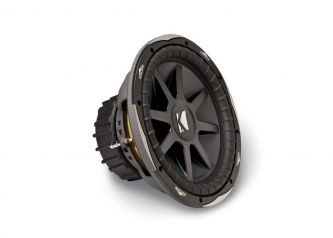 Kicker CompVX
Kicker has allocated most the performance and power of its patented square-woofer technology into a round subwoofer with the further development of the CompVX Subwoofer, creating the most technologically advanced round subwoofer available for those that prefer the circular look in their installation. Available in two-ohm or four-ohm, dual-voice-coil models, CompVX boasts a one-piece, ultra-rigid SoloKon cone with 360-degree back bracing, and the latest heat-dissipating properties for longer-lasting bass. The CompVX 12-inch handles 1,000 booming watts RMS and 2,000 watts at peak signal. For more visit www.kicker.com. In Canada, contact Gem-Sen Distributing at (905) 660-3110

Read on for More Products
---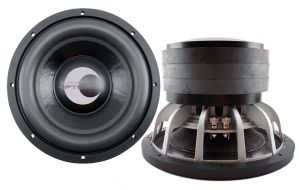 Lanzar OPTI1533D
The Lanzar OPTI1533D 15-inch dual 1.2 Ohm voice coil, is a true SPL grade subwoofer. It features a custom tooled die-cast aluminum basket, & black laminated pulp cone. They feature an oversized 2" foam surround, to support the excursion from the dual 3" high temperature BAEISV voice coils.  The OPTI1533D has a massive triple stacked 125 oz Barium ferrite magnet structure. This subwoofer has a RMS power rating of 3000 watts, with a Peak wattage output of 6,000 watts. For more information on this driver or any other Lanzar product, please visit www.lanzar.com.
---
---
MB Quart proudly releases a line of newly developed RLP shallow mount subwoofers with an ultra-slim design; solid double-roll reinforced steel frame and a powerful magnet system. The RLP series have been specifically designed for small and compact enclosures. Other features in this high-quality and acoustically sound line include 3-Inch voice coils on glass fiber former with an injection molded cone neck support, injection polypropylene flat piston cone for maximum damping and structural rigidity and a 3/4-inch high NBR rubber surround for more cone area and excursion with a super low mounting depth of 2.93 inches. The MB Quart RLP254 is DVC 4-Ohm and handles 300wrms/600wmax. For more visit www.maxxsonics.com
---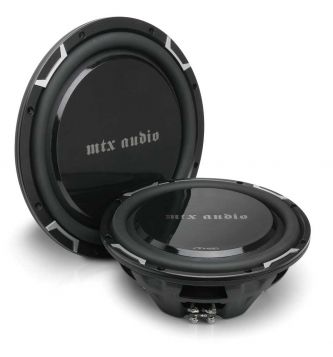 MTX Thunder Thin (TT Series)
Many vehicles have limited space which means having the bass you want may cramp your style. Limited space traditionally means limited options for those who want big bass, but not anymore. Introducing Thunder Thin (TT Series) 65 subwoofers from MTX, the next evolution in the MTX subwoofer lineup. Only 3.325 inches deep, these subwoofers will just about anywhere yet they still produce even more bass than most traditional design subwoofers in the price category. MTX TT65 subwoofers are available in 10 and 12-inch sizes and in single 4ohm or single 2ohm configurations. There are also skinny enclosures specifically designed to maximize the output of these slender beauties (S120S and S100S by BassSlammer). For more visit www.mtx.com

---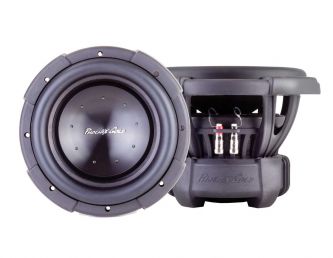 Phoenix Gold Ti 12d
The Phoenix Gold Ti 12d 12-inch subwoofer features dual voice coil, high excursion CAE/CAD motor design, one piece aluminum plated dustcap and a high roll butyl rubber surround. The Ti 12d also includes a high temperature OFC copper 4-layer voice coil, aluminum former, nickel plated 12-gauge speaker terminal and rigid powder coated anti-resonant castbasket. The carefully crafted Phoenix Gold Ti 12d is optimized for high performance in sealed or vented enclosures. For more visit www.phoenixgold.com or call (800) 477-2267
---
Any music experience isn't complete without bass and Pioneer is making it easy to add low bass frequencies into any vehicle with its line of ib-Flat slim subwoofers. Because the subs have a shallow mounting depth of 3.25-inches or less and require less than a 0.75 cubic foot enclosure, they're ideal for cars with limited space. Each Pioneer ib-Flat subwoofer is reinforced with an application of basalt rock speaker technology in the cone production process so it produces tight and accurate bass response. The Pioneer ib-Flat subwoofers come in 10 and 12-inch versions. For more visit www.pioneerelectronics.com or call (800) 746-6337.

Read on for More Products
---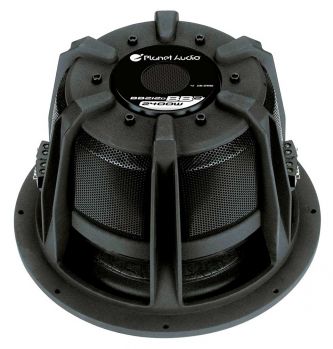 Planet Audio BB212D
The Big Bang and Big Bang2 (Big Bang Squared… not in shape but in intensity) are the flagships of the Planet Audio fleet. As powerful as they are good looking, these super-subs are rattling windows throughout neighborhoods and produce towering SPL numbers. They feature heavy duty die-cast aluminum frames house non-pressed paper cones with 7 layer, high density, fat rolled foam surrounds, dual flat spiders and exclusive Para-Term Connection System (PTCS). With a 3,000W peak power (BB215D), these are not for your Grandma's ride. For more visit www.planetaudiousa.com or call (805) 988-0215.
---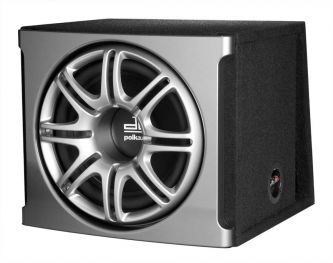 Polk Audio db1212
The rugged and ready to rumble Polk Audio db1212 is internally braced with heavy-duty ¾-inch MDF, the same low-resonance material used in the world's finest speaker enclosures. An Internal side-firing slot-loaded port, reduces air turbulence at the port mouth for high bass output and greatly reduced noise and distortion. While the "Tri-laminate" construction helps create tight, powerful bass. The baffle is paintable and clad in automotive-grade ABS trim for rigidity and impact resistance. Finishing details include push speaker terminals and black automotive carpet. For more visit www.polkaudio.com
---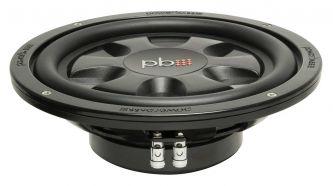 PowerBass S-10T
The PowerBass S-10T is a thin-designed subwoofer offering 550 Watts of Peak and 275 Watts of RMS power handling capacity. The S-10T is available in both 10-inch and 12-inch applications. The PowerBass S-10T features a 2-inch voice coil and dual 4 ohm nominal impedance. For more visit www.powerbassusa.com or call (909) 993-5399
---
Intriguing from your first look, the new PC subwoofers have a story to tell beyond what meets the naked eye. The wild-looking dustcap is not just for visual pleasure; it acts as a heatsink to extract heat from the voice coil. It embeds into recesses of the cone for added durability, eliminating cone flex & radiated noise. All in all, the PC subwoofer is the result of strong engineering and dedication to the competitor in all of us. For more visit www.precisionpower.com

---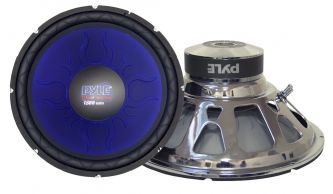 Pyle Model: PL1890BL
The Pyle PL1890BL 18" dual 4 Ohm voice coil, is one of the last old school design 18" woofers still being produced. This Subwoofer uses a chrome plated stamped steel basket, with a dual 100 oz magnet structure. The PL1890BL uses a non-fatiguing oversized rubber surround, with dual 3" high temperature Kapton voice coil, & flat progressive spider. This subwoofer has a RMS power rating of 900 watts, with a Peak wattage output of 1,800 watts. For more information on this driver or any other Pyle product, please visit www.pyleaudio.com.

Read on for More Products
---
The new Rainbow Hammer Series subwoofer provides high quality German engineered bass on a budget. They're not too small, extremely loud, very deep and super dynamic. Avaliable in 10 and 12-inch, the Hammer plays the full spectrum of music genres from classical and techno to Rap and Hip-Hop. This subwoofer is extremely dynamic and pleasing to listen to at any volume. The best part is it only needs 300W/400W (10-inch/12-inch) of power. Whether you like your bass Loud or clean, the Hammer delivers. For more visit www.rainbowcaraudio.com
---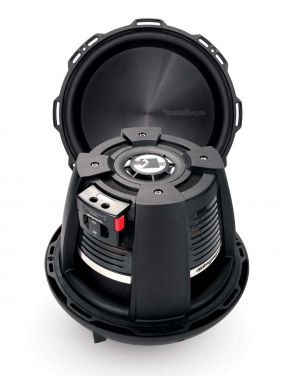 Rockford Fosgate POWER T1
All new from the ground up, 2010 POWER series subwoofers build on Rockford Fosgate technologies first seen in their all new full range line. Avaliable in both 10 and 12-inch sizes, these bad boys have patented VAST technology that increases surface cone area up to 25% so the T1 performs like a much larger woofer. Flex Fit not only looks the part but gives extreme flexibility for extreme installations. Clean, high tech and ready to set off car alarms, the new T1 is here. For more visit www.rockfordfosgate.com or call (480) 967-3565
---
Optimized for small enclosures, EFX Competition subwoofers are bigger and stronger than ever (600 Watts Max, 300 Watts RMS). Beefy 2.5-inch ultra-high temperature voice coils, heavy double stacked magnets and the large vented pole piece make up a motor structure that handles more power and plays louder than any EFX woofer before. With woven tinsel leads, heavy duty push terminals, stitched and bonded large rubber surrounds and one piece IMPP parabolic cones the EFX Competition subwoofers deliver. For more visit www.scosche.com
---

Sony XS-GTX120L
The Sony XS-GTX120L is a 12-inch, single 4-ohm voice coil subwoofer that's ready to deliver some serious bass. Exceptional power handling delivers up to 1000W at its peak, and 300W rated power. This subwoofer features a thick rubber surround with Stroke Stabilizer Surround to keep the cone properly centered for high power handling and low distortion. Its unique 5-sided design keeps the Polypropylene cone stiff and reduces standing waves in round subs, for purer bass free from distortion. For more visit www.xplodsony.com. In Canada visit www.sonystyle.ca/xplod.
---
Soundstream SPLX Series
The new and radically improved SPLX-HX subs are welcomed by SPL competitors worldwide. While the changes may only appear to be cosmetic, the cool stuff is on the the inside. The new coil costs nearly 8 times as much as the original coil, but the results are unfathomable. For the competitor or everyday basshead that does not have access to unlimited funds, this monster is for you. For more visit www.soundstream.com
---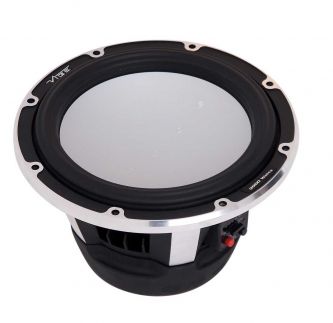 VIBE Space Reference SPL
The Space 12-inch Reference SPL subwoofer from British industry leader VIBE is all new for 2010. Available with a dual 2ohm or dual 4ohm voice coil, it reproduces loud, deep bass without compromising on sound quality. Solid construction and craftsmanship features a reversible alloy gasket, revolutionary one piece aluminum cone and unique VIBE Thermal Unity cooling. A double stacked Y30 rated ferrite magnet and FEMM motor offer immense motor strength, superior power handling, low distortion and near perfect linear movement. For more visit www.vibecaraudio.com or call Metra Electronics at (800) 221-0932.