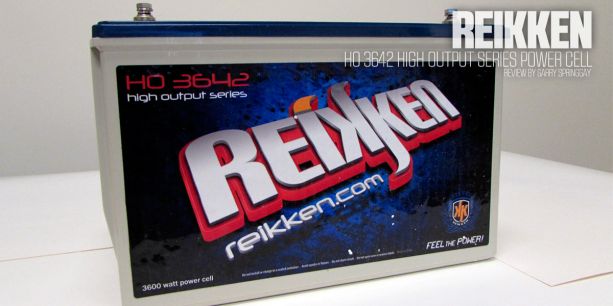 It's not uncommon for a Reikken battery to last six to 10 years.
The battery in our cars is the type of component we seldom give a second thought to — until the day comes that it won't start. Well, since we aren't thinking about batteries much, it's a good thing the folks at Reikken are. With over 50 years of combined experience in the 12 volt industry, Reikken batteries have developed a loyal following.
Automotive battery designs have come a long way in the last couple of decades. We have gone from a typical wet cell lead acid battery that used to need regular maintenance and added water (even then, would last just a couple of seasons), all the way to the new high-tech Absorbed Glass Mat (AGM) designs that will reliably start our cars for two or three times as many years, requiring no maintenance, don't leak, don't corrode and vastly outperform the old designs in every possible way. There is no question that AGM batteries are becoming more and more popular. The design lends itself better to withstanding shock and vibration, and most will give you at least several years of maintenance free service. All AGM batteries are not created equal, however.
All of Reikken's batteries are of the AGM type, but technically, these batteries are known as "valve regulated lead recombinant" batteries. Reikken manufactures batteries for a wide variety of applications, including some of the most extreme duty situations you could imagine.
One of the most powerful batteries they produce is the HO3642, a battery that tips the scales at 70 pounds, and can deliver up to 3,600 watts of electrical energy! The HO3642 is a BCI Group 30H battery, measuring 13 x 6.85 x 8.5 inches. It has top-mounted terminals, with the positive being on the left when oriented with the terminals closest to you. Because it is a non-spillable battery, it can be mounted in any position.
Most of the AGM batteries you can buy today use recycled lead, which shortens their service life. It's not uncommon for a Reikken battery to last six to 10 years, which is attributed to it being manufactured with 99.9 percent pure virgin lead. Because this pure material can be made thinner when compared to the recycled lead used in other batteries, more plates can be fit into the same space. This translates to increased power — sometimes as much as double that of a conventional battery. This construction also provides very low internal resistance (under three milliohms is typical), so it can not only provide more cranking amperage than other AGMs, but it also recharges faster as well. Low internal resistance is also very good for powering car audio amplifiers because an amplifier actually draws current in very fast pulses. The lower the resistance in the feed circuit, the faster the amp's internal capacitors recharge, resulting in improved musicality and better performance. In fact, the characteristics of how the Reikken batteries are engineered make them specifically suited for car audio applications.
So if it's time you gave the battery in your ride some thought and you want a reliable high performance replacement that will give you years of trouble free service, as well as the high performance characteristics demanded by audio amplifiers, check out the offerings from Reikken.