Page 1 of 2
---
OPTIMA YellowTop
Optima Batteries announces the release of the new group 27F YellowTop, the latest addition to the Optima product family. The group 27F not only offers greater power and more than 300 discharge/recharge cycles, but it is an exact original equipment fit for an extensive line of automobiles. Optima YellowTop Batteries, the only truly dual-purpose batteries available on the market today, are the ultimate power source for high performance audio applications that demand cranking power and heavy-duty cycling. Optimal YellowTop Batteries provide cleaner power with higher voltage output than traditional batteries, enabling audio  enthusiasts to play their systems louder and longer.
---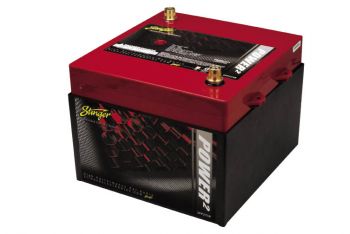 Stinger SPP2250
The Stinger SPP2250 is not only the largest and most powerful battery available in the company's Power2 Series of mobile audio power cells, but it has also been rated as the most powerful car audio battery currently available on the consumer market according to Stinger. The SPP2250 boasts cutting-edge engineering and design features that give this monster power cell super-performance current capability, true deep-cycle operation and a tremendously fast recharge rate. Plus, its durable construction makes it perfect for a wide variety of extreme installations.
---
Kinetik HC1200 Power Cell
The Kinetik HC1200 Power Cells are AGM (Absorbent Glass Mat) high power-density batteries. They are "sealed" and can be mounted in any position. These permanently sealed batteries are completely maintenance free, and use a recombination reaction to prevent the escape of hydrogen and oxygen gases which are normally lost to the atmosphere in a regular lead acid battery. Specifically designed for car audio applications, the HC1200 Power Cells have very low ESR (Equivalent Series Resistance) which allows them to provide almost instantaneous current to the amplifier. These batteries also maintain a higher voltage when loaded, and because of the construction, are far more superior to a regular battery in terms of heat and vibration resistance. Each HC1200 battery weighs about 28 pounds.
---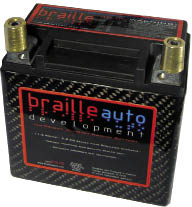 Braille B3121/14155
Braille Batteries are used by racers all over the world in the FIA WRC, FIA Formula Racing, Speed World Challenge Series, SCCA ProRally and many other racing series. Braille Batteries are designed for deep-cycle use in premium and race vehicles with enhanced reliability and performance. Braille developed the B3121 to excel at competition use which includes extreme audio systems and insane motors. On more race oriented cars the smaller B14155 is the choice weighing in at 11.5 pounds/5.2kg and enclosed in a carbon fiber case. Both batteries come in weighing almost 10-30 pounds less a standard battery of equal power.
Read on for More Products