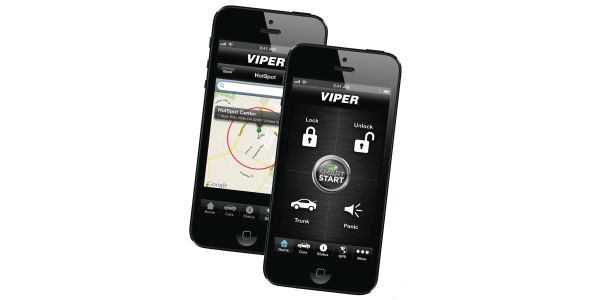 Did your vehicle come with a factory security system? Are you in the market for an alarm to be used as a security device and/or convenience with accessories such as door locks, trunk release or a GPS tracking system that monitors the vehicle?
Whether your vehicle is factory-equipped with a security system or not, today's advanced systems give you lots of options and plenty of reasons to integrate with your factory system, or to simply guard your unprotected ride in style. And don't forget those optional items like a radar sensor to protect your convertible top, motion/tilt sensors for your new wheels and, you may want to consider a back-up battery that works if your primary one fails.
OEM add-on security and/or convenience
Many consumers are demanding features on their factory-installed keyless entry systems that are simply not provided by the factories. A great example of this is the new ADS-BM1 from iDatalink. This amazing piece now allows BMW owners the ability to add remote start capability to their vehicle's OEM keyless entry system. Better yet, the upgrade does not require even a single wire to be cut or spliced, which is great to avoid warranty issues with the dealership! And, once your electronics installer programs the system, the factory BMW remote operates the system flawlessly. For those seeking additional James Bond-style toys, Compustar has created the Drone 2000, which allows control over its system via a Smartphone. Very cool!
Adding a security system
Today, vehicles are far more advanced – "smart" if you will – compared to vehicles of the past. Likewise, programming modern vehicles and/or accessories (for example, certain security systems) can be done via connecting a USB cable tied into a specific software program that allows various options or features to be turned on/off, making wiring a positive (+) instead of a negative (-), etc. Most companies like CompuStar, Crimestopper, Directed and Encore Automotive Systems use some type of software that communicates to the security system using a direct connection via USB and/or data ports. Directed covers this niche with its SmartStart system, which allows you to stay "Cloud-Connected" to your vehicle via your smartphone.
SmartStart works with Android and iPhones which is beneficial because it can be integrated withvoice talk and Siri, manage texts, email alerts and control multiple vehicles. SmartStart is also loaded with additional features, including GPS tracking, SmartSchedule, vehicle status, roadside assistance, home control, parked car finder and more.
Another option many customers prefer is a two-way system. This means the remote communicates to the alarm, and the alarm communicates back to the remote. Having a two-way security system allows you to see/know what is happening with the vehicle in real-time. For example, if the trunk is opened, the remote displays this action, or if the system is triggered or tampered with, you will be notified.
Prevent warranty issues!
Slowly but surely security manufacturers are eliminating the need to cut wires in your vehicle for a security or convenience installation using vehicle specific solutions. These systems use vehicle specific integration modules and/or wiring harnesses. The new wiring harness is called a "T-harness." Due to the new T-harnesses being utilized, your vehicle's factory warranty will be intact since no wires will be cut in most cases.
Most modern systems are offering a vehicle specific T-harness with their system. These are available at local authorized retailers when you purchase your security or convenience system at the time of installation.
Unlike the old days when cutting and/or splicing into wiring was the norm, using the T-harness has just about eliminated the need for this old procedure. These super computer-style security and remote start systems use the T-harness to tap into the wiring via male-female plug-in connections.
"CompuStar and iDatalink is revolutionizing the way aftermarket remote start and security systems are installed into vehicles," says Jason Kaminski, Director of Sales and Marketing at CompuStar. "The old way of cutting 15-plus wires and soldering connections is becoming a thing of the past. We are currently shipping T-harness systems to our authorized dealers for Ford, most GM platforms, Dodge, Jeep, Chrysler, Mercedes and (most) recently BMW."
In many cases, the wiring and splicing route may be the norm. But, instead of using outdated techniques, today's installation technicians prefer to use the T-harness for a plug-and-play installation. Nonetheless, the professional electronics installer needs to be familiar with computers, software and user interface systems, so the system can be "programmed" to work in today's sophisticated vehicles.
Conclusion
Today's technology now allows us to expand our factory keyless entry, security and/or convenience systems. The use of T-harnesses avoids vehicle warranty issues, and improves the quality of the professional installation. As a customer, the only step you need to make is deciding what you want. The options are limitless due to the advanced systems now available.
It's best to divide your purchase it into a few segments. First, you need to set a budget for the system. As mentioned, look at the type of system you desire. Ask yourself, do I need a security system? Or, do I crave to have a remote start system? Many buyers choose a combination of both convenience and security to enhance both comfort and ease of use. Regardless of your choice, having one of these systems will give you years of vehicle protection and convenience.
Happy driving and stay tuned…