Page 1 of 3
---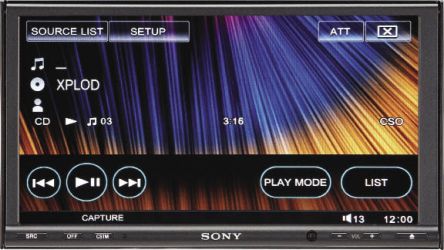 Sony XAV-W1
Sony's XAV-W1 Xplod® Double Din CD/DVD Receiver is the ultimate source unit for enjoying digital music and movies. Designed to elevate your in-car entertainment experience, the receiver features a 7 inch widescreen, 16:9 format touchscreen display and is satellite radio, HD Radio® and iPod® control ready (optional accessories required). The XAV-W1 is also surround-sound capable (Dolby Digital/Dolby Pro Logic II/dts Digital Surround sound) and features an interactive Karaoke mode to keep your passengers entertained mile after mile.
USA - www.sony.com/xplod
CAN - www.sonystyle.ca/xplod
---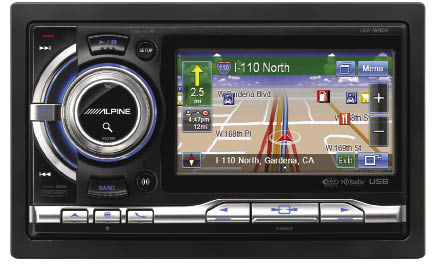 Alpine iXA-W404
Alpine's iXA-W404 Digital Media Station has new navigation capabilities with the addition of the NVE-M300 navigation drive. By adding the drive, consumers have turn-by-turn voice guided driving instructions integrated into the iXA-W404 with map data displayed on its 4.3-inch color touchscreen. The iXA-W404 is optimized for iPod and iPhone through its USB connection, providing premium sound quality. The double-action encoder knob or touch screen can be used to access large playlists, while album art and song information are displayed on the touch screen.  Other sources like satellite radio, HD Radio and Bluetooth wireless technology can be added to the iXA-W404.
USA - www.alpine-usa.com
CAN - www.alpine-canada.com
---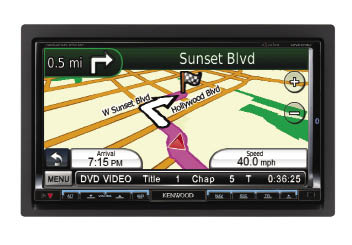 Kenwood DNX9140

The Kenwood DNX9140 is the newest addition to the Kenwood lineup of double din entertainment/navigation systems. It features a new advanced navigation platform from our friends at Garmin, which includes the ability to operate the navigation system, iPod/iPhone, Bluetooth, DVD/CD, USB and more by voice control. Now being that the DNX9140 is part of the eXcelon product line, it's not just about flashy features with little substance underneath. The DNX9140 is the flagship piece of the eXcelon product line. Meaning it has audio features an enthusiast requires; 5V pre-outs, 24-Bit D/A converter, 5.1ch DSP with digital time alignment and a 13-band parametric EQ. The system includes features designed to make your driving experience safer with built in Bluetooth® by Parrot for hands free cell-phone operation and a rear view camera input. To round it out a 6.95-inch high-quality touch-screen Wide VGA monitor featuring over 1.152 million pixels, delivers picture quality that elevates this unit into a class by itself.
USA - www.kenwoodusa.com
CAN - www.kenwood.ca
---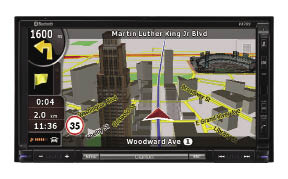 Clarion VX709 and NP509/CCB509

Clarion's VX709 Multimedia station features high quality DVD playback with built-in Bluetooth hands-free and streaming audio capabilities. It also features a USB port with USB iPod Audio connectivity – which means all your music is easily accessible via an intuitive on-screen interface. The NP509/CCB509 navigation system features high-resolution GPS-based navigation for Canada and the US. It offers unique features like 3D roads, 3D terrain, 3D Buildings and Landmarks, Turn-by-Turn voice prompts with Text To Speech, multiple destination route calculation and optimization and a whopping 12 Million Points of Interest database. Getting where you want to go has never been easier.
Read on for More Products