Alpine Electronics of America, Inc.
SBR-S83V Enclosed Type-R 8" Subwoofer
alpine-usa.com
alpine-canada.com
The SBR-S83V uses a Type-R SWR-843D subwoofer in a ported enclosure. Type-R subwoofers are known for clean, deep bass extension with great output, so this enclosure further complements these qualities. The SBR-S83V's compact size allows mounting tight spaces like under or behind a truck seat. Large-gauge wires are easily connected to the SBR-S83V, thanks to the flush-mount, spring-loaded terminals.
---

Boss Audio Systems
BASS1400 Amplifier Subwoofer Enclosure
bossaudio.com
Just right for behind-the-truck-seat or small-vehicle applications, the BASS1400 features a slim, 10-inch subwoofer and high-power amplifier in a low-profile, stylish enclosure. The unit includes both high- and low-level inputs for factory or aftermarket connections. Control the output with a built-in phase selector, 0-12dB variable bass boost, and both subsonic and low-pass filters. Amplification is rated at 1,400 watts max; 700 watts RMS. The BASS1400 also comes with a dash-mounted volume control.
---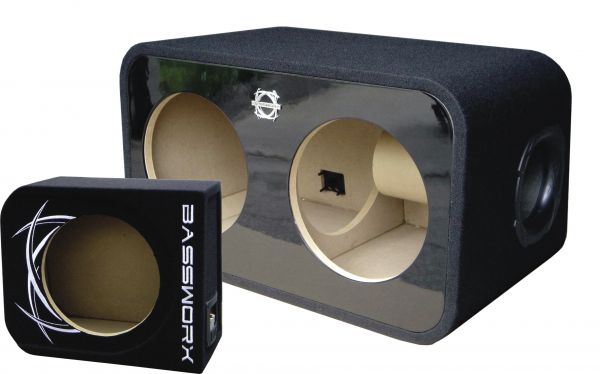 Bassworx
Five New Series for 2012
bassworx.com
The 'industrial revolution' pushes on at Bassworx. We've launched five new series for 2012, creating 50+ enclosures, and lowered the tuning frequency across the board. The Max Flow Port on our new Reference series delivers more of what you want…BA-BA-BASS! The Wedge Back series offers high quality embroidery and unparalleled styling. End your search for the best enclosure at Bassworx.com with our optimization Matrix, also available as a mobile 'app'…offering the truth for 3.5 years!
---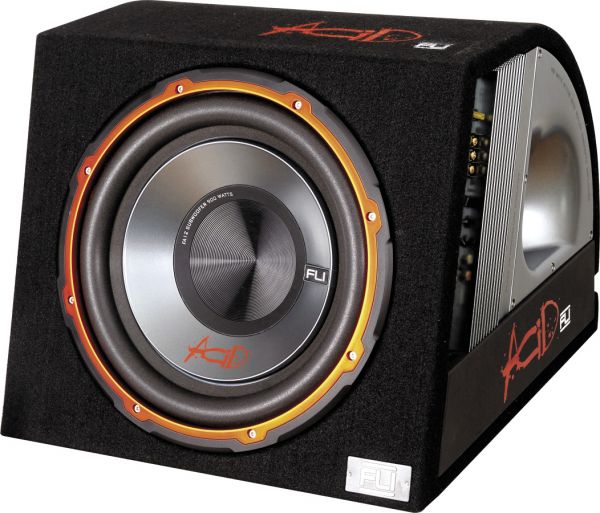 FLI ACID
Active Bass Enclosure Package
fliaudio.com
FLI ACID offers a striking aesthetic, exceptional value for money and subwoofers that don't hold back on power. FLI ACID Subwoofers are available as an active bass enclosure package, with an integrated bass amplifier for a compact one box bass solution, ingle 10" and 12" models, or a Twin 12" enclosure for those looking for devastating bass.
FLI Acid bass enclosures have a 3" fared port for excellent bass response and a secret channel to hide all wiring for a clean installation.

---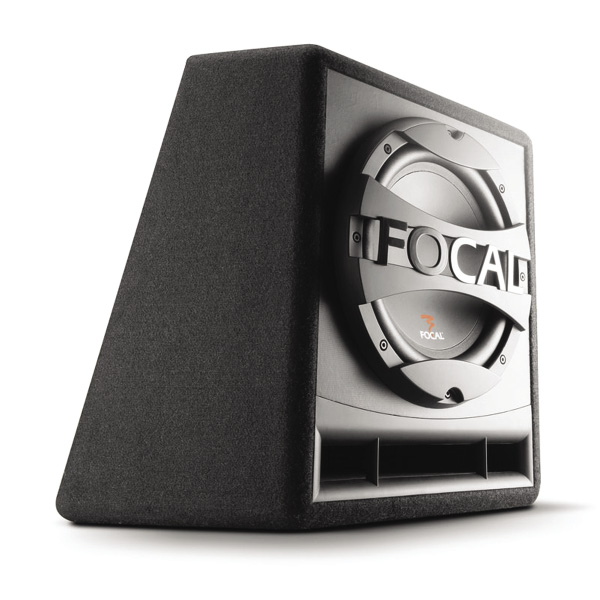 Focal
SB P 25 vented subwoofer enclosure
focal-america.com
The SB P 25 is a vented subwoofer enclosure with a 10 inch subwoofer from the Performance line of Focal speakers. The subwoofer features a four-layer voice coil for high power handling and delivers an extended low frequency response with solid, dynamic bass. Small enough for easy installations, the enclosure boasts a streamlined laminar port for reduced air noise and a stylish custom Focal protection grille.
---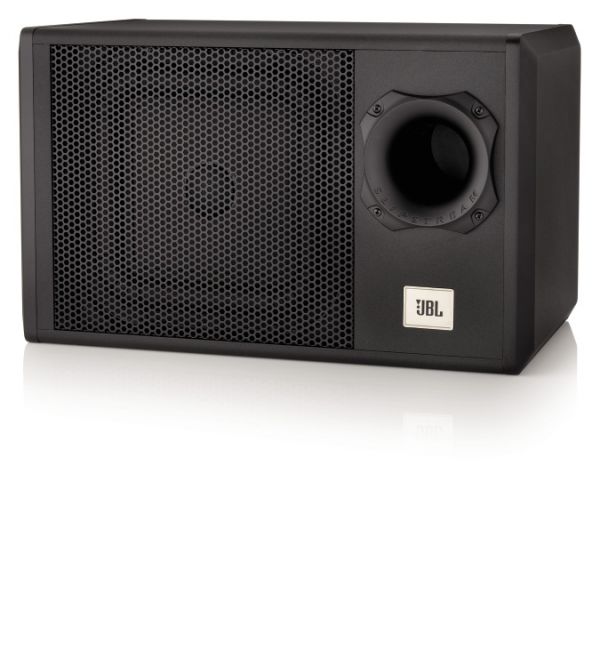 JBL
MS-BassPro SQ
jbl.com
eriksonconsumer.com
A 10" premium-powered car-audio subwoofer system that delivers high-efficiency, low-distortion bass and easily installed in any car's audio system. The compact-yet-powerful JBL MS-BassPro SQ powered subwoofer provides premium low-frequency performance normally associated with custom-installed component sub-woofers and bulky enclosures.
---

KICKER
Hideaway Compact Powered Subwoofer
kicker.com
gemsen.com
KICKER's legendary subwoofer technology continues to lead the way for clear-sounding, ground-pounding bass in a vehicle with its first compact powered subwoofer and a CES Innovations award winner for design and engineering. The Hideaway™ Compact Powered Subwoofer delivers surprising bass output from a remarkably small enclosure. At just over three inches high, the Hideaway combines a 150-watt amplifier and an 8-inch subwoofer to add thumping bass to any vehicle from the tightest locations.
---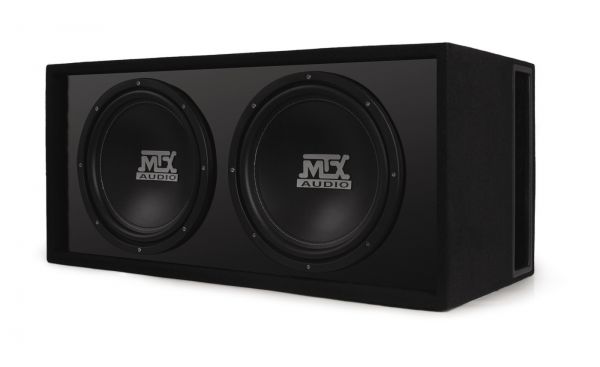 MTX
RTL12X2D Dual 12" Enclosure
mtx.com
mitekcanada.com
The MTX RTL12X2D dual 12" enclosure is designed to deliver extreme bass. The enclosure is constructed using MDF, providing a solid structure that can withstand the loudest bass notes. Super side firing slot port is designed to generate the highest SPL levels. The enclosure is 2O and is rated to handle 500W RMS and 1000W Peak power. The cosmetic features include a gloss black-baffle that compliments the black subwoofers and black aviation carpet.
---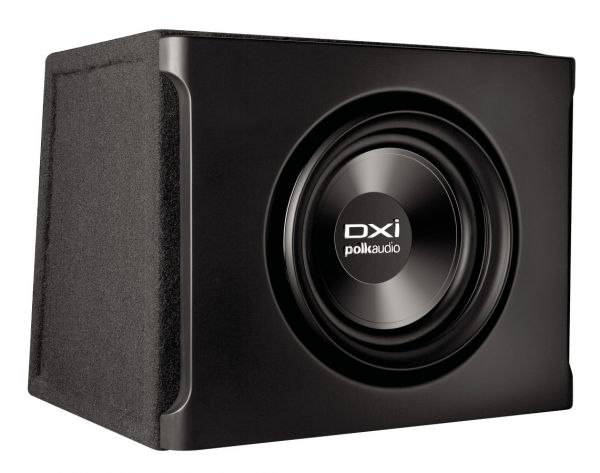 Polk Audio
DXi108
polkaudio.com
Polk Audio's DXi108 is designed for bass lovers who want to pack the maximum amount of low end into a limited space. The 8" driver throws bass landing with the impact of significantly larger systems, with a 2 ohm load that is optimum for today's Class D subwoofer amplifiers.
---

PowerBass
Loaded Subwoofer Compact Slot Enclosure XL-WB8
powerbassusa.com
The XL-WB8 from PowerBass was designed to put out some serious bass! Tuned to 30Hz this slot port enclosure comes pre-loaded with a XL-84 PowerBass Xtreme woofer and is constructed of MDF and then covered in black aviation grade vinyl. It can handle 200 watts of continuous power and is rated to a maximum of 400 watts peak within a frequency range of 30-250Hz. Complete with mounting brackets this enclosure can be mounted under or behind seats and even under some rear deck package trays.
---

Rockford Fosgate
Punch Powered Loaded Subwoofer Enclosures
rockfordcorp.com
Rockford Fosgate, the industry leader in high-performance car audio systems, announced that its Punch Powered Loaded Subwoofer Enclosures are now shipping. The all new P300-10 10-inch and P300-12 12-inch, 300-Watt (RMS) models are the perfect all-in-one solutions that integrate the famed Rockford Fosgate sonic signature and power.
---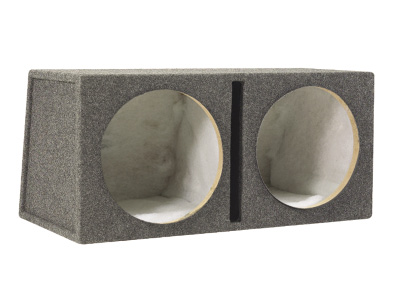 Scosche
Dual 12-inch EFX Ported Enclosure (SEV122CC)
scosche.com
Scosche enclosures are CARB Compliant and constructed of 3/4" MDF with a poly fiber damper lining, and nickel plated spring terminals. All boxes are carpeted with a standard Grey/Black trunk liner for maximum durability and come plastic wrapped with color packaging cards to repel dusts and dirt. The SEV122CC features recessed side panel for easy lifting, 100% sealed joints, nickel plated spring loaded speaker terminals and poly fiber damper lining.