When it comes to improving the handling of your vehicle, there's nothing more important than the tires that connect you to the road. When it comes to your stereo, the same logic applies to your speakers – they're the only things that connect your ears to your music. The analogy continues – if you set your tire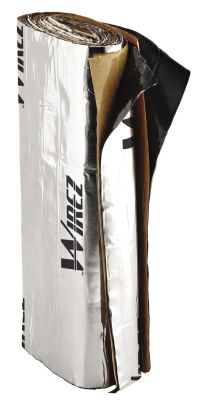 pressures properly, your car's handling can be further improved. The same goes for the installation of your speakers. The use of high-quality sound deadening materials is the perfect way to make your speakers sound better.
The folks at Wirez offer two sound deadening solutions – Premium Sound Deadening and the brand new Ultra Sound Deadening – that are both based on an elastomeric-butyl base material. This stuff adds mass to your doors and body panels to reduce vibration and noise. Wirez has put significant effort into ensuring this material not only performs well in terms of damping characteristics, but that it works just as well whether the vehicle is hot or cold. It also focuses on ensuring the sound deadening material remains adhered to the vehicle under all thermal conditions. If you've ever had sound deadening fall off a door, then you know what kind of mess that can be – Wirez is the cure!
Both the Premium and Ultra Sound Deadening products feature a bonded aluminum thermal barrier layer to further improve damping characteristics as well as add a thermal block to help keep the interior of your vehicle more comfortable. The aluminum layer has been carefully chosen to ensure Wirez sound deadening conforms to even the most complex curves yet adds stability to span open spaces in the vehicle. The Wirez' staff doesn't just develop products, they use them as well. To that end, they spent time choosing the correct thickness of the removable craft paper backing to ensure that installation is quick and simple. Backings that are too thin often tear when you are peeling them off.
What's the difference between the Premium and Ultra Sound Deadening? Well, Ultra goes a step further in terms of noise elimination with a quarter-inch viscoelastic foam membrane on top of the aluminum barrier. This membrane increases high frequency sound absorption, helping to improve system clarity and focus. Wirez Ultra Sound Deadening can be used behind speakers and in subwoofer enclosures to absorb some of the sound that is reflected off hard surfaces. With the same adhesion capabilities as the Premium product, using Ultra Sound Deadening for absorption is faster, more effective and safer than some of the other options on the market. Wirez Premium Sound Deadening is available in a two cubic-foot speaker kit (SDSK), 12 cubic-foot door kit (SDDK), 20 cubic-foot trunk kit (SDTK) and a 70 cubic-foot bulk kit (SDBKB). Wirez Ultra Sound Deadening is available in a 12 cubic-foot pack (SDSU-12).