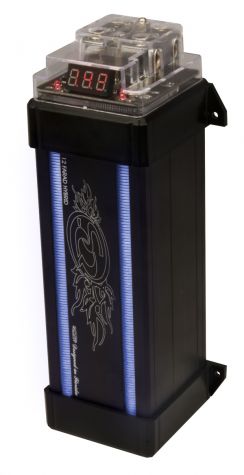 Sound Quest SQCAPH12
Sound Quest™ is proud to announce the availability of its first (and much-anticipated) hybrid capacitor, the SQCAPH12. Featuring an industrial look, slick blue LED displays running the length of the capacitor and a black powder coated finish, with a voltage display visible from the top of the capacitor, this capacitor will look great in any ride. And, by combining the benefits of electrolytic and carbon capacitors, this SQCAPH12
provides extremely fast cycling and instantaneous power (12-Farads of Capacitance good for up to 2400+ watt systems).
So, not only will mobile audio enthusiasts love how these new capacitors look, they'll also enjoy louder and clearer bass response stabilized system voltage and minimized headlight dimming similar in performance to a battery/capacitor combo.
To learn more about Sound Quest capacitors, visit www.sqelectronics.com.