Page 3 of 7
---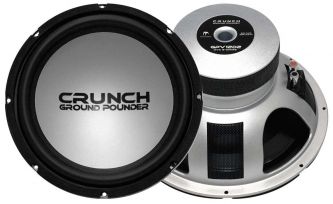 Crunch Ground Pounder Anniversary Series
Crunch has taken a radical approach to the standard spider design by separating the two spiders. Our engineers have determined the ideal distance and position to produce maximum excursion outward and inward, while maintaining optimal control. The result is increased output SPL and durability. The Ground Pounder Anniversary Series is designed for sealed and ported enclosures to maximize efficiency and produce even greater sound. The great looking cosmetics are enhanced by a one-piece cone and dust cap, which also add to the impressive power handling capabilities of this impressive Subwoofer line. For more visit www.maxxsonics.com
---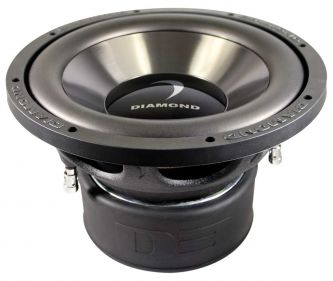 Diamond Audio D3 Series
Getting sound quality and sound quantity used to be an impossibility until now. The Diamond Audio D3 series subwoofers feature a unique design that allows for optimum SPL with sacrificing sound quality. The subwoofers unique thermal management system includes a custom stamped basket with active venting to dispense of hot air that robs other woofers of their performance and longevity. Left over radiant heat is dissipated through an aluminum dust cap. These woofers are available in 8, 10, 12 and 15-inch sizes in both dual two and dual four Ohm configurations. For more visit www.diamondaudio.com.
---
---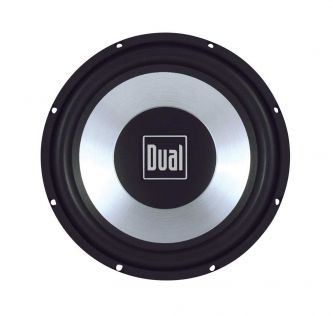 Dual DS12
Dual's DS12 12inch subwoofer offers excellent power handling, high efficiency, and killer bass, all with a high-end appearance which sets it apart from the crowd. The Dual DS12 features an injection-molded polypropylene cone with a heavy-duty foam surround that promotes deep excursion. Power handling is rated at 175 watts RMS/500 watts peak, thanks to a 2-inch 4 layer voice coil wound on a high temperature Kapton former and a vented back plate. This versatile sub delivers big bass from virtually any sealed, ported, or bandpass enclosure. For more visit www.dualav.com or call (866) 382-5476
---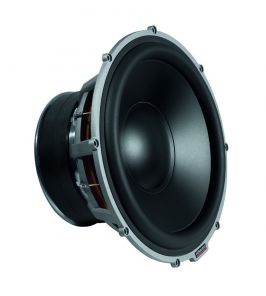 Dynaudio Esotar² 1200
The Esotar² 1200 is a 12-inch subwoofer equipped with Dynaudio's highest level of transducer technology, built into a rigid, die-cast solid aluminum frame, featuring Dynaudio's characteristic MSP (Magnesium Silicate Polymer) diaphragm driven by a large, 4-inch diameter voice coil. The exceptionally large voice coil is formed of extremely lightweight aluminum wire wound on a Kapton former. Thanks to a powerful and massive magnet, this low-mass driver construction provides excellent transient response, speed and precision, effortlessly reproducing low frequencies down to 18Hz. For more visit www.dynaudiousa.com or call (630) 238-4200.
---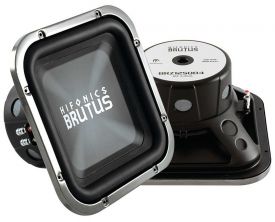 Hifonics Brutus
The Hifonics Brutus offers an innovative dual spider spacing design that separates the two spiders to maximize excursion outward and inward while maintaining optimal control. Other features include the durable rubber surround for long excursion while the heat-dispersing ported nickel-plated back plate and ultra-rigid stamped steel basket ensure reliability and strength. The integrated spider-tinsel lead design and nickel-plated push and insert speaker terminals keep the amps energy focused within the speaker's core. Dual 4-Ohm configurations offer flexibility in 12-inch and 15-inch round and 12-inch square sizes. Powerful bass reproduction is rated at 1,200 W Maxx and 600 W RMS. Or more visit www.maxxsonics.com

Read on for More Products